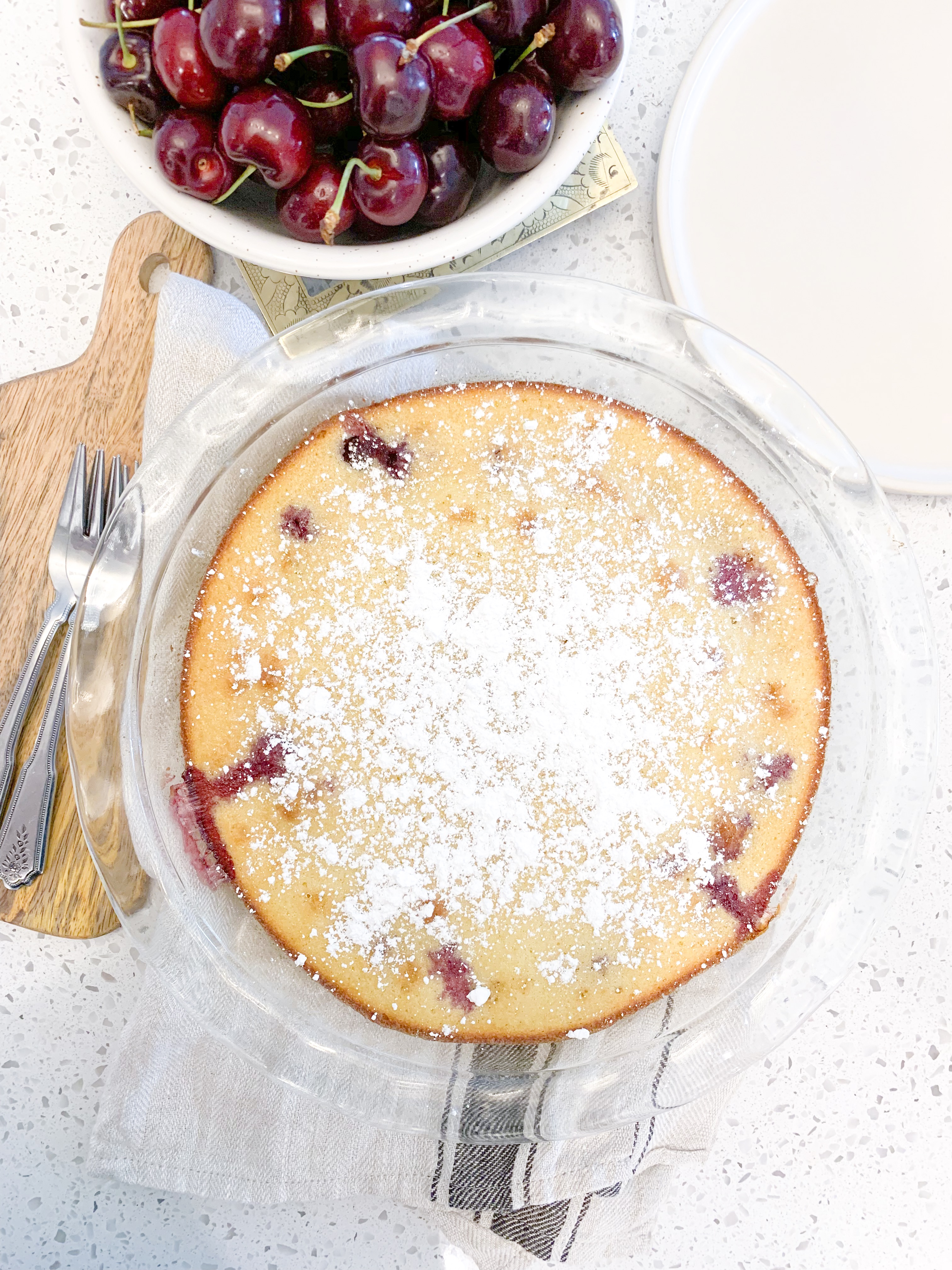 Cherries are one of my favourite things about summer, and right now the cherries at my local supermarket are fresh, super sweet (and on sale!) Clafoutis is a French dessert that is relatively simple to make, and you can use nearly any fruit in it. Typically when making clafoutis aux cerises you include the pits in the cherries – I've been told this is because the pits themselves impart a slight almond flavour to the cake. Personally, I'm not keen on keeping the pits in for a couple of reasons – if I bring this to a dinner I don't want to have to warn everyone of the pits – lest someone loses a tooth, and also to make it simpler for the smaller children in our family to enjoy.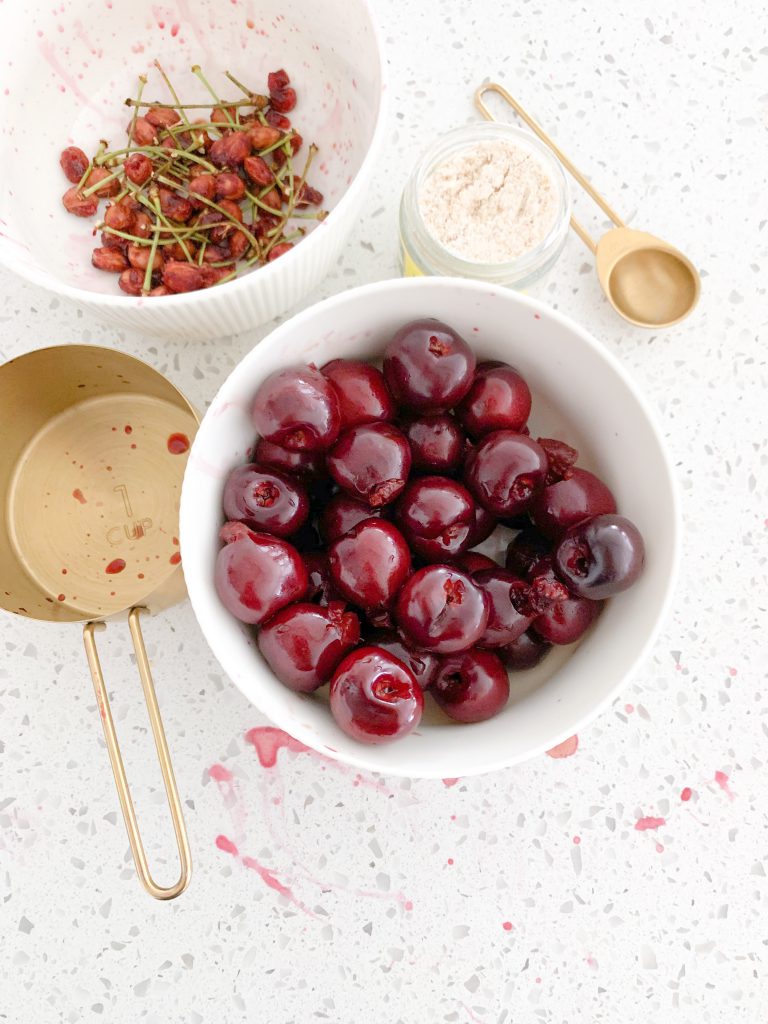 Instead of keeping the pits in the cherries, I've added a small amount of mahlab to impart the almond-like taste. Mahlab is a spice made from the ground pits of the St. Lucie cherry, and is used in many Middle Eastern desserts, like ma'amoul. The best way I can describe it is a slightly bitter marzipan taste; it adds complexity to even the most basic desserts and breads. You can find mahlab at your local Middle Eastern supermarket, or of course online.

For pitting the cherries quickly and easily I use a cherry pitter (it can also be used for olives as well) – I don't keep a lot of 'monotasker' type items in my kitchen, but this is one I use relatively frequently for olives, and it's worth the drawer space, even in our small apartment kitchen.

If you don't have mahlab on hand then you can use a touch (1/4 tsp or less) of almond extract to the batter. Almond extract can be very strong, and so I don't ever advocate for using a whole lot of it, since it can overpower the flavour of nearly anything, and can be quite unpleasant in large quantities.
You want to use a good amount of cherries here (at least 500g / 2 generous cups). I used 2 cups here and to be honest, I probably could have done even more. The cherries are the star of this dish, so you don't want to be stingy.
Pouring the clafoutis batter over the cherries. I honestly should have used more cherries for this!

The clafoutis, ready for the oven. Don't be like me, make sure you have more cherries – you won't regret it.
I like clafoutis because it's pretty simple, and it's an easy but still impressive way to end a summer dinner – it's also beautiful served with a dollop of fresh whipped cream, but just as rich and lovely dusted with just a bit of sugar. It's not too sweet, and it's rich but not unpleasantly so, even after a big meal. It's also quite lovely for breakfast with a dollop of yogurt, not that I'm advising eating dessert for breakfast, of course…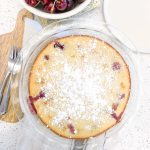 Print Recipe
Cherry Clafoutis with Mahlab
This traditional clafoutis aux cerises removes the pits, but adds mahlab to impart a complex almond flavour.
Ingredients
2

generous cups

fresh cherries, pitted

(about 500g)

3

eggs

¾

cup

granulated sugar

(170g)

4

Tbsp

unsalted butter, softened

plus more for greasing cake tin

1

cup

all purpose flour

1

tsp

ground mahlab

pinch

salt

1¼

cup

whole milk

(315ml)

1

tsp

vanilla

¼

cup

powdered sugar, for dusting
Instructions
Pit your cherries, ensuring that none remain. Preheat oven to 375°F / 190°C.

Place pitted cherries in a greased medium baking dish or cake tin ( I used a 9" / 22cm round).

In a stand mixer, or with a whisk – whisk your eggs and sugar until light in colour. Slowly add in the softened butter and combine thoroughly.

Add your flour, mahlab, and salt and combine until fully incorporated.

While the mixer is running, add your milk a little at a time, whisking on medium. Add your vanilla, and continue to whisk until the batter is smooth and shiny.

Pour your batter over the cherries, and bake for 20-25 minutes, until just set in the centre.

Cool on a wire rack for twenty minutes, dust with powdered sugar and serve with whipped cream if desired.