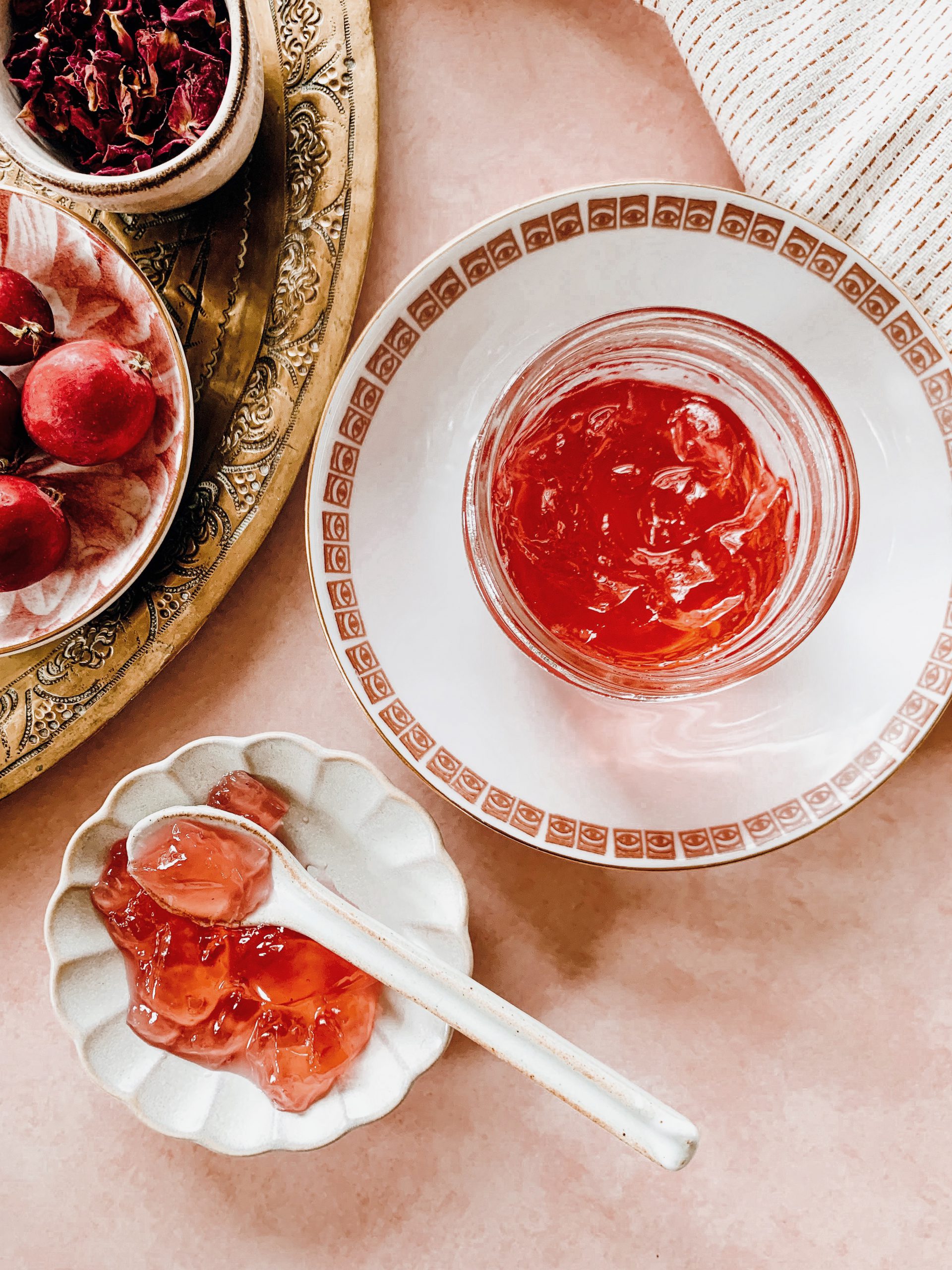 Crabapples are in season in the fall and are easy to forage, and this beautiful jelly would be at home on any charcuterie board or your table at Rosh Hashanah.
Our neighbourhood in Denver is inundated with crabapple trees, many of them in public areas like parks which are easily accessible to amateur urban foragers like myself (full disclosure, I was definitely influenced by the amazing Black Forager, Alexis Nikole, who I've been following for some time on Instagram – she is an amazing (and hilarious) wealth of information). Keep in mind that you only want to forage from spaces you know aren't sprayed with pesticides, and if you want to take some from your neighbours, it's best to ask first! (Chances are they will let you have as many as you'd like in return for a jar of the finished jelly!)
Crabapples have a reputation for being inedible and sour, and while they are definitely sour, they actually have a wonderful flavour for jam. Crabapples also have a lot of Vitamin C, a natural antioxidant. Crabapples contain plenty of natural pectin so none is needed for this recipe. I am not a huge fan of apple jellies or jams, and this one absolutely blew me away – the flavour is so crisp and delightful, like biting into the best fresh apple. It would be delicious on a scone with homemade ashta.
This recipe is safe for canning. My daughter and I harvested roughly four pounds of crabapples which yielded about 3 cups of juice. For each cup of juice you'll want to add 3/4 cup sugar (150g) to create your jelly. 4 pounds of crabapples (3 cups of juice) yielded only about 20 ounces of jam, so collect as many as you can.
For the rose petals in this recipe I used dried, as I had some beautiful Diaspora Co. Panneer Rose Petals on hand, but if you have fresh (and know that they aren't sprayed with pesticides), you can use those as well. If you don't want any bits in your jelly you can remove when you skim the mixture, or you can also use a dash of rose water instead if you prefer. If you just want apple and no rose, you can also omit them entirely.
How to Make Crabapple Jelly
You'll want to collect as many crabapples as you can – we collected around 4lbs and wished we'd harvested at least eight as the results were so popular that we had friends requesting it! I recommend harvesting a combination of a little of both unripe (slightly yellow / green) and ripe (red) fruit if possible to ensure the best flavour and colour while also ensuring you have plenty of pectin (which is what makes jelly gel!) since the unripe fruit contains more of it.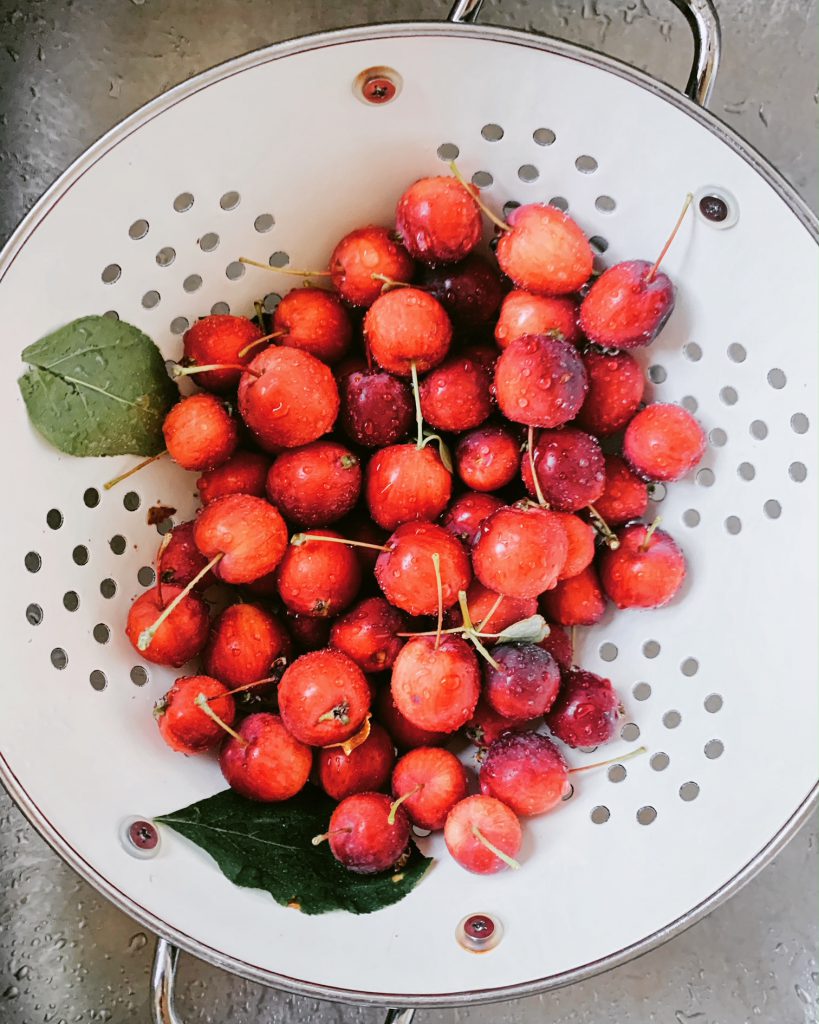 Once your crabapples are washed you'll want to remove the stems and the blossom end, then cut in half for ease of cooking. It's okay if you have seeds in there, they will all get strained out. Once your apples are cut and ready to go, place them in a large pan (I use my Staub Perfect Pan for a 4lb batch) and add just enough water to cover the apples – this will help create more juice (crabapples aren't particularly juicy). Cook the crabapples on medium until they begin to bubble – don't cook them too hot or else you'll destroy the pectin. Your goal is to create an apple mush that you'll strain (either through a double layer of cheesecloth or through a jelly bag):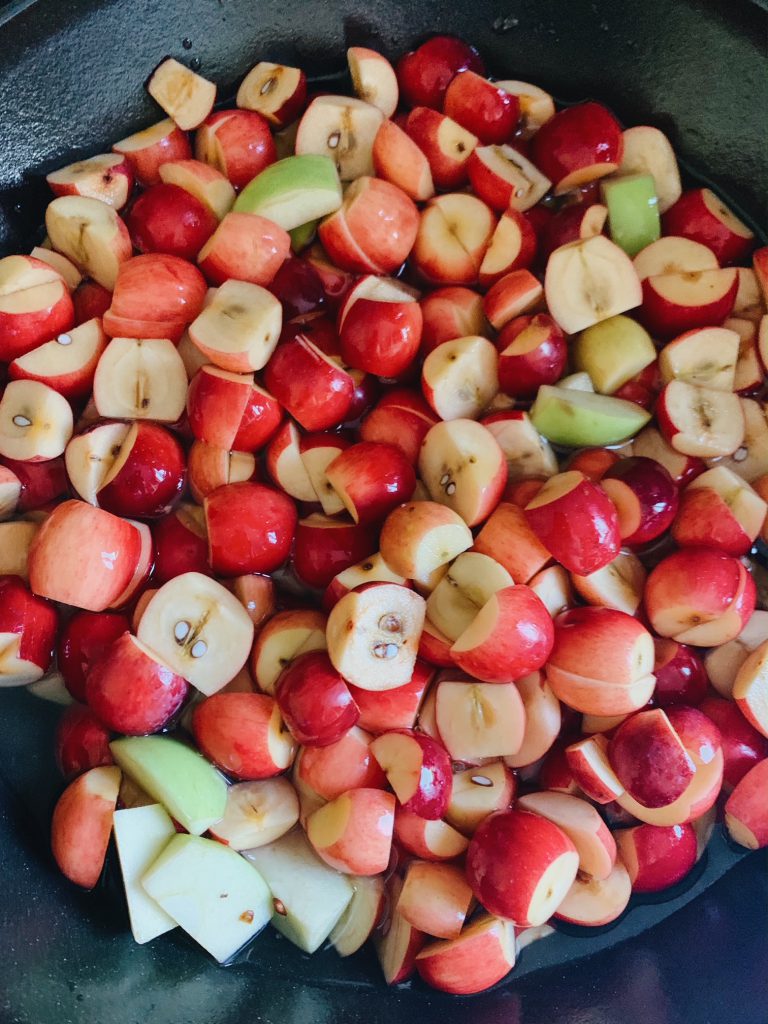 After about ten minutes your apples should be pretty soft – take a potato masher and mash them in the pot, remove from the heat, and strain through a jelly bag (I leave mine straining overnight). In the morning you should have beautiful pink juice that's ready for jelly making! (The juice smells amazing, but it is sour at this stage).
Once your juice is strained through the jelly bag you can give it a little squeeze if you'd like to get some more (this may result in a more cloudy jelly, but it will have a lot of flavour) – I squeezed the jelly bag and my jelly was still very clear, so you might not have this issue. Add the juice to a large pan and add the sugar. The ratio is for every liquid cup of juice (240ml) you add 3/4 cup granulated sugar (150g). Add your dried rose petals now if you're using them. Bring this liquid to a boil over medium-high heat for about 5-10 minutes, skimming off any froth that rises to the top periodically (it's okay if your roses are skimmed off, they will still add flavour. If you do want rose petals in the jam you can add more right before you take it off the heat). Begin checking for gelling in the freezer after about 5 minutes (mine took roughly 10 minutes, but will differ depending on your cooking vessel and range).
The Freezer Test
As I mentioned previously, for my jam to get to the right consistency it took about ten minutes or so to cook, but throughout the process I checked periodically by leaving a plate in my freezer – I added a teaspoon full of jam on the plate, and left it there for 2-3 minutes. If after that time pushing the jelly caused it to wrinkle around the edges then you can take it off the heat and it's ready to put into jars and process.
This recipe is safe for canning, but if you'd prefer not to process your jelly that's fine too! Just pour into sterilised jam jars and keep in the fridge where it will be good for 2-3 months. If you do want your jelly to be shelf stable then you will need to process your jams in a water bath. Don't be intimidated! Canning is easier than you'd think – I still use a basic kit (this one, actually!) that costs less than $20 and contains everything you need (except the jars and cooking vessel) to process all sorts of things from jams to pickles and tomatoes. You can learn more about water bath canning basics here.
A Note on Processing Times at High Altitude
We live at high altitude, so processing times differ – at sea level a 4 ounce jam jar will need processing for 5 minutes, and you'll want to add a minute for every 1000 feet above sea level – we're at 5280 feet, so we processed the 4oz jars for 10 minutes. If you don't want to process your jelly it will keep for about 2-3 months in your fridge. Processed, it will keep at room temperature (shelf stable) for 12 months.
Foraged Crabapple Recipe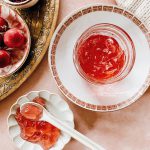 Print Recipe
Foraged Crabapple Jelly
This delightfully sweet, canning-safe jelly recipe is made from foraged crabapples.
Equipment
Large pan for cooking your apples (I like Staub's Perfect Pan)

Potato masher for crushing apples

Jelly Jars (sterilised)

Water bath canning equipment, for processing (if desired)
Ingredients
4

pounds

crabapples, stem and blossom end removed

(1.8kg)

2¼

cups

granulated sugar

(305g)

2

Tbsp

dried rose petals

(or a small handful fresh)

water

enough to cover your crabapples
Instructions
Preparing the Crabapples
Wash your crabapples thoroughly, then remove the stems and blossom end. Cut in half.
Cooking the Crabapples
Place in a large pan with just enough water to cover. Simmer over medium heat until the apples are soft (about ten minutes).

Once the apples are soft, turn off the heat and use a potato masher to crush the apples.

Strain the apple puree in a jelly bag for 2 hours or overnight, then discard (compost!) the apple mush. You can squeeze the bag for more juice and flavour, but this may make the jelly slightly cloudy (it'll still taste amazing).
Making the Jelly
For every cup (240ml) of juice reserved, add 3/4 cup (150g) granulated sugar. Add dried rose petals if using, then bring to a boil over medium-high heat.

Cook the mixture for 5-10 minutes, skimming any foam from the top. Begin checking the mixture after about five minutes in the freezer to ensure it gels. Once the jelly is setting, you can remove from the heat.

Pour the hot jelly into sterilised jam jars and process or refrigerate.
Processing Jelly
Using a hot water bath canning method, process for 5 minutes for 4 ounce jars. If at an altitude higher than sea level, process an additional minute for every 1000 feet above sea level.
Notes
Processed jelly is good for at least 12 months and is shelf stable. Refrigerated jelly should be used within 2-3 months.