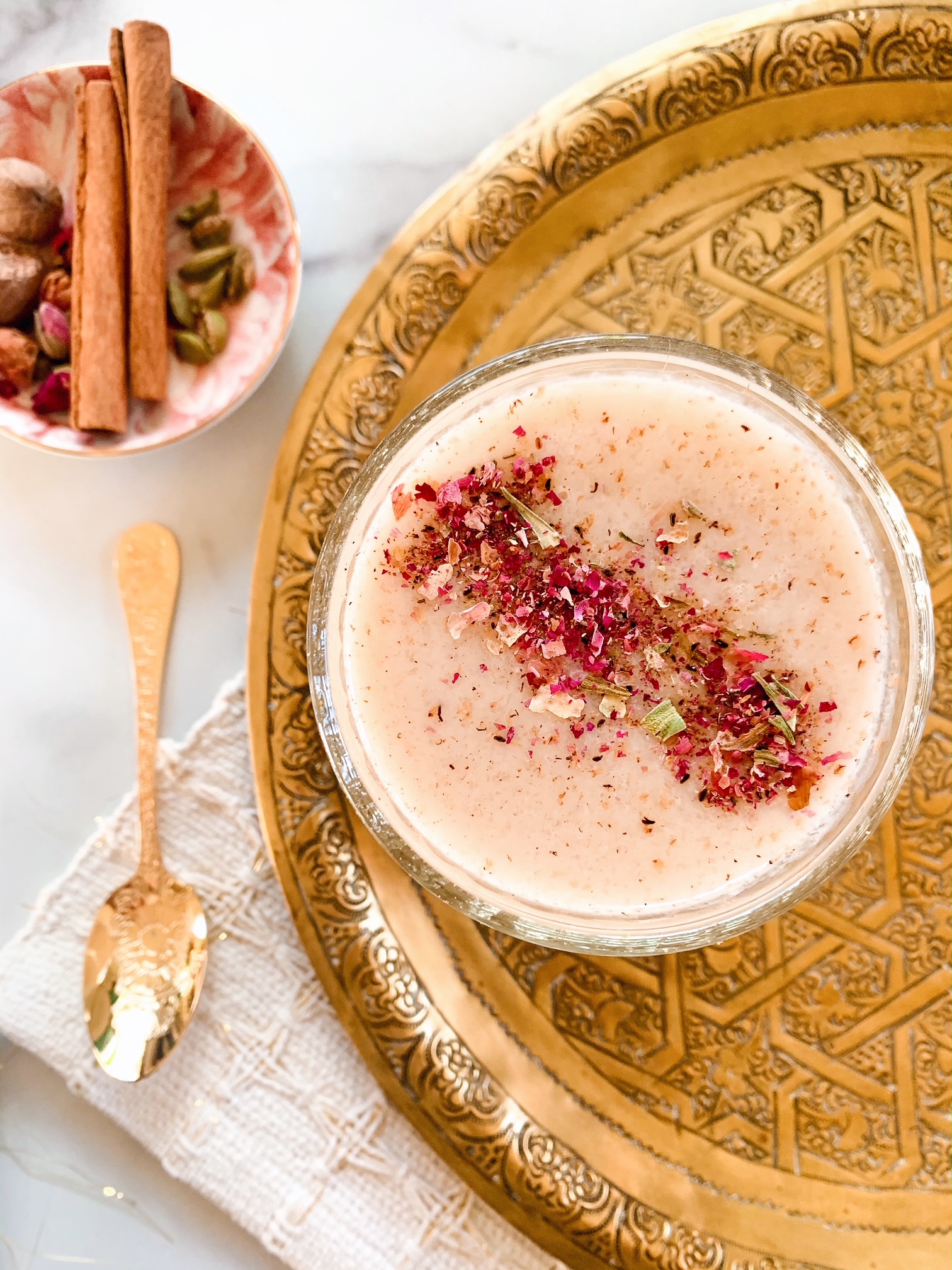 ---
Sahlab (or Salep – or Sahlep) is a warm winter drink or pudding found throughout the Mediterranean (Turkey, Greece, and the Levant). It is flavoured with a powder made from dried orchid tubers, and has an earthy, floral taste to it. Genuine sahlab powder is not easy to find in the west, and many packaged varieties contain only a minimal amount of the stuff, or artificial flavours instead. I imported mine from Greece, and while it isn't cheap, a little goes a long way. If you don't have access to sahlab, don't despair – you can substitute corn starch, and though the drink won't have that distinctive floral flavour (I describe it as tasting 'like an orchid smells') it will still be delicious and warming.
This is rather dessert-like: while not cloyingly sweet it is quite filling, so it's something best enjoyed after a meal or as an indulgent 'snack' between meals. It's actually rather similar to muhallebi (malabi) but served warm and without syrup – in fact, you can also chill this mixture and eat as a cold pudding if you'd prefer. As someone who is lactose-intolerant, I make mine with non-dairy milk (making this recipe both parve and vegan!) but if you have cow's milk on hand that works just as well.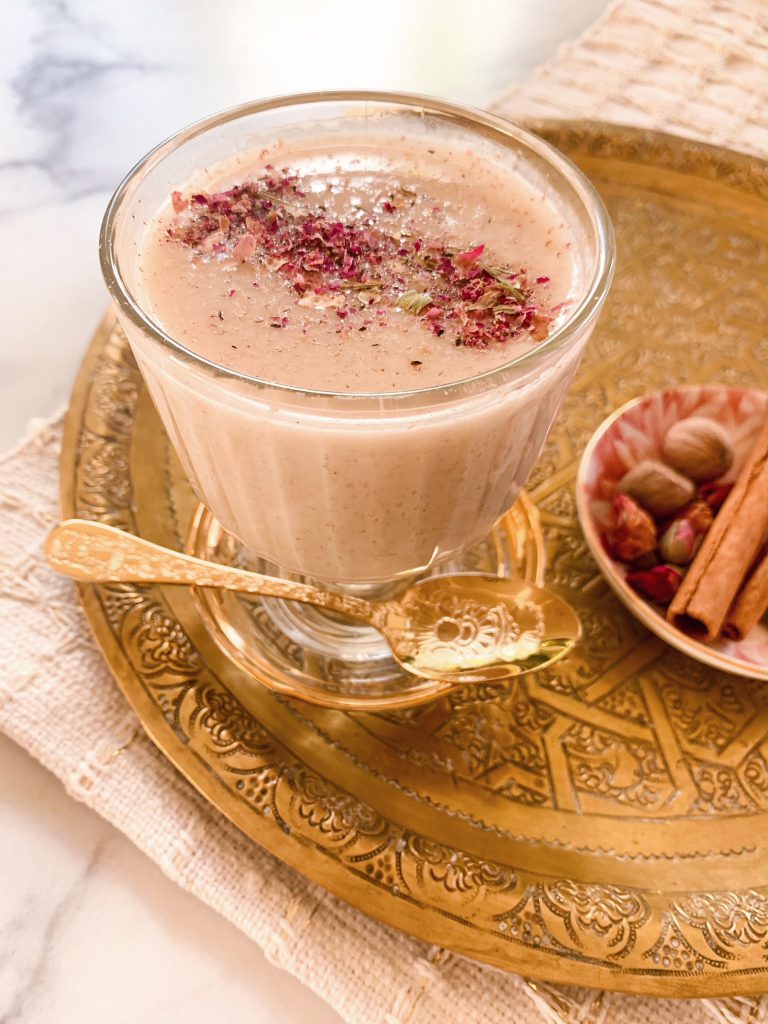 On Sourcing and Using Sahlab Powder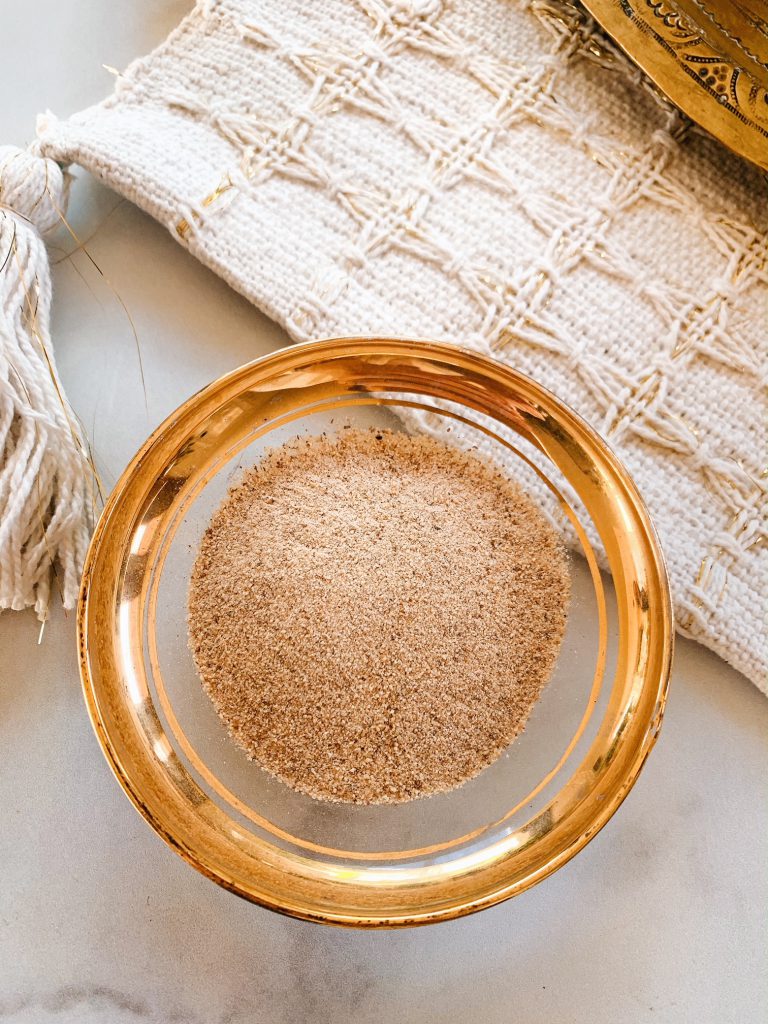 Sahlab is not easily found in America due to export restrictions, even on the shelves of my Arab supermarket it's not easy to find, and when you do it's the pre-made drink powder which likely contains questionable amounts of the stuff. I actually purchased a small bag from a seller on Etsy (see note below about sustainability of sahlab before purchasing), who sent it to me all the way from Greece! Despite the expense, a little goes a pretty long way – in this recipe you can use 1/2 teaspoon (up to 1 teaspoon if you like a strong flavour), though I recommend starting at just the half and seeing how you like it. It is definitely a unique flavour, and you might not notice it until the end – it's a sort of floral aftertaste. The sahlab also helps to thicken the mixture – which is why you don't need cornstarch if you have the sahlab powder to make the drink. Sahlab contains naturally occurring glucomannan, a type of starch – so when added you might see some of the starch crystals in the drink itself, and they'll be visible when you strain the mixture as well. This also makes you feel full longer, and thus why I'd consider this more of a dessert than a drink – sort of like hot chocolate – you wouldn't drink one with a meal!

Spices added to sahlab vary from family to family – some add just milk and cinnamon, some add ginger and cloves, it really depends on your tastes. Feel free to adjust the spices below as you like, but the cinnamon is a must. If you don't have a stick, just add a quarter teaspoon of the ground spice instead. Whole spices are preferable here, but you can use ground if it's all you have on hand; the same goes for topping your sahlab – ground nutmeg or cinnamon is traditional, but you'll also see finely chopped pistachios, rose petals (as I've used here), or even toasted sesame seeds. These can all be adjusted to your taste, or whatever spices are in your cupboard.
A Note on Sustainability
It is difficult to source sahlab outside of places like Greece and Turkey because increased harvests (for drinks like this one and ice cream) have impacted wild orchid populations and because of this, exports of sahlab from Turkey are banned. (There's a great New York Times article here that dives deeper into the situation surrounding sahlab). I recommend researching before purchasing sahlab, or just enjoying the drink using cornstarch.
Sahlab Recipe: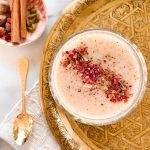 Print Recipe
Sahlab سَحْلَب
This traditional warm winter beverage is made of ground orchid tubers.
Equipment
Small saucepan

Mesh sieve / trainer

Whisk
Ingredients
1

cup

non-dairy milk

(237ml) I used Chobani oat milk (you can use cow's milk if you prefer!)

1

cup

water

(237ml)

1

Tbsp

white sugar

1

cinnamon stick

(or ¼ tsp ground cinnamon)

4

whole

cardamom pods

I use Diaspora's Baraka cardamom, (or ¼ tsp ground cardamom)

4

whole

cloves

(or a tiny pinch ground cloves)

pinch

freshly ground nutmeg

½-1

tsp

ground sahlab

(if you don't have this on hand, mix 4 tsp corn starch with a small amount of water to form a slurry)

¼

tsp

rose water

ground nutmeg, cinnamon, dried rose petals, or finely chopped pistachios to garnish

(optional)
Instructions
In a small saucepan over medium heat, combine your water, non-dairy milk, the cinnamon stick, cardamom pods, cloves, and ground nutmeg. Bring to a boil.

Once your liquid is boiling, turn the heat to medium-low, and add your sahlab (or cornstarch slurry) and stir until thickened (2-3 minutes) using a small whisk.

Once the liquid thickens enough to coat the back of a spoon, remove from the heat, add your rose water, and strain through a fine mesh sieve. Pour into small glasses or mugs.

Garnish with more nutmeg, ground cinnamon, dried rose petals, or finely chopped pistachios (or all of the above!) and enjoy.
Notes
This makes roughly 1 cup of sahlab (237ml), enough for two servings. The servings look small, but this is not something you drink in large quantities!
You can also refrigerate the mixture, which becomes a pudding like texture when chilled. Stays good in the fridge for 2 days.