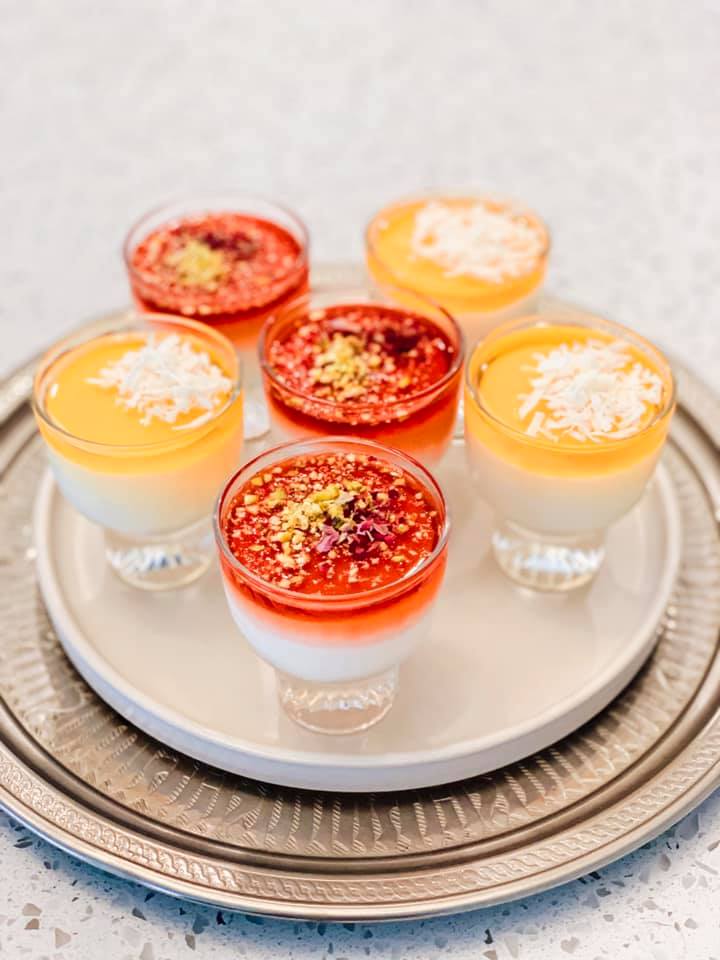 Muhallebi (sometimes called malabi or muhallabia) is a Middle Eastern milk pudding. Traditionally made with rice flour, most modern muhallebi recipes feature cornstarch to give the pudding its thickness. It is lightly sweetened, and beautifully delicate and fragrant as its main flavour comes just from the milk and the floral water you choose.
The base recipe for muhallebi typically features rose water and a rose syrup atop the creamy pudding, but you can use any syrup you'd like here. I've used homemade tangerine and orange blossom water and strawberry rose water syrups – but I've also made these with other fruits to reflect seasonal produce or holidays – like muhallebi topped with pomegranate syrup and seeds for Rosh Hashanah.
Print Recipe
Muhallebi
Middle Eastern Milk Pudding
Ingredients
2 1/4

cup

whole milk

2/3

cup

heavy cream

1/4

cup

granulated sugar

1/4

cup

cornstarch

2

tsp

rose water or orange blossom water

syrup (rose water is traditional)

pistachios, shredded coconut, dried rose petals

for garnish (optional)
Instructions
In a medium saucepan, combine 1 3/4 cups of the milk, the cream, and the sugar, combine with a whisk and then heat on medium-high.

In a separate bowl, combine cornstarch and the remaining 1/2 cup of milk, using a small whisk to combine (or your fingers). Ensure there are no clumps in the mixture or your muhallebi will be lumpy.

Once your milk and cream mixture comes to a boil, check your cornstarch mixture is smooth and add to the saucepan. Turn down the heat to low, and whisk until the mixture becomes the texture of custard (1-2 minutes maximum).

Remove from the heat and whisk in your rose or orange blossom water until just combined.

Pour the muhallebi into small ramekins or cups, or a bowl for family-style presentation. Allow to cool at room temperature for 15 minutes, before placing in the refrigerator for two hours.

Once the muhallebi has cooled, top with the syrup of your choice and top with chopped pistachios, shredded coconut, dried rose petals, or your other favourite toppings.
Print Recipe
Floral Fruit Syrup
This easy recipe can be used to top muhallebi or other desserts, mixed into teas or other beverages, or in cocktails.
Ingredients
1

cup

granulated sugar

1/2

cup

water

2

Tbsp

fruit jam or preserves of your choice

2

tsp

floral water, such as rosewater or orange blossom water

These can typically be found at your local Middle Eastern or Indian market, or online if you don't live near to one.
Instructions
Combine water, sugar, and jam in a medium saucepan. Bring to a boil over medium-high heat.

Once all crystals of sugar are dissolved, remove from the heat and stir in your floral water.

Using a mesh strainer or cheesecloth, strain any bits or seeds from the jam out so that you're left with just the syrup.

Allow the syrup to cool to room temperature for 30 minutes, then place in the refrigerator. It will keep for three months in the fridge.
Notes
This syrup is very versatile and can be used on desserts and in drinks.
Some combination ideas include: strawberries or raspberries with rosewater, apricot or orange with orange blossom water. You can also omit the floral water if you prefer and use only the fruit preserves.