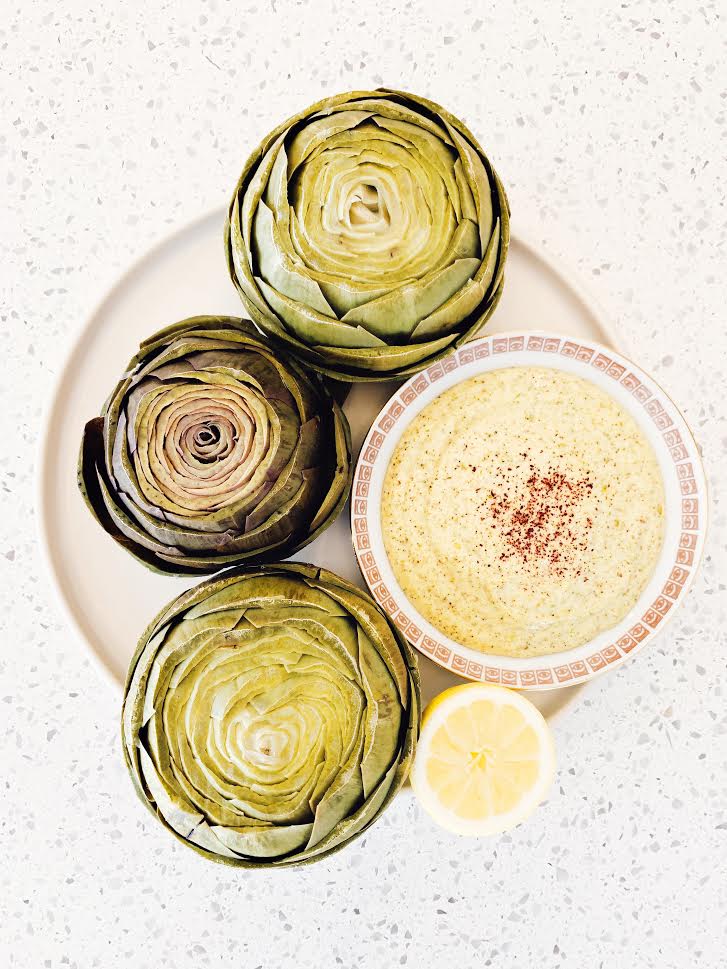 Artichokes are in peak season in March through May, and right now my local markets are flooded with gorgeous globe artichokes and even some purple Roman artichokes as well (if you've not tried the purple variety they have very little choke surrounding the heart, and are extra tender). They're high in vitamins C and K, as well as trace minerals.

Of course, the best part of eating steamed artichokes is always the sauce – growing up my mother would place a steaming artichoke in front of us with a small dish of homemade aioli. I've used za'atar in my aioli here (because I put za'atar on almost everything), though you could also replace the za'atar with sumac for a strong, more lemony bite.

You'll want to steam your artichokes in a pot of boiling water, adding the juice of one lemon, and sitting on a steamer tray if you have one. If you don't, you can just suspend them in the water – though you'll want to drain them upside down to make sure you get all of the water out before serving. The aioli recipe is more than enough for 4-6 artichokes, but it's also delicious for dipping (slightly less healthy) fries into.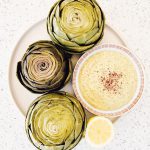 Print Recipe
Steamed Artichokes
A basic how-to on steaming artichokes. Can be served warm or cold.
Ingredients
4

large

artichokes

Look for artichokes whose petals are tightly bound, these tend to be the best quality.

1

lemon

1

Tbsp

salt
Instructions
If needed, wash your artichoke by placing upside down (petals down) in a bowl of warm salt water for 10-15 minutes, to ensure no insects have hidden in the leaves.

Prepare a large stock pot with water, and add the juice of your lemon. Throw the lemon halves in the water, along with your salt. Bring to a boil.

While your water is heating, trim your artichokes, cutting off the top pointy ends of each leaf with a pair of kitchen shears until you reach near the top – then use a knife to slice off the very top of the artichoke.

Once your water is boiling, turn down to medium heat and add your artichokes, stem side down, into the pot. Cover partially and steam for 30-40 minutes. a leaf pulled out should come out easily when it is fully cooked.

Drain your artichokes and allow to cool for 10-15 minutes if serving warm, or can be cooled to room temperature or in the fridge.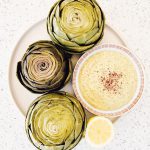 Print Recipe
Za'atar Aioli
This simple za'atar aioli is great for dipping.
Ingredients
2

garlic cloves

peeled, and chopped

juice of one lemon

1

cup

mayonnaise

I used Best Foods vegan mayonnaise here, but any good mayonnaise will do.

¼

cup

olive oil

extra virgin

2

Tbsp

za'atar

can be substituted with 1 Tbsp sumac for a lemony aioli

salt and pepper

to taste
Instructions
Place your chopped garlic and your lemon juice in a food processor, and allow to sit for 10 minutes. This helps the garlic 'bite' to mellow a bit.

After 10 minutes, blend your lemon and garlic, then add your mayo. Process until fully combined.

Slowly, while the processor is running, drizzle your olive oil into the mixture, until it incorporates.

Finally, add your za'atar for a final blending, and salt and pepper to taste.