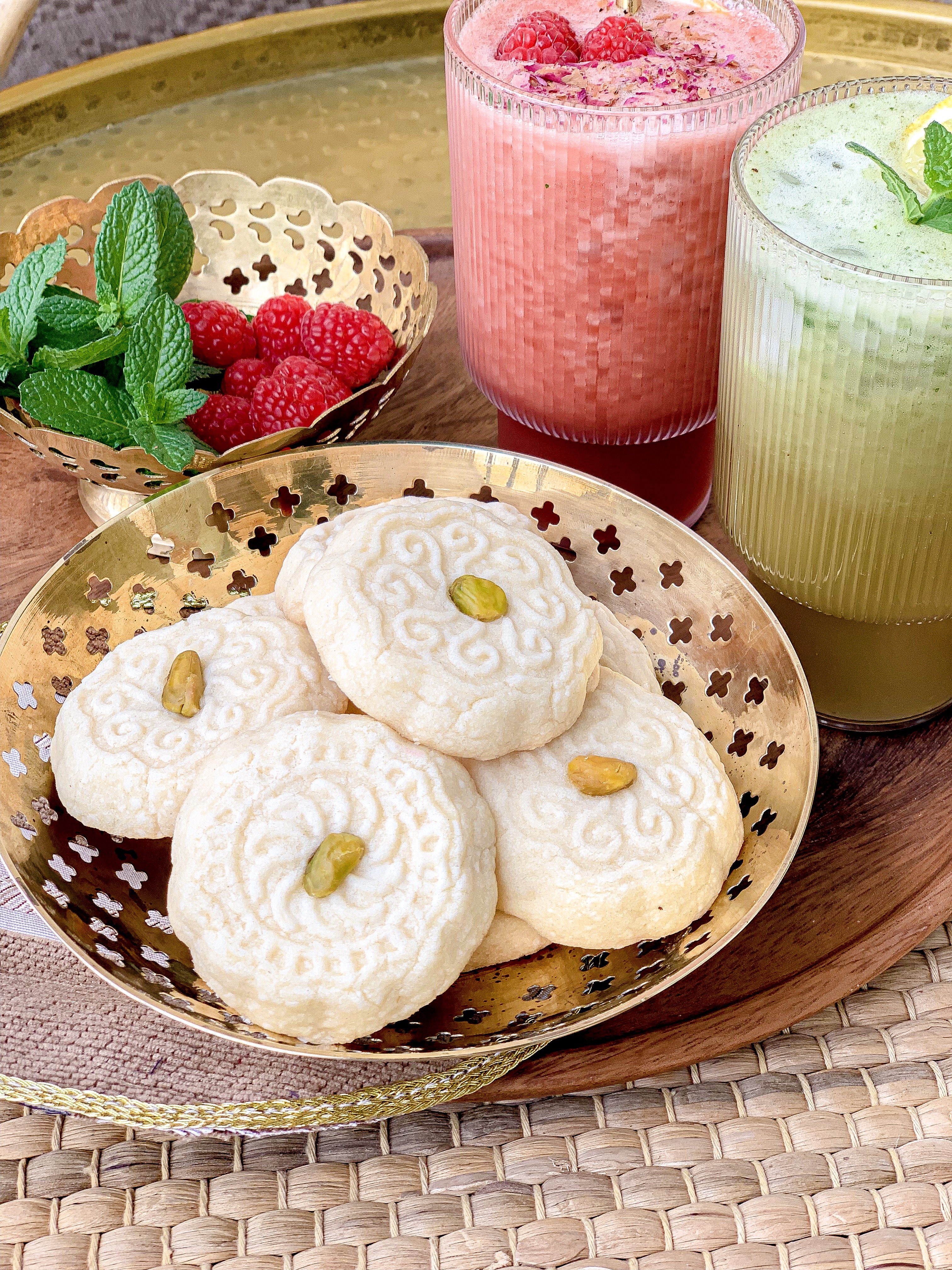 Ghraybeh (pronounced sort of like 'gr'eye-bee') are one of those recipes that I have memorised, mostly because they are so simple to make, and because they contain (just four!) ingredients most people already have on hand. I've even been over at a friend's house prepping for a dinner and whipped up a quick batch of ghraybeh when we realised we had nothing to serve for dessert. Despite having so few ingredients, ghraybeh have a rich buttery flavour and will make your friends think you're an expert baker, even if you're not.
The nice thing about simple recipes is that they are easy to adapt to dietary restrictions: these delightful cookies contain no eggs and so can easily be 'veganised', replacing the ghee with good quality vegan butter – like Miyoko's. Can't have gluten? Substitute your wheat flour for almond flour, and you have the same beautiful crumbly, melt-in-your-mouth texture. I use orange blossom water here, but rose water is lovely, or just good quality vanilla extract. The nuts on top are also optional, but they're traditional – and everyone in our house is obsessed with pistachios, so that's what I've used here (though you can also top with pine nuts, blanched almonds, a cashew, whatever you have in the house).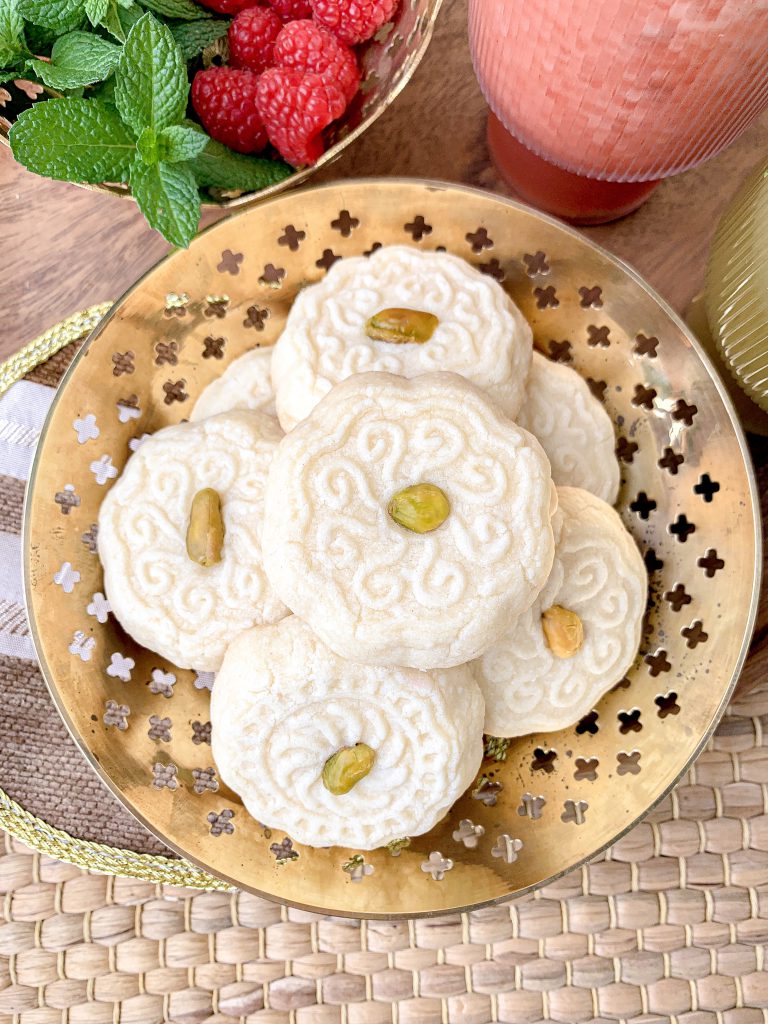 I pressed these into moulds (I used these wooden mooncake moulds – which I typically use for ma'amoul) but ghraybeh dough can be rolled into balls if you don't have one, pressing the pistachio into the centre. I've also seen them rolled into a rope, then cut into small pieces – or twisted into a ring – you can get pretty creative with these. The main lesson to remember is not to overcook them, or else they'll be hard and dry – you want to cook until just lightly golden around the bottom edge.
While I've served these with homemade lemonades (raspberry rose water and spearmint limonada), they are usually best with a hot cup of tea or coffee to compliment the buttery, melty texture.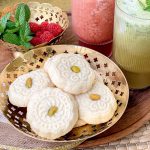 Print Recipe
Ghraybeh (Lebanese Shortbread Cookies)
These four ingredient shortbread cookies are simple to make and easy to eat!
Equipment
Sheet Tray

Parchment Paper (or Silpat)
Ingredients
1

cup

ghee, melted (or 2 sticks butter)

225g ghee or butter, melted

1

cup

confectioner's (powdered) sugar

125g confectioner's sugar

1½ – 2

cups

all purpose flour

180 – 250g flour

¼

tsp

salt

2

tsp

orange blossom water

or rose water, or vanilla extract (optional)

24

whole

blanched pistachios (or other nuts) to decorate

(optional)
Instructions
Preheat your oven to 325°F (160°C). Prepare a baking sheet with parchment paper or a silpat.

In a mixing bowl, or the bowl of your stand mixer, add the ghee/butter. Mix on high for 2 minutes.

Slow down the mixer to low. Add the powdered sugar a little at a time until fully combined. Bring the speed back up to high for another 2 minutes. Add your orange blossom water.

Mix together your flour and salt to combine. Slow down the mixer to low speed again, and slowly add your flour and salt mixture until a very soft dough forms. Once the dough is no longer sticky you do not need to add more flour.

Once the dough is combined, roll 1 Tbsp dough into a ball, or press into a mould, then place on your lined baking sheet about 1 inch (2½cm) apart.

Bake at 325°F (160°C) for 12-15 minutes, until just lightly golden around the edges. Do not over-bake!

Allow to cool on the pan for an additional ten minutes (they may be crumbly, so do not move while still hot) then allow to finish cooling completely on a wire baking rack.