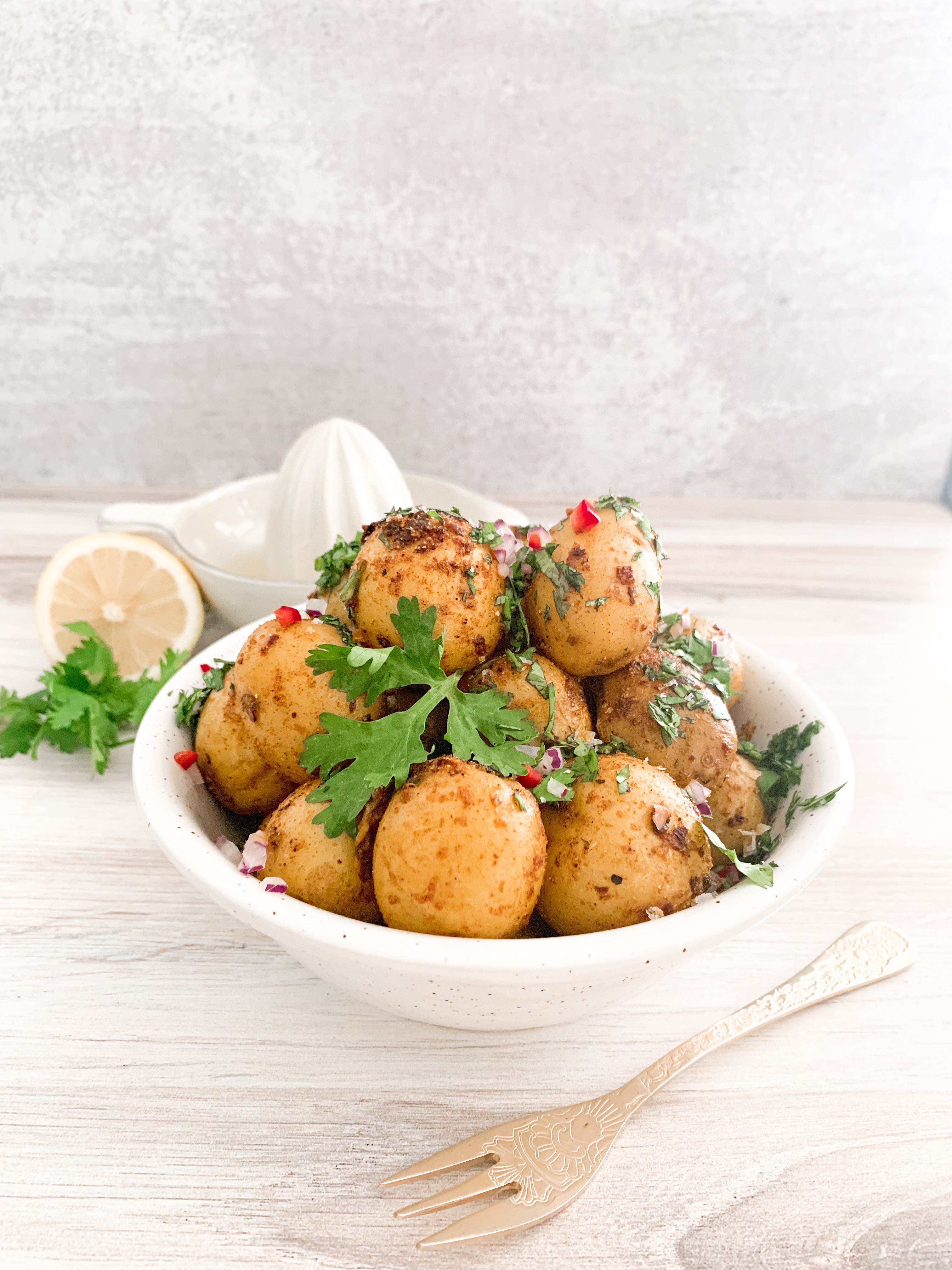 My husband does not cook. I am actually unsure of how he managed to survive for so many years on boxed macaroni and cheese and frozen pizza, but somehow he did. And believe it or not, some days I don't want to cook (but I don't want to eat pizza or macaroni and cheese, either), so after a friend of his made us dinner in his Instant Pot, I thought maybe this was something that would make cooking relatively simple for him – and if not, at least I could cook chickpeas for hummus quickly. To date, he has cooked one meal in it, and so now I'm quickly innovating to get the most use out of it, especially since it takes up valuable real estate in our relatively small apartment kitchen.
The weather here has been pretty hot and so the idea of turning on my oven to roast potatoes did not appeal. At all. And so I wondered if I could create one of our regular recipes in the Instant Pot instead, and likely in half the time. As it turns out, this is totally possible – and I'll probably be using the Instant Pot to cook potatoes from now on.
I used what we call 'new potatoes' in England, those small potatoes that come in 1.5lb bags at the supermarket. I tossed them into the pot of our 6 quart Instant Pot DUO Plus with a cup (250ml) of chicken broth (you can also use vegetable broth), a squeeze of lemon, a little salt, pepper, and garlic powder (in about the same amounts as I would sprinkle on them in the oven). Pressed the 'Pressure Cook' button, set to 8 minutes, walked away – and then upon beeping to alert me it was finished I pressed the release valve. Voila! Perfectly cooked, creamy potatoes that had absorbed all the delicious flavour of the broth. I drained them, then set the Instant Pot to sauté mode.
Once the Instant Pot read 'HOT' I added 2 Tbsp of olive oil, and the drained potatoes, gently moving them around for a couple of minutes until the skin crisped up a bit and browned. Then I dumped my batata harra spices on top, gently coated the potatoes, and they were ready to serve. In only ten minutes I had a side dish that typically takes me at least forty minutes. I will say that they would have probably turned out even crispier had I popped them under my broiler for five minutes instead – however, it was 100°F outside (38°C) and so that wasn't happening.
Once the potatoes are coated in your spice mixture you can serve however you'd like – I garnish mine with chopped red onion, chopped spicy red pepper, a squeeze of lemon, and cilantro – with some extra Aleppo pepper on top. They're delicious dipped in toum, too.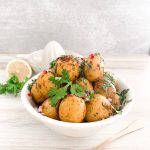 Print Recipe
Instant Pot Batata Harra (Lebanese Spicy Potatoes)
These spicy potatoes (batata harra) take just 10 minutes in the Instant Pot.
Ingredients
Instant Pot Potato Ingredients:
1.5

lbs

small (new) potatoes

(680g)

1

cup

broth (chicken, vegetable, etc.)

(250ml)

1

tsp

lemon juice (fresh)

½

tsp

garlic powder

salt and pepper
Batata Harra Spices:
2

Tbsp

olive oil

½

tsp

cumin (ground)

½

tsp

coriander (ground)

½

tsp

garlic powder

½

tsp

smoked paprika

½

tsp

Aleppo pepper

⅛-½

tsp

cayenne pepper

(depending on your spice-level preference)

¼

tsp

turmeric

¼

tsp

black pepper (ground)

¼

tsp

sea salt (flakes)
Garnishes (Optional):
¼

cup

finely chopped parsley

¼

cup

finely chopped coriander / cilantro

1

tsp

lemon juice (fresh)

1

Tbsp

fresh red chili, finely diced

1

Tbsp

red onion, finely diced

1

tsp

Aleppo pepper
Instructions
Place your potatoes, broth, lemon, salt, pepper, and garlic powder into the Instant Pot. Set to Pressure Cook (High) for 8 minutes. After 8 minutes, quick release the pressure. Remove pot and drain liquid from the potatoes.

Set the Instant Pot to Sauté mode. Once it reads 'HOT', add olive oil and once that is heated, the potatoes. Cook the potatoes (moving them gently) until the skin crisps up (about 2 minutes) then add the spices. Coat the potatoes well and then serve.

If desired, garnish with herbs, a squeeze of fresh lemon, and chili.
Notes
This recipe uses a 6 quart Instant Pot Duo Plus. Larger capacity Instant Pots may require more liquid – see instruction manual.