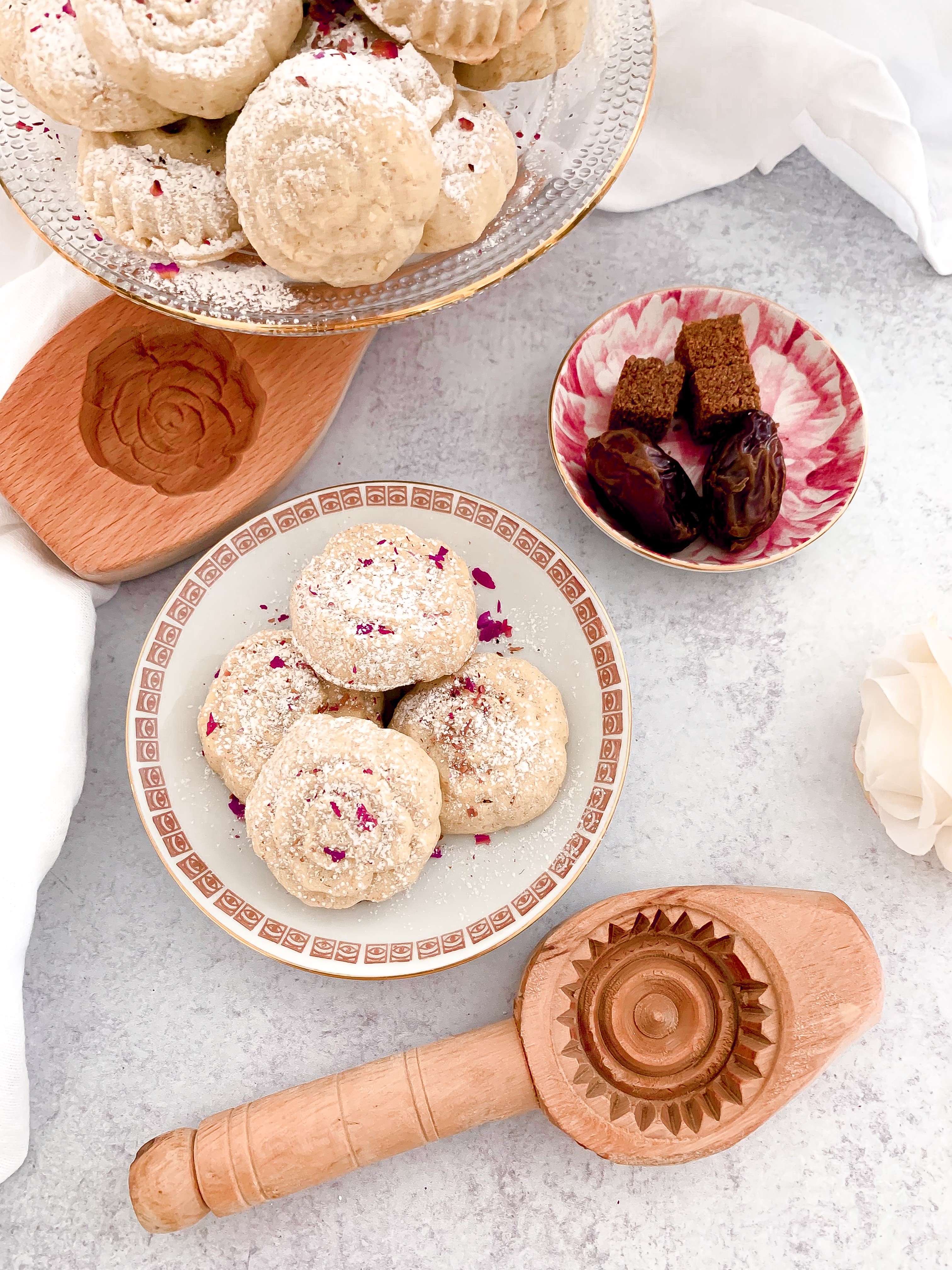 My job is technically located in the Middle East, and so whenever I travel to my company's head office I am guaranteed to gain at least five pounds, largely because the office break room is always stocked with a large jar filled to the brim with ma'amoul. I am not generally a sweets person, but ma'amoul are different: they aren't extremely sweet – just enough sweetness from the dates to go perfectly with a cup of coffee, and if made right – they have a crumbly, buttery, melt-in-your-mouth texture that's pretty irresistible. Right now many of my friends are preparing sweets for Eid Al-Adha and so I was inspired to bake ma'amoul, too.
There are two different types of ma'amoul – one made with dried fruit inside (like dates as I've used here) and another type made with nuts inside (typically walnuts or pistachios, but sometimes almonds as well). Technically, or so I've been told – powdered sugar belongs only on the nut-filled ma'amoul, but because these aren't overpoweringly sweet already, and because it looks pretty, I've added it here. If you don't want to add it these ma'amoul will still look gorgeous and taste amazing.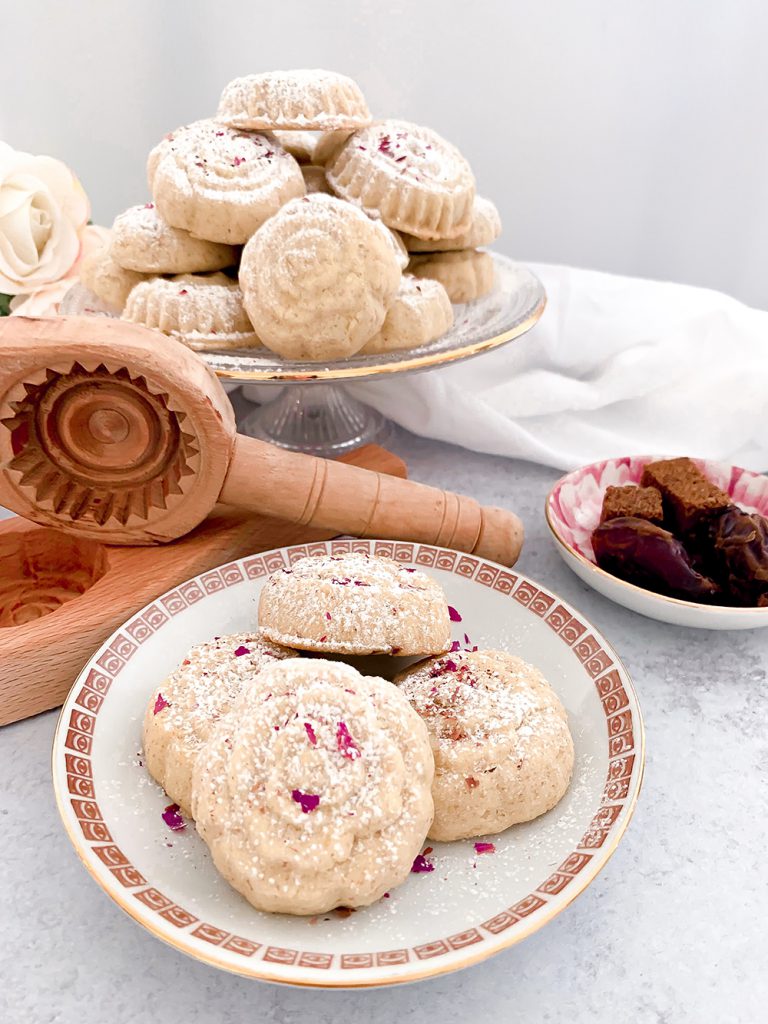 The ingredient list for ma'amoul is relatively simple. That being said, there are two things that I think are essential for ma'amoul that taste like the ones in the Middle East: clarified butter (ghee) and mahlab. You can absolutely substitute melted butter and omit the mahlab if you don't have them – the ma'amoul will still taste and look great, but to taste like the ones that come from your Teta / Sitto's (grandma's) kitchen these ingredients make a huge difference. Mahlab lends a very specific flavour and complexity to the dough (it is made of ground St. Lucie cherry pits, and so it gives a slight almond / vanilla / floral flavour that you just can't replicate. It's distinct to those who know it, and I personally think it's the difference between good ma'amoul and ma'amoul so good you can't stop eating them.
Similarly, clarified butter / ghee gives the ma'amoul a richness that regular melted butter does not – it concentrates the buttery flavour and helps fully saturate the semolina and farina mixture. I know what you're thinking – ghee is not cheap – and so I clarify my own butter and keep a jar of it in the fridge for when I need it. I stock up on butter when it goes on sale and clarify as needed. Again, you don't need clarified butter, but it does make the finished cookie just a little bit richer.
Semolina flour (typically used for pasta making) ground fine, is essential to this recipe. The farina (sometimes called 'Cream of Wheat') is not, but again, if you have it on hand it lends a nice texture to the finished cookie. If you don't have farina on hand you can substitute more all-purpose flour. You also don't need a ma'amoul mold, you can simply roll the dough into a ball, roll your date paste into a ball, flatten the dough, place the date ball inside, wrap it around, flatten a little – and if desired, make a design in the dough using a fork. If using a mold, you'll want to do this like so:
Form a ball with the dough, and then with a teaspoon of the date mixture. Flatten your dough ball and place the date ball within.

If you have a mold, place inside and then close the dough around the date paste ball. Tap the mold to remove.
Bake your ma'amoul for roughly 15-20 minutes in a 350°(F) / 175°(C) oven, or until the bottoms are a golden brown. The tops likely won't brown much, and you don't want them to – they should be light in colour. Let them fully cool before adding any powdered sugar (if desired). They are good for 4 days or so in a sealed container at room temperature.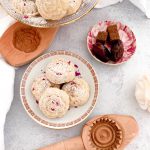 Print Recipe
Ma'amoul (Date Filled Semolina Cookies)
Equipment
Food Processor

Ma'amoul mold (optional)

Baking sheet

Silpat or parchment paper
Ingredients
For the Date Paste:
300

grams

medjool dates

(10.5 ounces)

2

Tbsp

unsalted butter, softened

1

tsp

rose water

¼

tsp

cinnamon (ground)

¼

tsp

cardamom (ground)

½

tsp

finely crushed dried rose petals

(optional) plus extra, for garnish if desired
For the Ma'amoul Dough:
2

cups

fine semolina

1

cup

fine farina

(or cream of wheat, or additional all purpose flour)

1

cup

all purpose flour

1

tsp

ground mahlab

optional, but worth it!

¾

cup

ghee, melted

½

cup

powdered sugar

plus extra for dusting, if desired

1½

tsp

baking powder

¼

cup

milk (or water)

1

tsp

rose water
Instructions
For the Date Paste:
In the bowl of the food processor combine the dates, butter, cinnamon, cardamom, rose petals, and rose water. Blitz repeatedly until a paste forms. (If you don't have a food processor you can chop the dates, and place all ingredients plus 3 Tbsp water in a saucepan over medium heat until the dates break down and form a paste.) Set aside.
For the Ma'amoul Dough:
Mix semolina, farina, flour, and mahlab in a large bowl. Add the melted ghee and mix thoroughly to combine. It should have the texture of wet sand. If it feels too dry, you can add an additional ¼ cup of ghee. Let this mixture sit at room temperature covered for at least an hour, but several hours to overnight is great. This allows the butter to fully soak into the grain, and helps create the melty, crumbly texture.

When ready to form the ma'amoul set your oven to 350°F/175°C. Line a baking sheet with a Silpat or parchment.

Once the butter has saturated for some time add your baking powder, milk, and rose water. Combine thoroughly but do not overmix. The dough should be soft and pliable but not sticky. If needed, you can add an extra tablespoon or two of milk or water.

Form a round ball with the dough (about a tablespoon, or more, depending on your mold size). Form a round ball with a teaspoon of date filling. Flatten the ball and place the date ball inside. Place in the mold and close, or roll the dough around the date ball and flatten into a round – decorate with a fork, if desired.

Place ma'amoul on the lined baking sheet about 1" apart, and bake for 15-20 minutes, until the bottoms of the ma'amoul are slightly golden (the tops will not be golden, this is okay). If not too crumbly, cool on a wire rack – if they are slightly crumbly and soft still leave them on the baking sheet 5 minutes before moving.

Dust with powdered sugar and dried rose petals if desired. Enjoy!