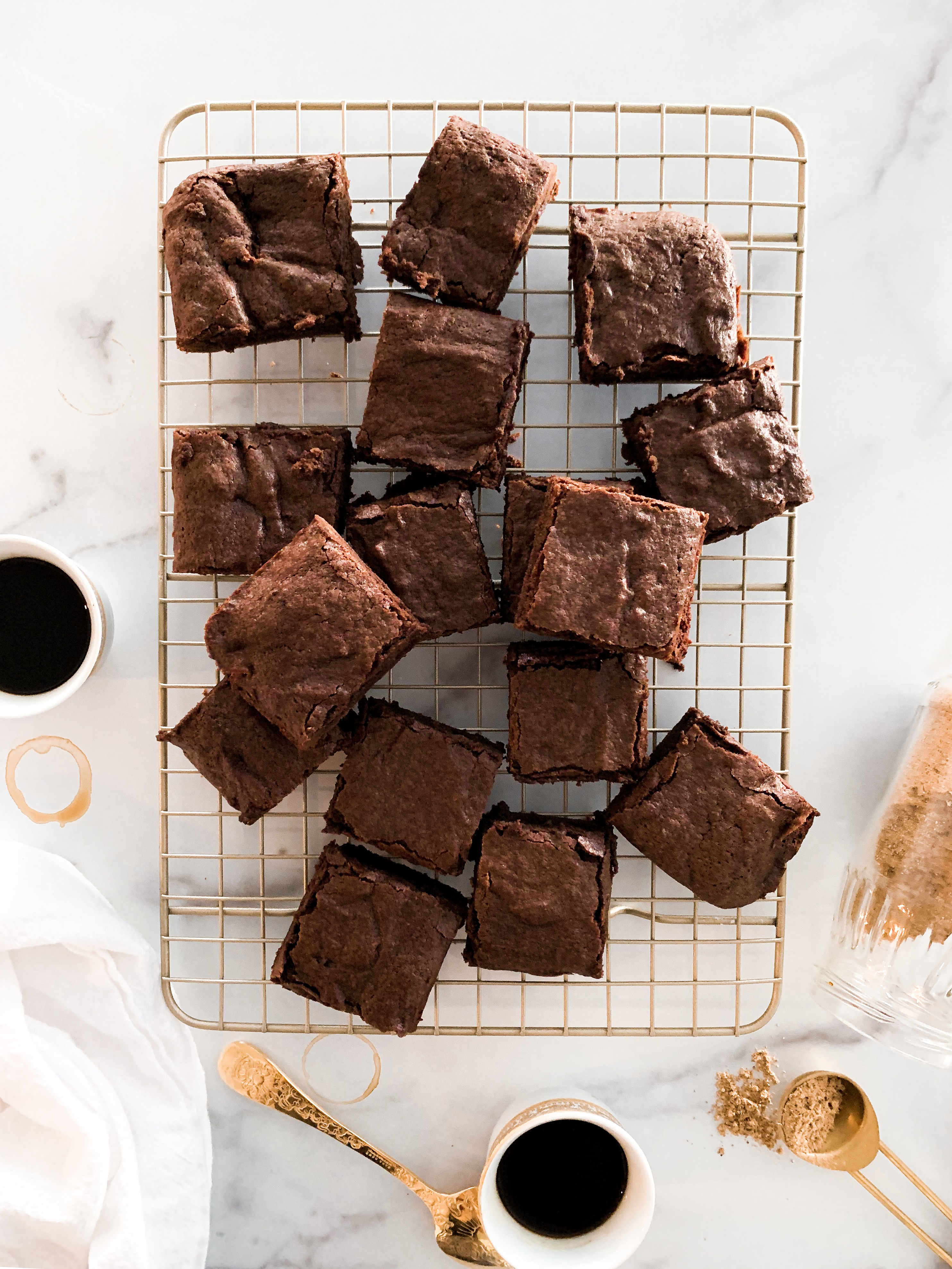 While I don't consider myself the type of person who has an 'addictive personality', coffee is definitely one of my weaknesses. I'll drink coffee in virtually any form – from strong espresso to watery diner coffee, but the thick, cardamom-fragranced Arabic coffee is probably my favourite. I am not, however, a big chocolate person – I do enjoy a piece of dark chocolate from time to time, but if I'm going to eat dessert it's usually something like knafeh, crème brûlée, or baklawa. I realise I am the minority, particularly in America where chocolate is so popular. These brownies are for the chocolate lovers – they are rich, dense, and fudgy, but with the espresso and the hawaij (a spice typically used in Yemenite coffee) notes at the end.
It really is like biting into a cup of chocolatey spiced coffee.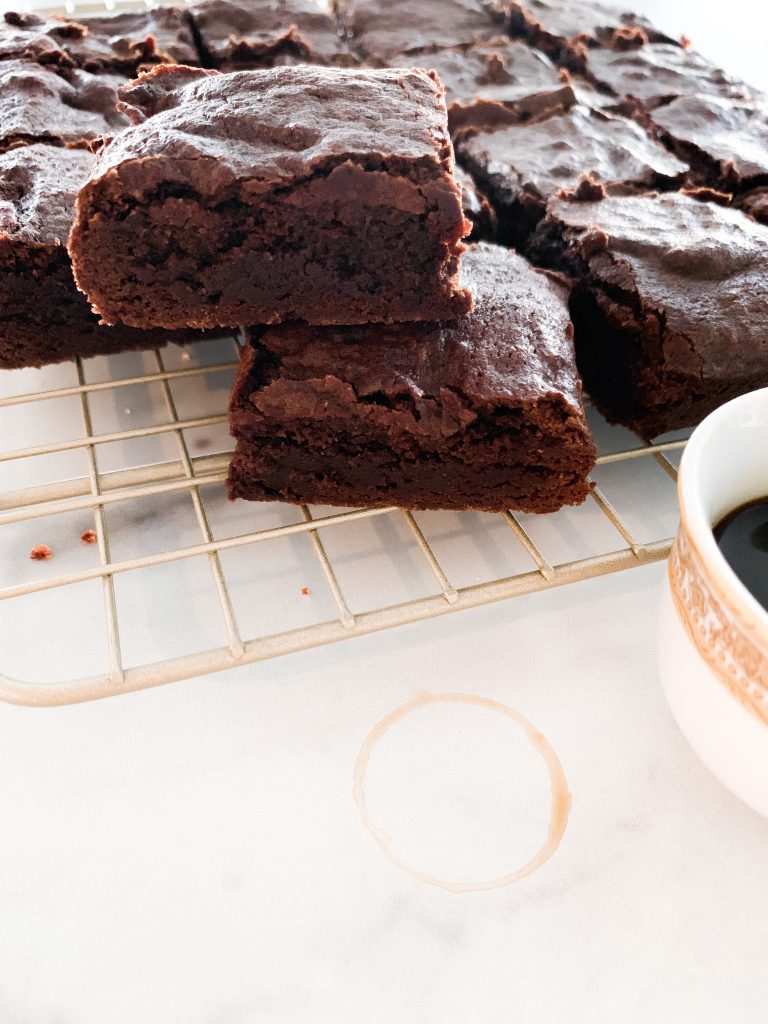 This recipe makes just a small 8×8″ tray of these. You can easily double the recipe if you need more – say, for a bake sale, or a large gathering – they are very rich, and I can't imagine anyone eating more than one or two pieces in a sitting (much like baklawa). They're also delicious warmed up with a scoop of vanilla ice cream on top – so feel free to freeze any leftovers to do this with if you find yourself with too many brownies.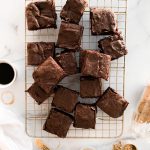 Print Recipe
Arabic Coffee Brownies
These rich, fudgy brownies are made with espresso powder and Yemenite hawaij spice, and taste just like a thick cup of hot Arabic or Turkish coffee.
Equipment
8×8" (20x20cm) Baking Pan
Ingredients
½

cup

unsalted butter

(one stick / 8 Tbsp / 115g)

1

cup

granulated sugar

(200g)

1½

Tbsp

espresso powder

½

tsp

vanilla extract

½

tsp

hawaij spice for coffee

(or ⅛ tsp ginger, ⅛ tsp cinnamon, ⅛ tsp cardamom, and ⅛ tsp nutmeg)

2

large

eggs

¾

cup

all purpose flour

(96g)

½

cup

cocoa powder, sifted

(50g) unsweetened

¼

tsp

fine sea salt
Instructions
Preheat your oven to 350°F (175°C)

Grease an 8×8" (20x20cm) baking pan with butter or baking spray, or line with parchment.

In a large bowl, combine your butter, sugar, espresso powder, vanilla extract, and hawaij. Mix thoroughly so that the butter and sugar are well-combined. You can do this in a stand mixer if you'd like as well.

After the butter, sugar, espresso, vanilla, and hawaij are well blended add your eggs and mix again until the eggs are thoroughly combined.

Add the flour, cocoa powder, and salt, and stir until all dry ingredients are fully incorporated. Spoon into your lined baking pan and smooth out the top.

Place in the oven for 25-30 minutes, or until firm in the center. Let cool in the baking pan for 10 minutes before removing and cutting. Enjoy!