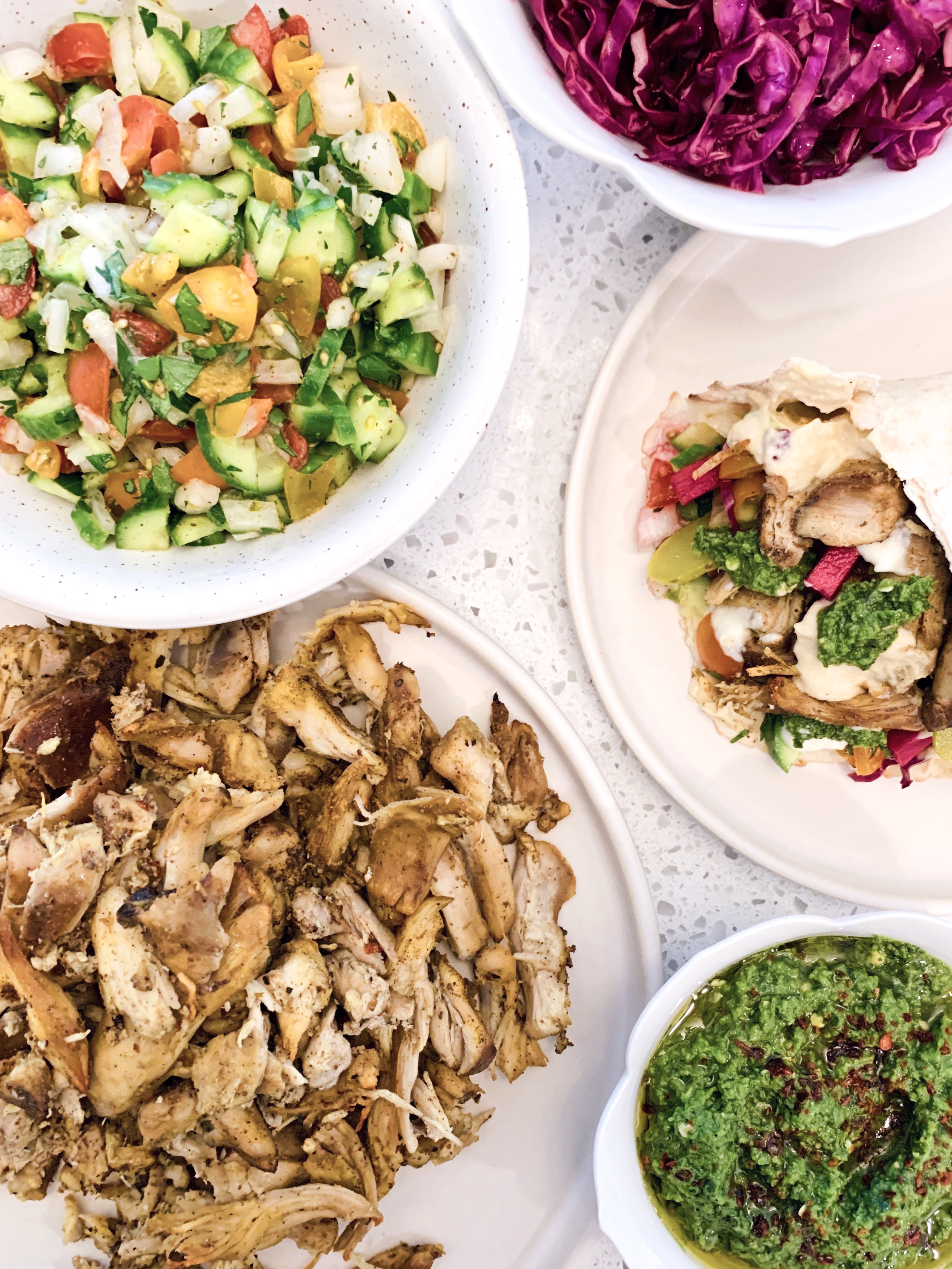 As a parent, there are definitely nights after school when I simply don't have the time to spend creating a healthy meal from scratch (or times I really just don't feel like it). In the interest of not blowing our budget or eating junk food, I always try to keep a batch of this slow cooker shawarma in our freezer. The night before a busy day I'll put it into the fridge, so that when I get home I can pop it into the oven under the broiler, make a quick salad, and have an easy – and still healthy meal for the family.
I would not recommend substituting chicken breast for thighs in this recipe, only because they have a tendency to come out really dry. You're cooking them twice – once in your slow cooker, then reheating under the broiler, and breast meat just tends to get stringy and unpleasant. I serve rolled up in lavash bread with hummus, salad, pickles, and hot sauce, but you can even serve it wrapped in a flour tortilla if that's what you have on hand – or over a salad or bowl of homemade hummus. If you have commercial shawarma seasoning on hand, you can use that – though I've also included my own recipe – the recipe below will give you more than enough for at least three batches of shawarma.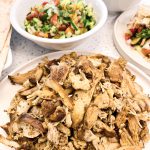 Print Recipe
Slow Cooker Shawarma
Keep a portion of this in your freezer, and defrost before a busy day for a quick, flavourful dinner.
Ingredients
1

Tbsp

olive oil

8 to 10

boneless skinless chicken thighs

3

Tbsp

shawarma seasoning

(see recipe below)

1

tsp

salt
Instructions
Slow Cooker:
Set slow cooker to low heat for six hours. Place your olive oil and chicken thighs in the slow cooker. Sprinkle with the shawarma spice and salt and cook.

After six hours, allow the chicken to cool and then pull apart into bite-sized pieces. Place in the freezer for later, or for immediate use go to the next step.

If putting in the freezer, add a few spoonfuls of the cooking liquid to your storage container with the chicken – this will help it stay moist when reheated, though it's not necessary if you're putting it under the broiler immediately.
Oven:
Defrost the shawarma overnight. If cold from the fridge – place on a foil lined baking sheet into a 350°F (175°C) oven for 10 minutes. Once warmed, move the chicken closer to the broiler, then broil for an additional 5-10 minutes until slightly charred and crispy.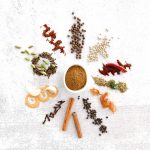 Print Recipe
Shawarma Spice Blend
Make a kebab-shop worthy shawarma yourself at home with this shawarma spice blend.
Ingredients
2

Tbsp

garlic powder

1

Tbsp

black peppercorns

(or ground)

1

Tbsp

white peppercorns

(or ground)

2

Tbsp

allspice berries

(or ground)

2

medium

cinnamon sticks

(or 1 Tbsp ground)

4-6

blades

of mace

(or nutmeg, or 1 Tbsp ground)

1

Tbsp

cardamom (green), seeds

(or 1 Tbsp ground)

½

Tbsp

chili powder

(or chipotle powder)

½

Tbsp

Aleppo pepper

(optional)

½

Tbsp

dried marjoram

(or oregano)

½

tsp

cloves, whole

(or ½ tsp ground)
Instructions
Grind all spices. Blend thoroughly.
Notes
This will keep in a cool, dark place for up to six months. This will yield approximately 2 ounces (60 grams) of spice.