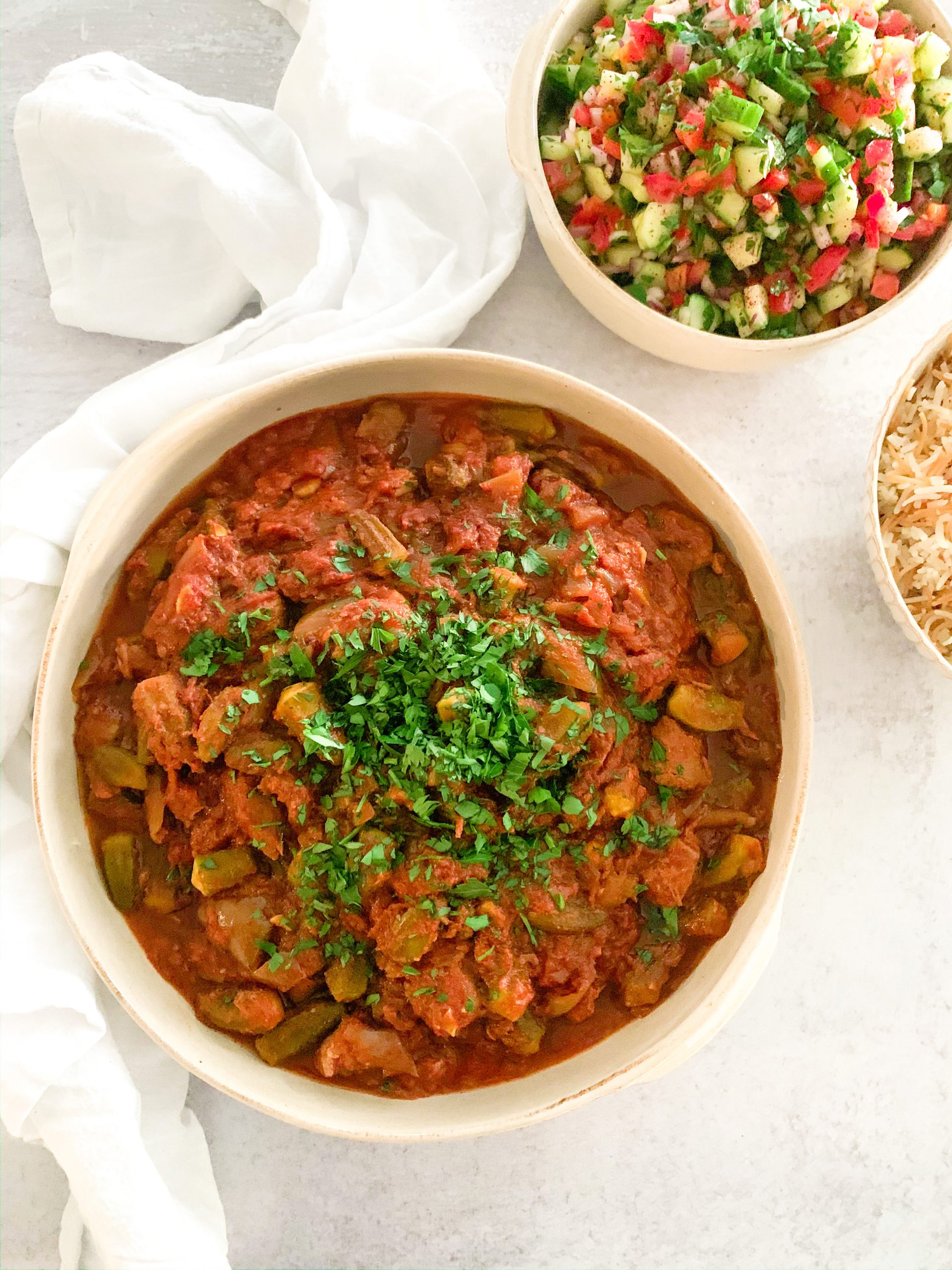 Okra is one of those vegetables that people tend to have strong feelings about, and I am among the okra lovers of the world. Bamieh is simply the Arabic word for okra – and this stew can be made bil lahme – or with meat (as I've done here), or without – which makes it completely vegan. This is a staple winter meal for us, and since okra is obviously not in season, bagged frozen baby okra is used in this dish. If you prefer to use fresh, you absolutely can, just find the smallest pods that you can and rub any fuzz off of them with a towel.
Traditionally we serve it with rice (riz bi sh'arieh, or rice with vermicelli) and a basic salad dressed with lemon juice and olive oil, and fresh warm bread. All of the ingredients can come from frozen / tinned goods – I keep meat in the freezer (typically I buy lamb when it goes on sale, since it is quite expensive in America, and freeze in smaller portions), a 1 pound bag of frozen baby okra (easily found in your local Middle Eastern supermarket), and tinned crushed tomatoes. Baby okra tends to be less 'slimy' than larger okra, and the acidity of the tomato sauce also keeps the slime factor at bay. Even my ten-year-old who I can't get to eat courgette (zucchini) will quite happily eat the okra in this stew, which should tell you something!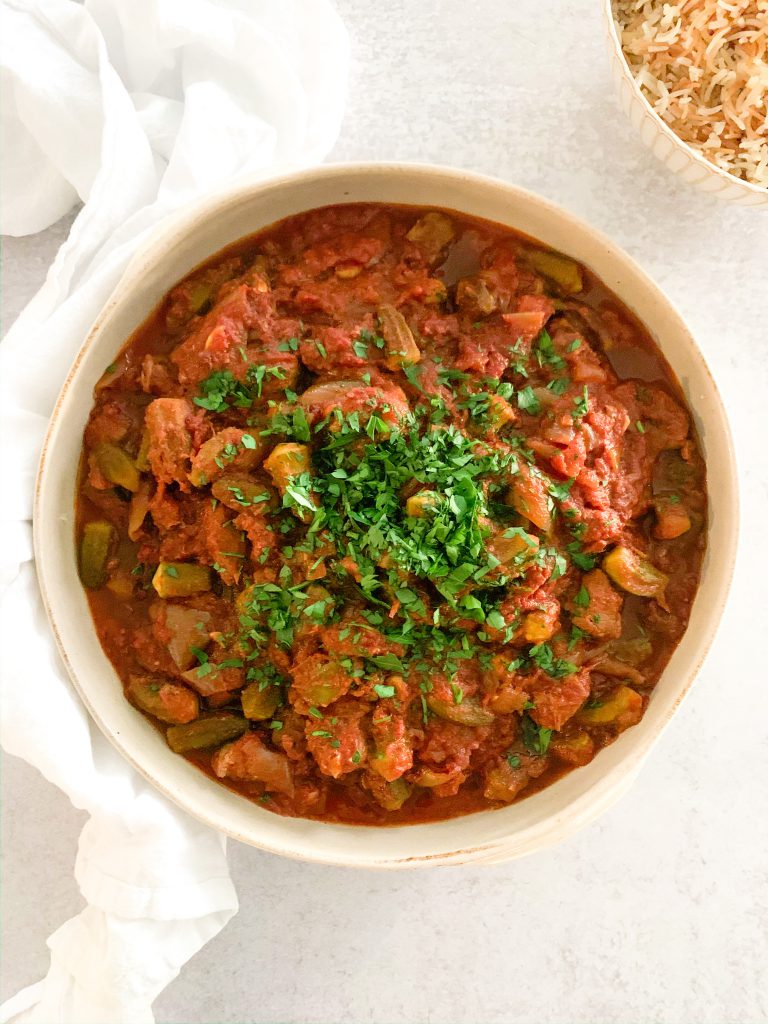 The okra is also added about 20-30 minutes before serving, so it has just enough time to cook and soak up the flavour and not enough time to become overcooked and mushy / gelatinous. Even reheated the day after, the texture of the okra remains crisp and not unpleasantly slimy, promise. I use homemade baharat seasoning in this dish (Lebanese seven spice), but I've also included the ratio of ground spices below if you don't have time to make some or don't have any on hand.
I make this stew in the oven, but you can also do it on the stovetop. I prefer the oven because I can keep it at a consistent low temperature in order to make the meat super tender, but if you only have a stovetop you can also simmer gently on a low flame for the same time.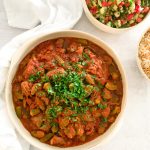 Print Recipe
Bamieh bil Lahme (Syrian Okra Stew)
This hearty stew features meat (beef or lamb) and baby okra, with warming spices.
Equipment
Large (4+ quart) Dutch oven or cooking pot with lid
Ingredients
1

Tbsp

olive oil

2

lbs

lamb (or beef) stew meat, cut into bite-sized pieces

(900g)

2

medium

yellow onions, roughly chopped

6

cloves

garlic, roughly chopped

1½

Tbsp

baharat (Lebanese seven spice)

(or: 2 tsp cinnamon, 2 tsp allspice, 2 tsp cumin, 1 tsp coriander, ½ tsp black pepper, pinch of cardamom, pinch of cloves)

½

tsp

fine sea salt

½

tsp

garlic powder

(I like the roasted garlic powder from the Spice House)

2

cups

beef broth

28

ounce

tin of crushed tomatoes

(790g)

1

Tbsp

pomegranate molasses

1

pound

frozen baby okra

(450g)

small

handful fresh coriander (cilantro), chopped

(for garnish, optional)
Instructions
Preheat your oven to 300°F (150°C).

In a large Dutch oven or cooking pot add your olive oil and heat over medium high heat on the stove. Once the oil is shimmering add your meat and sear for several minutes. Turn the heat down to medium and add your onions, stirring to combine, and cooking for 5 minutes until slightly softened. Add the garlic, spices, salt, and garlic powder, and stir until combined.

Remove from heat and add your beef broth, followed by the tomatoes and pomegranate molasses. Place into the oven and cook, covered, for at least three hours (I like to leave mine for 3-6 hours). About 30 minutes before serving, add your frozen okra and stir to combine. Cook for another 20-30 minutes, until all the okra is hot. Remove from the oven and serve, ladled over rice and garnished with fresh chopped coriander (cilantro) or parsley.