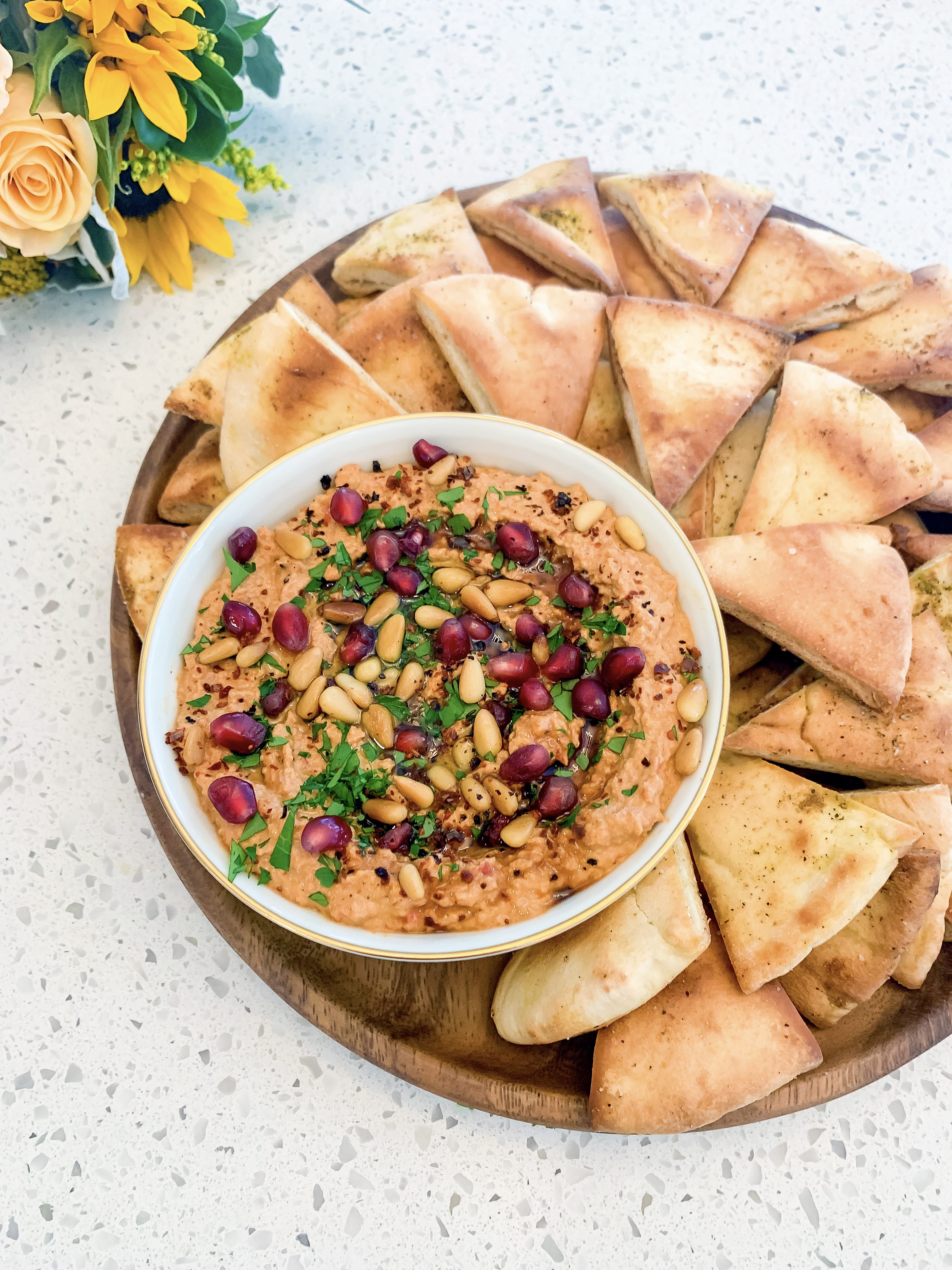 I took a little break from the blog over the American 4th of July weekend, though that doesn't mean I wasn't cooking. My husband always laments that when we're invited to a barbecue or gathering, and we ask what we can bring – and they tell us we don't need to bring anything – that I still bring food. A lot of food. My mother always taught me that you never show up to a gathering without something – food, flowers, a bottle of something to drink – Millennials take note: when someone tells you not to bring anything, still bring something, even if it's just a small token of gratitude. We were invited to a 4th of July fireworks viewing from a friend's home and I brought this muhammara. You can't have too many dips at a party, in my opinion.
Everyone's recipes for muhammara differ, but this is essentially a dip made of roasted red peppers and walnuts. At home I typically serve with homemade khubz and raw vegetables for dipping, but on this occasion I included homemade baked pita chips as these are more versatile for non-Middle Eastern food / gatherings.
While you can use roasted red peppers from a jar, I do find the fresh ones give a sweeter flavour. That said, if all you have on hand are the ones in the jar, or you have some you need to use, then by all means do! The dip will still be fantastic. I play up the smokiness of the roasted peppers with urfa biber chili flakes, but smoked paprika works great as well. I love using Aleppo pepper in this dish, because it's bright and almost lemony, with just the slightest amount of heat. You can also adjust the cayenne, or omit it entirely if you don't want a subtle spiciness to the dip.
Pomegranate molasses really lends a specific flavour to this dish. While you can omit it, I'd recommend substituting with at least a little pomegranate juice and maybe some honey – though you may need to play around with the amounts. Pomegranate molasses' flavour profile is slightly sour, slightly sweet, with a richness of a dark syrup – a smaller amount of tamarind paste could possibly work as well. If you love Middle Eastern food, however, a bottle of pomegranate molasses is a good investment, it lasts ages, and can be added to many dishes (or use it to make drinks with – like jallab).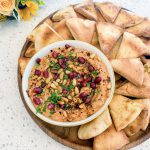 Print Recipe
Muhammara (Roasted Red Pepper Dip)
This roasted red pepper dip is creamy, a little sweet, and a little smoky.
Ingredients
3

large

red bell peppers, whole with seeds and tops removed

2

Tbsp

olive oil

plus more, for coating peppers

½

tsp

salt

1

cup

walnuts

½

tsp

Aleppo pepper

½

tsp

cayenne pepper

plus extra for garnish, if desired

½

tsp

smoked paprika

½

tsp

urfa biber chili flakes

2

Tbsp

pomegranate molasses

¼

cup

fresh breadcrumbs
Garnish:
handful

pomegranate arils

optional

handfull

chopped parsley

optional
Instructions
Roasting the Peppers:
Remove the tops and seeds from the peppers. Coat inside and out with olive oil and sprinkle inside and out with salt.

Roast at 400°F / 200°C for 30 minutes. Cool until they can be handled, then peel any skins off and set aside. It's okay if small amounts of the skin remain.
Making the Muhammara:
Toast your walnuts in a pan over medium heat until they are warm and fragrant. Set aside. Toast your pine nuts until golden brown over medium heat and set aside.

Place your toasted walnuts, olive oil, Aleppo pepper, cayenne, smoked paprika, urfa biber, lemon juice, pomegranate molasses, and breadcrumbs in a food processor. Process until well combined – it will not form a smooth paste, but rather a chunky one.

Add your roasted red pepper and combine thoroughly in the food processor until mostly smooth. Salt and pepper to taste.

Serve topped with olive oil, pomegranate molasses, and pine nuts – with a sprinkle of Aleppo pepper and fresh parsley if desired.