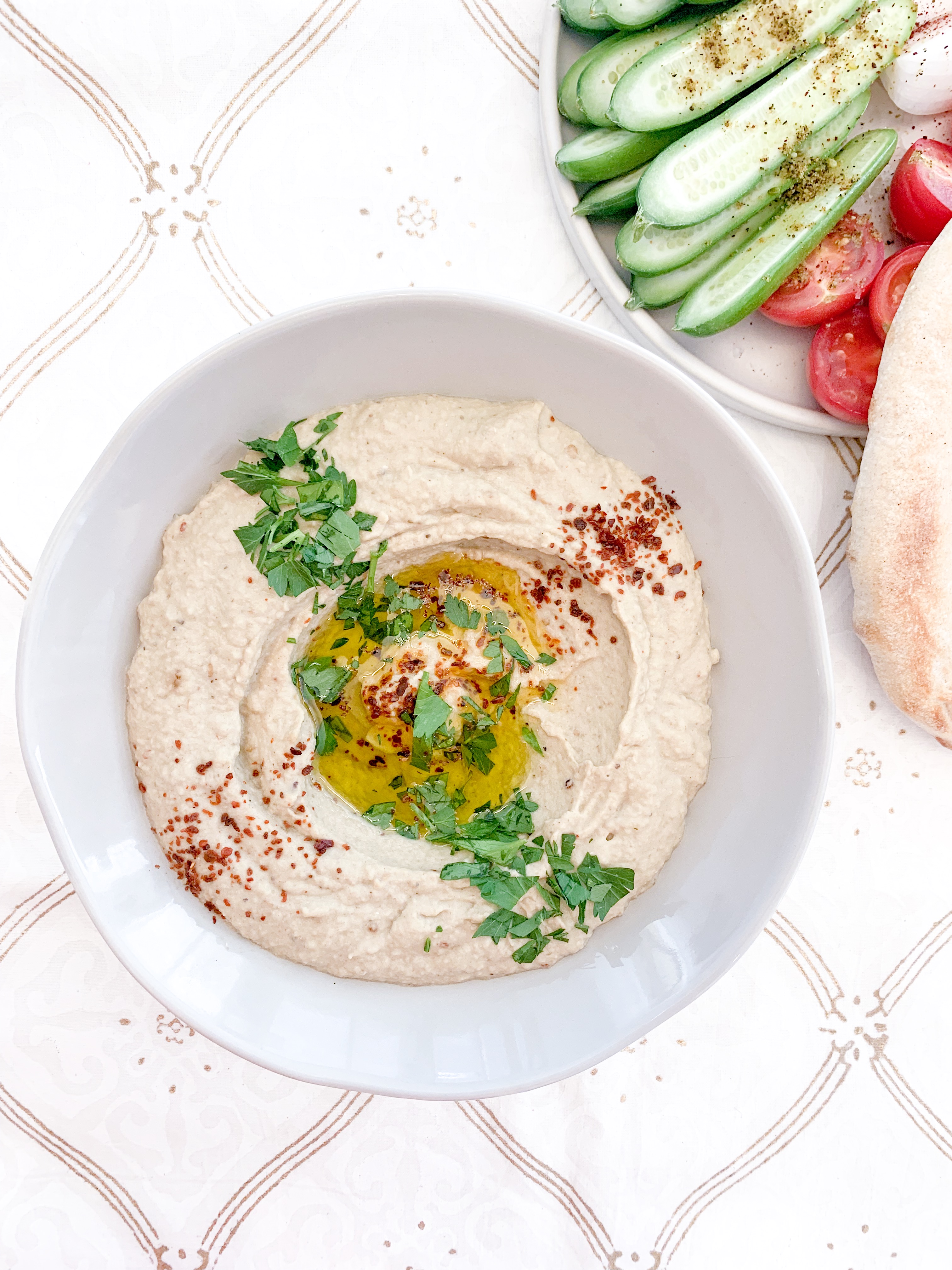 Aubergine (or eggplant, if you're American) is probably one of my favourite vegetables. Ever since I was a small kid I can remember being excited to see it on my plate, unlike my daughter who I still can't convince to touch the stuff… Unless it's 'hidden' in mutabbal. Mutabbal is probably what many people would recognise as 'Baba Ganoush', the staple aubergine dip of Middle Eastern restaurants everywhere. Though its name is not quite so catchy (Baba is the Arabic word for 'dad' and so baba ghanouj / ganoush roughly translates to something like 'spoiled daddy' or 'pampered papa'). I've been told that the difference between the two is that mutabbal contains tahini and baba ghanouj does not (the Lebanese variety usually contains other vegetables, pomegranate, and sometimes walnuts). This recipe is for the tahini version, and it's simple and delicious and really, if people want to call it baba ghanouj then who am I to stop them?
There are two ways to prepare this, and it's up to you in terms of texture preference. You can blend all the ingredients in your food processor (much like hummus), or you can chop by hand into small chunks and mix together by hand. I'm partial to the latter, though my daughter prefers the blended variety shown here. It's really a matter of preference and both are equally delicious. If you're carb-conscious, mutabbal is a good alternative to hummus as well, since aubergine has fewer carbs than chickpeas.
I start by cutting my aubergine / eggplant in half, salting the cut side liberally and letting it 'sweat' for thirty minutes while I do other things around the kitchen. This was what my mother always did – the salting and subsequent sweating out of the liquid is supposed to reduce the bitterness from the eggplant. After thirty minutes, rinse off the salt and liquid that has emerged and dry.
I then cook by placing cut side up on a foil-lined baking sheet at 400 degrees Fahrenheit (200 degrees Celsius), seasoning with a little smoked paprika, olive oil, salt and pepper, and baking for about 30 minutes. After thirty minutes I turn them over (skin side up now) and broil for another 5-10 minutes until the skin is charred. This lends a beautiful smoky flavour to the dip. Let your eggplant / aubergine cool for about fifteen minutes and then scoop out the innards and discard the skins. You can either place the ingredients into a food processor, or you can chop by hand and mix – for the texture you desire. Serve with a drizzle of olive oil and a sprinkle of sumac or pomegranate arils and enjoy with hot khubz / pita fresh from the oven.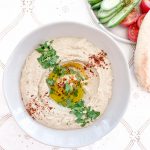 Print Recipe
Mutabbal (Not Baba Ganoush)
This eggplant and tahini dip is smoky and delicious. Call it baba ganoush if you'd like.
Ingredients
2

large

aubergines / eggplants

¼

cup

olive oil

plus extra, for serving

2-4

tsp

salt

(for 'sweating' aubergine)

1

tsp

smoked paprika

plus extra, for serving

juice

of one lemon

2

Tbsp

good tahini

4

cloves

garlic, finely chopped

3-4

drops

liquid smoke

for extra smokiness, if desired

¼

tsp

Aleppo pepper

2

Tbsp

Greek yogurt

(if desired)

salt and pepper to taste
Instructions
Sweat the Aubergine / Eggplant:
Cut each aubergine lengthwise, and salt the cut side liberally. Let rest for thirty minutes, then rinse off salt and any juices that have leaked out.
Cook the Aubergine / Eggplant:
Preheat your oven to 400°F/200°C. Place aubergine on a foil-lined baking sheet cut side up. Season with a drizzle of olive oil, ½ tsp of the smoked paprika, and salt and pepper. Bake for 30 minutes.

Turn on your broiler and turn over the aubergines, skin side up. Place close to the broiler and cook for an additional 5-10 minutes until skins are charred. Remove from oven and cool for 15 minutes or so.

Scoop the flesh out, discarding any skins. Chop finely or place into a food processor.

Make your tahini sauce by blending tahini, garlic, and lemon juice until well-combined. You can also add a little water (1-2 tsp) if needed to make the sauce thinner and lighter in colour. Add your tahini sauce to the aubergine and season with the other half of the smoked paprika, Aleppo pepper, and liquid smoke and/or yogurt (if desired). Salt and pepper to taste.

Serve at room temperature with a drizzle of olive oil and more smoked paprika if desired. Enjoy!