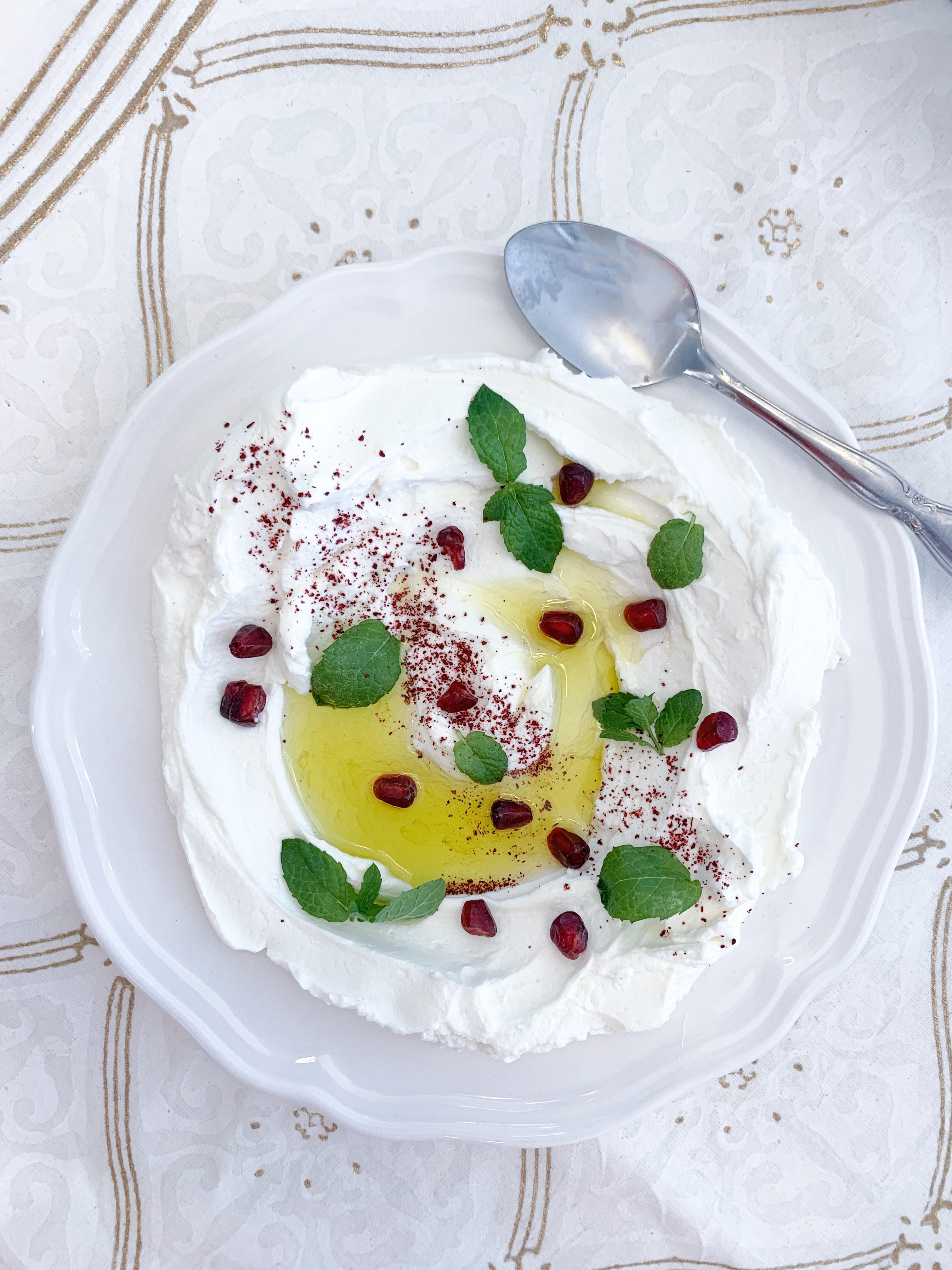 Admittedly, I am not a big cheese person. Part of this stems from being lactose intolerant, so I didn't grow up eating a lot of it as I always felt it made my stomach hurt. Cultured dairy, like yogurt, seems to be a bit easier on my stomach and so labneh, being made from yogurt, can occasionally fit into my diet. It's also a relatively 'guilt-free' cheese as Greek yogurt is very high in protein and low in fat and sugar. It's delicious in salty or sweet applications, and it's also extremely easy to make. If you've never had labneh, it's similar to cream cheese in texture but with a slight tanginess from the yogurt – it can be used similarly, or just eaten with bread or vegetables. It's often a part of breakfasts in various Levantine countries along with fresh vegetables and olives.
I start by placing around 500g (2 US cups) of Greek style yogurt (plain, unsweetened, and full fat / 5% – I love Chobani both for the quality of their products and their company ethos) into a cheesecloth bag with a small pinch of salt and push it down into the bottom of the bag (don't push too hard as the yogurt will squeeze through!) I usually suspend it in a quart sized wide-mouth canning jar and screw on the lid, so there's plenty of room for the liquid that will begin straining from your yogurt: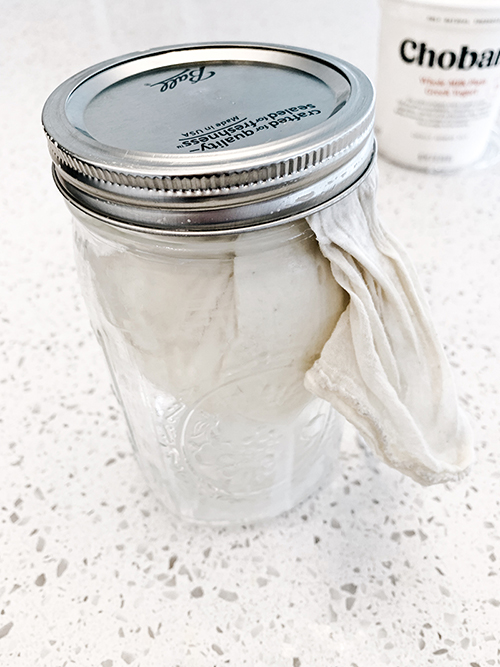 The straining process takes roughly six hours (I typically strain overnight and remove in the morning). If you're using a smaller jar you will want to periodically drain the liquid so that the labneh is not sitting in it. By morning, you can pull the now solidified labneh out of the cheesecloth and discard the liquid. It's ready to serve, or will keep in your refrigerator for about a week. You can also use non-dairy milk yogurts or alternative yogurts like goat, sheep, or camel. While a Greek texture is easier and quicker to strain, you can also strain a thinner textured yogurt for longer to achieve the same result, though remember you will end up with far less cheese as an end result as the moisture level is higher.
Serve your labneh with a drizzle of olive oil and a sprinkle of za'atar and dip warm homemade khubz / pita into it. Or you can spread it on bread and top with silan (date syrup) or honey and toasted almonds. For something a bit more impressive for your next dinner you can serve topped with charred cherry tomatoes Ottolenghi-style (see: Charred Cherry Tomatoes with Labneh).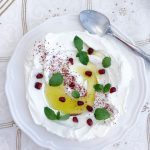 Print Recipe
Labneh (Levantine Yogurt Cheese)
This soft Levantine cheese is made with yogurt, and is delicious in both savoury and sweet applications.
Ingredients
500

grams

Greek yogurt (full fat / 5%, plain)

(2 US Cups)

pinch

salt
Instructions
Place your yogurt and a pinch of salt into the cheesecloth bag. Strain in a jar or bowl (being sure the cheese doesn't touch the bottom liquid) for at least six hours. Serve!