Kamounet is one of those seasonings that every family has a different recipe for – some include cloves, some eschew them for allspice, it just depends on your tastes (or maybe what you have in the cupboard at the time). The only must in kamounet is why it's called kamounet in the first place: kamoun is the Arabic word for cumin. I use whole cumin seeds and grind them because the flavour is much nicer than a standard jar of the ground stuff, but as long as you're buying high quality spices, ground cumin will still work well. Sure, you can buy commercial kibbeh seasoning at most Middle Eastern supermarkets, but there's something special about making your own, and grinding it fresh for a batch of kibbeh.
I use an electric spice grinder because I grind a lot of spices for our meals. It's worth it if you find yourself doing this frequently, and it saves money – I try to only buy whole spices as they stay good for far longer, and they taste better when ground fresh. If you don't have one, a clean coffee grinder works, or you can do it the old school way (like your teta told you) in a mortar and pestle. If you're going to buy pre-ground spices, I highly recommend The Spice House for their high quality (and free shipping if you order their environmentally-friendly flat packs!)
Most of the ingredients in kamounet are easy enough to source. Dried roses can be elusive if you're not lucky enough to live near a Middle Eastern supermarket, but edible dried roses (or rose petals) can be found online (they can also be used for tea, bath bombs, or garnishing desserts).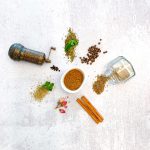 Print Recipe
Kamounet (Kibbeh Spice)
Kamounet, or kibbeh spice, is used to season various types of kibbeh. Recipes vary from family to family, so feel free to adjust this one to your tastes – the only essential ingredient is cumin (kamoun in Arabic).
Equipment
Spice (or clean coffee) grinder or mortar and pestle
Ingredients
4

Tbsp

cumin seeds

2

whole

cinnamon sticks

10

black

peppercorns

4

dried roses

1

Tbsp

dried marjoram

1

Tbsp

dried spearmint

1

Tbsp

allspice berries
Instructions
Grind all ingredients, store in a cool, dark place.
Notes
This recipe will make enough for 5-6 family sized batches of kibbeh.