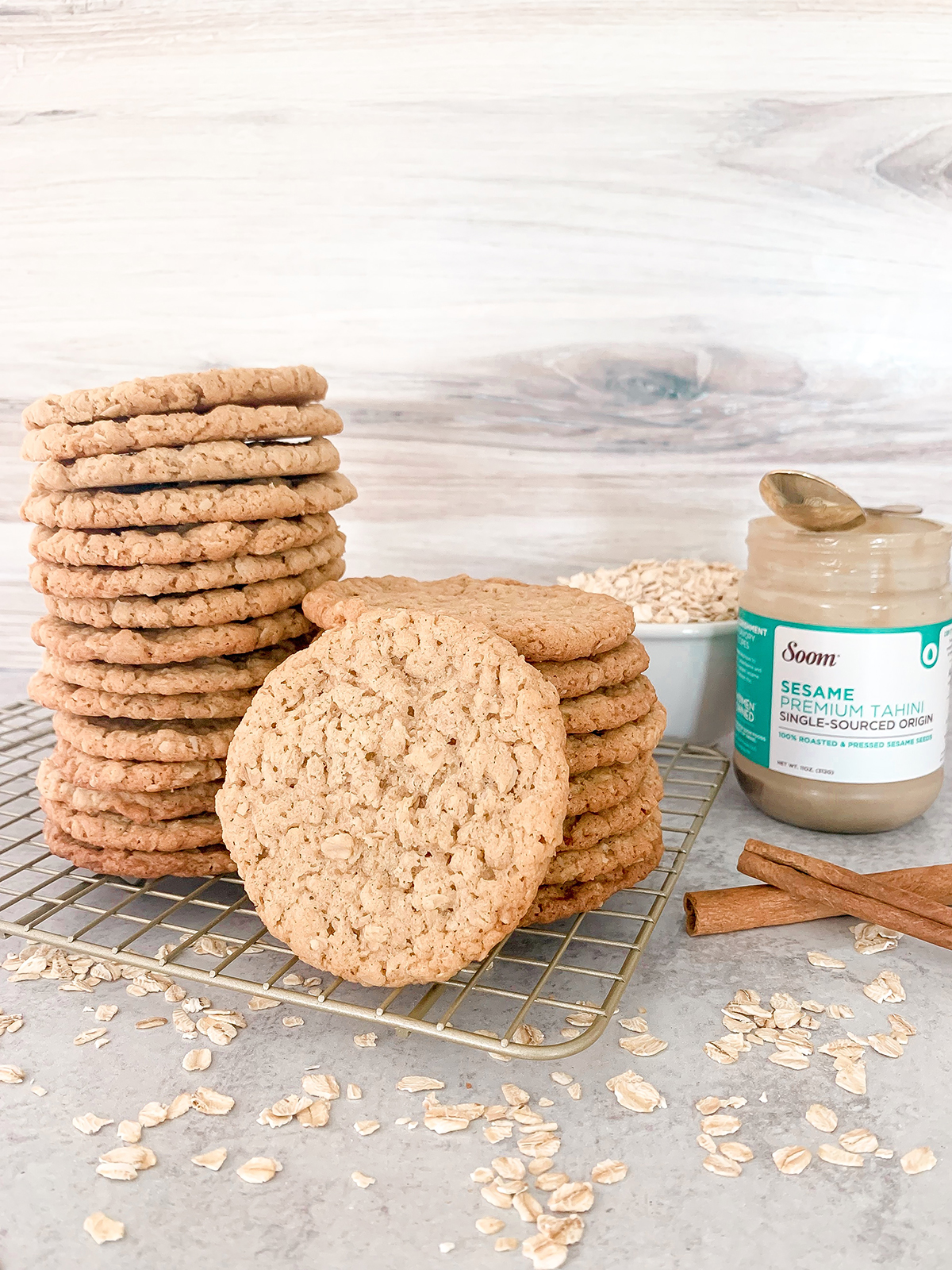 In a way, I guess I'm lucky that I married a guy who doesn't really care for sweets – at the end of a meal in a restaurant I'm almost certain not to order dessert since I'd be the only one eating it, so I'm at least grateful that he helps me eat healthier! He does, however, have a soft spot for peanut butter – and since he's been married to me, tahini. I'm more partial to tahini than peanut butter, and it's almost a guarantee that I have a giant jar of tahini stashed somewhere in our cupboards, and so I went in search of the perfect tahini oatmeal cookie, but I couldn't find one that looked like what I wanted.
Then I stumbled across these peanut butter cookies from Two Peas and Their Pod. I wasn't sure if it would work, mostly because the recipe states that they didn't use natural peanut butter, but tahini has a tendency to separate a fair bit, and it's typically far more runny in texture. I figured I'd give it a shot and adjust if the batter seemed the wrong consistency. I also, you know, tasted the batter to make sure – and the batter was so good that I figured even if the cookies were ugly, they'd at least taste delicious.
But, you guys – they weren't ugly, and they are perfect. They're buttery, with crispy edges and a soft, chewy interior. And there's oats in them, so you can tell yourself that they're even kind of healthy!
Cookie Tips
Make sure you use rolled / old fashioned oats for these cookies, not the instant type. Your dough should be a little sticky (see photo below). I used a heaping / rounded tablespoon per cookie and it made 24 (it might have made 25 if some of the batter hadn't 'gone missing'.) I also was sure to leave plenty of space between each cookie as they do spread considerably and I didn't want them to connect into one gigantic oatmeal blob. And I hate to sound like I'm constantly repeating myself, but use good tahini. Please don't use the orange tin of tahini you find at your local grocery store (you know the one, with the cute little cartoon guy in a turban). It's not good, and I've had to 'convert' so many people to real tahina who'd only tasted that bitter stuff. You can check out my glossary page for tahini advice, or just do yourself a favour and buy a couple of jars of Soom (I promise this is not an ad, I just really like the stuff).
The cookies won't look fully cooked when they leave the oven, just lightly browned around the edges, but you'll cool on the pan for five minutes which will complete the cooking process and give the crispy edge and chewy interior. You can flatten slightly (as I've done here) for a thinner cookie, or leave them in round balls for a slightly thicker one – it's up to you.
Here's the consistency of my cookie dough. It's pretty thick, but it's also a little sticky.

I like my cookies a little thin, so I squashed them down after rolling into balls. Leave rounded for a thicker cookie.
I made these cookies by weight, but I've included the standard American cup measures as well. I hope your family loves these as much as ours does! These are perfect for bringing to school (no tree nuts!) or as an alternative to peanut butter for those with allergies.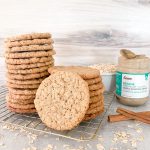 Print Recipe
Chewy Tahini Oatmeal Cookies
These chewy tahini oatmeal cookies are simple to make, and are sure to become a family favourite. They're a great alternative to peanut butter cookies for those with nut allergies.
Ingredients
1½

cups

rolled (old fashioned) oats

(170g)

½

cup

all purpose flour

(62g)

½

tsp

baking soda

¼

tsp

fine sea salt

½

tsp

ground cinnamon

½

cup

butter, room temperature / softened

(115g)

½

cup

good tahini

(165g)

½

cup

granulated sugar

(100g)

½

cup

brown sugar, packed

(100g)

1

large

egg

1

tsp

vanilla extract
Instructions
Preheat your oven to 350°F° / 175°C.

In a bowl, combine oats, flour, baking soda, salt, and cinnamon, stir thoroughly to combine.

In the bowl of your stand mixer (or another bowl) combine your butter, tahini, granulated sugar, brown sugar, and vanilla. Beat on medium speed (or whisk vigourously by hand) for 2 minutes.

After 2 minutes, add your egg and whisk to combine.

Stir in your dry ingredients until just combined. Use one heaped tablespoon per cookie – rolling each one into a ball (for thinner cookies, you can press down slightly), leaving about 1½ inches (~4cm) between each one to accommodate the spreading during cooking.

Bake for 10 minutes, or until just lightly browned around the edges (they will continue to cook on the hot pan after they leave the oven). Let cool on the pan for an additional 5 minutes before transferring to a wire cooking rack. Enjoy!
Notes
Adapted from Two Peas and Their Pod's peanut butter oatmeal cookie recipe.