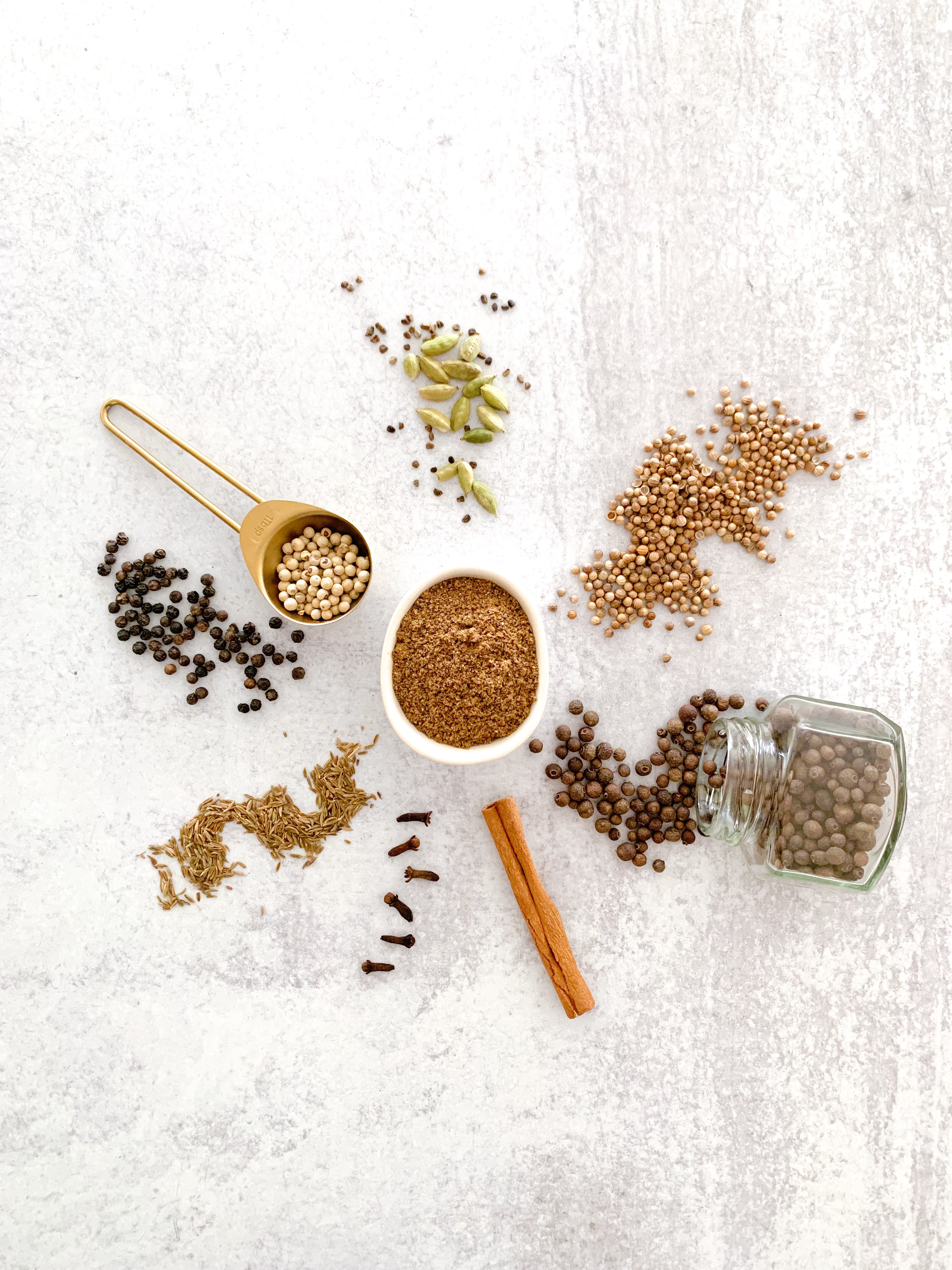 Baharat (بَهَارَات) literally meaning 'spices' in Arabic, is a common ingredient in many Lebanese and Levantine dishes. Like most Middle Eastern spice blends, every region or family has their preference as to what they like to add; baharat can sometimes contain nutmeg in place of allspice, or even the addition of paprika. Feel free to play around with the ingredients if you find you like the addition of something other than what's listed here. Pepper, cumin, and coriander are the mainstays of this particular spice blend.
I use an electric spice grinder because I grind a lot of spices for our meals. If you don't have one, a clean coffee grinder works, or you can do it the old school way in a mortar and pestle. Failing that, I have included the ratios for ground spices as well. I personally prefer buying spices whole rather than ground as they keep longer, and the flavour is often noticeably better / more nuanced than ground spices. Ultimately it's up to you in terms of how much effort you want to put in, or how often you'll use your spice blends. If you're going to buy pre-ground spices, I highly recommend The Spice House for their high quality (and free shipping if you order their environmentally-friendly flat packs!)
This recipe makes about 6-8 tablespoons of baharat (or about a half filled 3 ounce spice jar), which should last you a while unless you're cooking for a large family regularly.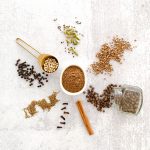 Print Recipe
Baharat / بَهَارَات / Lebanese Seven Spice
This all-purpose seasoning finds its way into many Lebanese dishes, here's how to make your own freshly ground baharat.
Ingredients
1

large

stick cinnamon

(or 1 Tbsp ground cinnamon)

1

Tbsp

whole allspice berries

(or 1 Tbsp ground allspice)

1

Tbsp

black and white peppercorns (half and half)

(or 1 Tbsp ground pepper)

1

Tbsp

whole cumin seed

(or 1 Tbsp ground cumin)

1

Tbsp

whole coriander seed

(or 1 Tbsp ground coriander)

½

tsp

cardamom seeds (removed from pods)

(or ½ tsp ground cardamom)

6

whole

cloves

(or a pinch / ⅛ tsp ground cloves)
Instructions
Grind all spices in a spice grinder or with a mortar and pestle. Store in a cool dark place for up to 12 months.