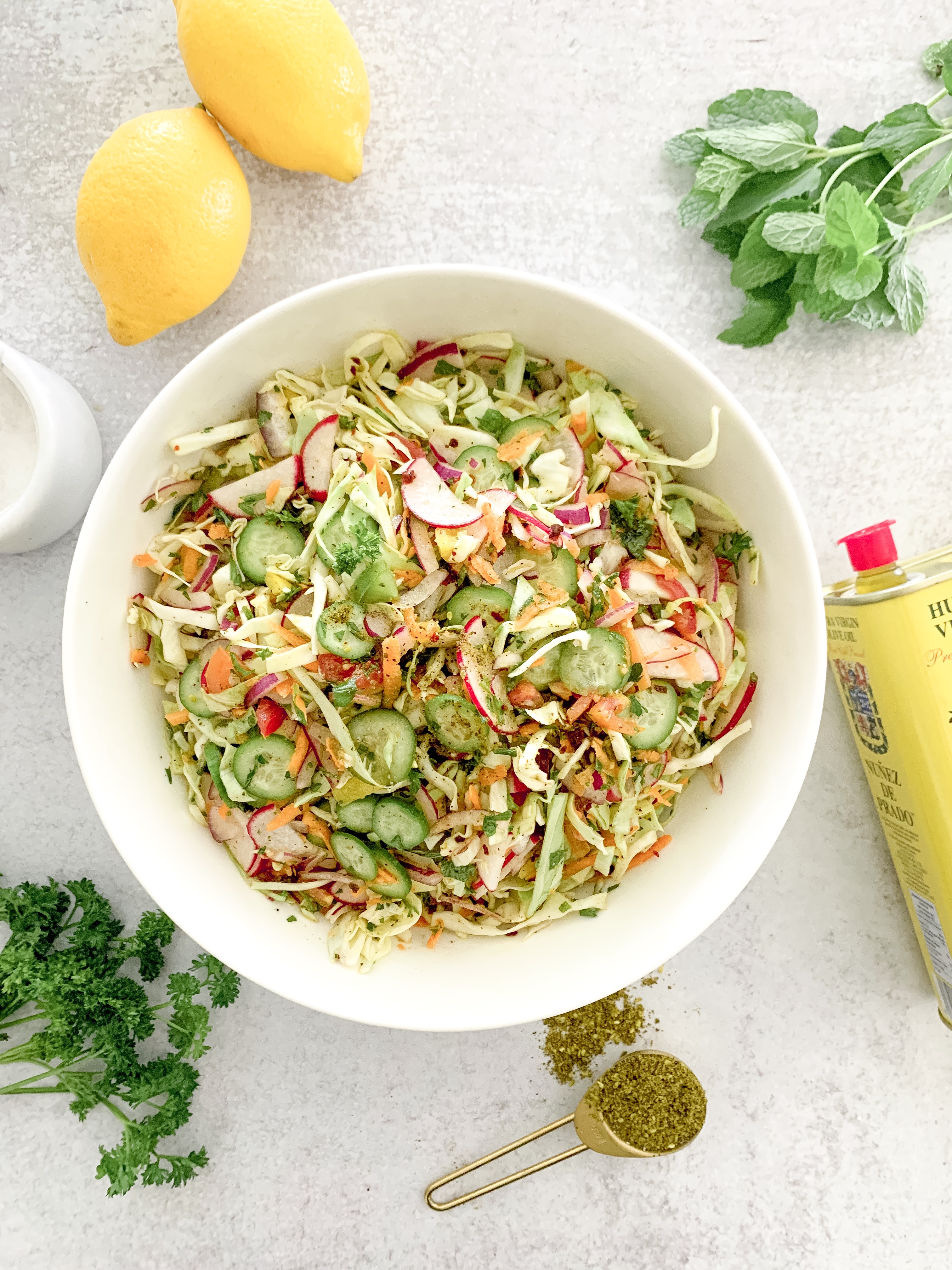 I know, I know. I just posted a cabbage salad recipe. But it's been in the high 90s (high 30s for my Celsius friends) here and I can't stomach turning on my oven yet. Plus cabbage has been on sale, and I'm trying to keep our food budget thrifty in anticipation of a two-week jaunt to Japan in early October. So, cabbage it is. This cabbage salad has a different flavour profile than the last one, though it's still a healthier alternative to the typical American coleslaw that's a staple at every summer barbecue. This one is dressed only with lemon and olive oil (no vinegar), and features a bunch of colourful vegetables and herbs, as well as za'atar spice, for flavour.
Cabbage salads are a staple on our table, mostly because my daughter eats them without too much complaint (she's not a vegetable lover like me), and because it seems to pair well with almost anything – fish, poultry, tofu, or red meat. Leftovers go great on a sandwich. It's cheap, and versatile, and full of colour, and I promise it's delicious even though it's not filled with mayonnaise. You'll want to dress it right before serving – if bringing to an event I recommend keeping the dressing in a jar and tossing it in to serve immediately. It's still delicious as it sits for a while, but you lose a little of the crunch.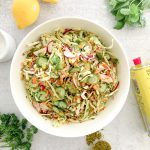 Print Recipe
Salatet Malfouf (Lebanese White Cabbage Salad)
This healthy alternative to coleslaw features cabbage and vegetables dressed with fresh lemon, olive oil, mint, and za'atar.
Ingredients
For the Salad:
½

large

head of cabbage, finely sliced

(around 450g)

6

small

radishes, finely sliced

1

medium

carrot, grated

2

Persian cucumbers, finely sliced

2

medium

Roma tomatoes, finely sliced

½

red onion, finely sliced

4

stems

fresh mint, finely chopped

¼

cup

fresh parsley, finely chopped
For the Dressing:
3

Tbsp

olive oil

juice of 1 lemon, or more – to taste

1

Tbsp

za'atar

2

tsp

honey, or agave

½

tsp

salt

¼

tsp

white pepper

1

tsp

toum (or 1 clove garlic, crushed)
Instructions
Slice all vegetables and place in a bowl.

Mix together dressing ingredients in a clean, empty jar. Shake until well-combined. Taste to ensure seasoning is balanced. Dress salad before eating, as salad will get soggy as it sits.