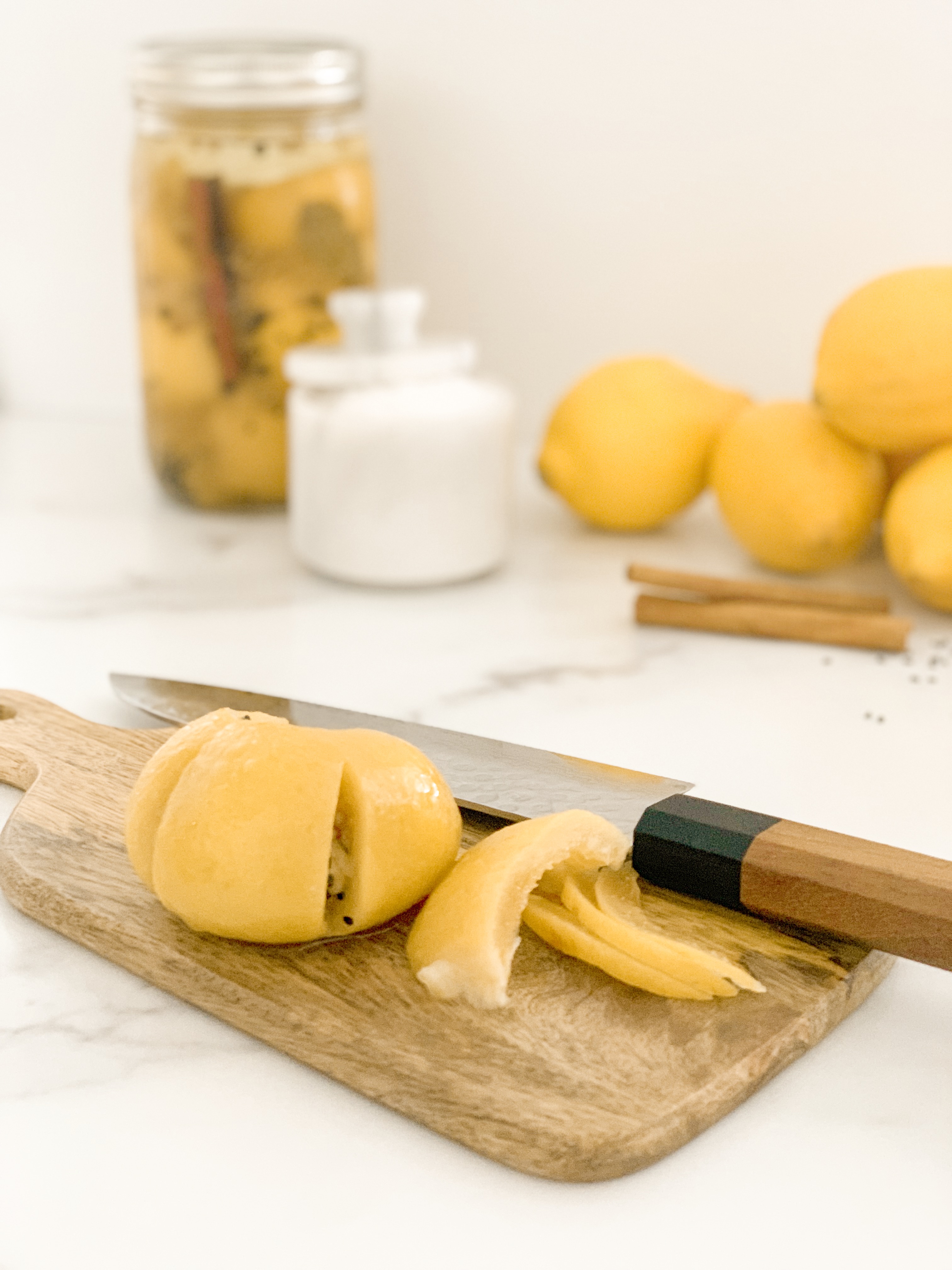 After spending a few days in Marrakech last year, I became infatuated with the flavour of preserved lemon. Typically added to a tagine (Moroccan stew) of chicken and olives, these lemons were unlike anything I'd ever tasted before. They take on the flavour of the spices they age in – with the bay leaves, cinnamon, coriander, and nigella adding a subtle complexity that goes well in so many things – I've added them to salads, dressings, stews, and couscous.
Now that I've tried them I can't imagine not having a jar on hand, just in case – a friend came over recently and made us dinner – chicken piccata – and substituting the lemon with our homemade preserved ones made the dish extra decadent. This recipe will make two large (24 ounce) jars of them, which seems like a lot, but once you make them you'll be so glad that you did. This also makes a great gift for foodie friends at the holidays – simply use smaller jars and ensure each one has at least one bay leaf and one cinnamon stick, then divide the rest of the spices evenly.
How to Make Preserved Lemon:
First, you'll want to wash your lemons. Most lemons tend to be waxed, giving them a shiny exterior. While the wax isn't harmful, you want your lemons to soak up all of the salt and spices, and the wax will prevent this. Gently scrub your lemons under warm water with a soft sponge to remove any wax. Once this is done, dry the lemons and make four slits – essentially dividing the lemons into quarters, stopping about an inch from the top and bottom. This will help the lemons squash into their jars and allow you to pack each one with a tablespoon of coarse salt. The salt is what preserves the lemons, do not skimp on this – I don't want you to end up with a jar of mouldy, mushy lemons after all of this.
You'll juice the other half of your lemons to pour over the salted ones. Set the juice aside, and fill your sterilised canning jars (I use these ones) with the spices, dividing between the two. You can also use a larger jar and keep them in one, but I find the 24 ounce ones fit in my fridge much more easily. Once your spices are in, place your salted lemons in the jars and push them down as much as you can. Pour the juice over them. The juice likely doesn't cover them entirely at this point – that's okay. Screw the lid on to the jars and let them sit overnight on your counter.
In the morning the lemons should have released more juices which will allow you to press them down and submerge them. Throw a canning weight on top, screw on the lid (these aren't fermenting, just being preserved – so there's no gas build up – you can screw on the lid and forget them until they are ready to use), write the date on a label or piece of tape, and place them in a cool, dark cabinet somewhere for thirty days. Aaaand, you wrote the date on them so you'll know when it's time to start using them! If you forget them that's okay, too – they will last, at room temperature and sealed in their jars, for at least a year.
Thirty days is a while, I know. It's worth the wait though, I promise you. While you can purchase preserved lemons online, they are not cheap. Lemons at my local Middle Eastern market are 33 cents a piece (sometimes they even go on sale cheaper – or you can buy a large bag at Costco for less than $6), and so for $5.28 for your lemons and a dollar or two worth of spices and salt you will have absolutely to die for preserved lemons, equivalent to four jars at around $12 a piece. I wouldn't be the Elegant Economist if I didn't point out that it's far, far cheaper and more delicious to just make your own.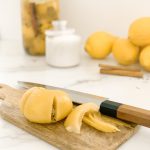 Print Recipe
Moroccan Preserved Lemons
These preserved lemons sit in a mixture of lemon juice, salt, and spices for thirty days until their transformation is complete.
Equipment
Two 24 ounce (750ml) canning jars, sterilised.

Canning weights (2)
Ingredients
8

whole lemons, washed and dried

8

whole lemons, juiced

8

Tbsp

coarse salt (kosher or sea)

4

bay leaves

1

Tbsp

black peppercorns

1

Tbsp

white peppercorns

1

Tbsp

coriander seed

2

tsp

nigella seed

2

whole cinnamon sticks
Instructions
Heat your oven to 275°F (140°C). Wash your jars with soap and water and dry. Place in the oven on a baking sheet for 15 minutes. Remove, and let cool to room temperature (about 10 minutes).

Juice half (8) of your lemons. With the other half, cut four slits lengthwise into each lemon, stopping about an inch from the top/bottom at each end. Stuff each lemon with a tablespoon of salt.

In your jars, place half in each of: bay leaves, peppercorns, coriander seeds, nigella, and a whole cinnamon stick in each. Press your salted lemons into the jar as tightly as possible. Pour in your lemon juice. Don't worry if they are not covered. Close the lid.

Let sit on your counter at room temperature overnight. In the morning, press the lemons down again, so that they are submerged in the juice. Place a canning weight in each jar, screw on the lid, and leave in a cool, dark place for at least thirty days.
Notes
While you only use the peel of the preserved lemons in most recipes, the innards can be rinsed and blended into salad dressings or sauces. It is however very salty, so take care to check the taste before adding a lot / more salt.