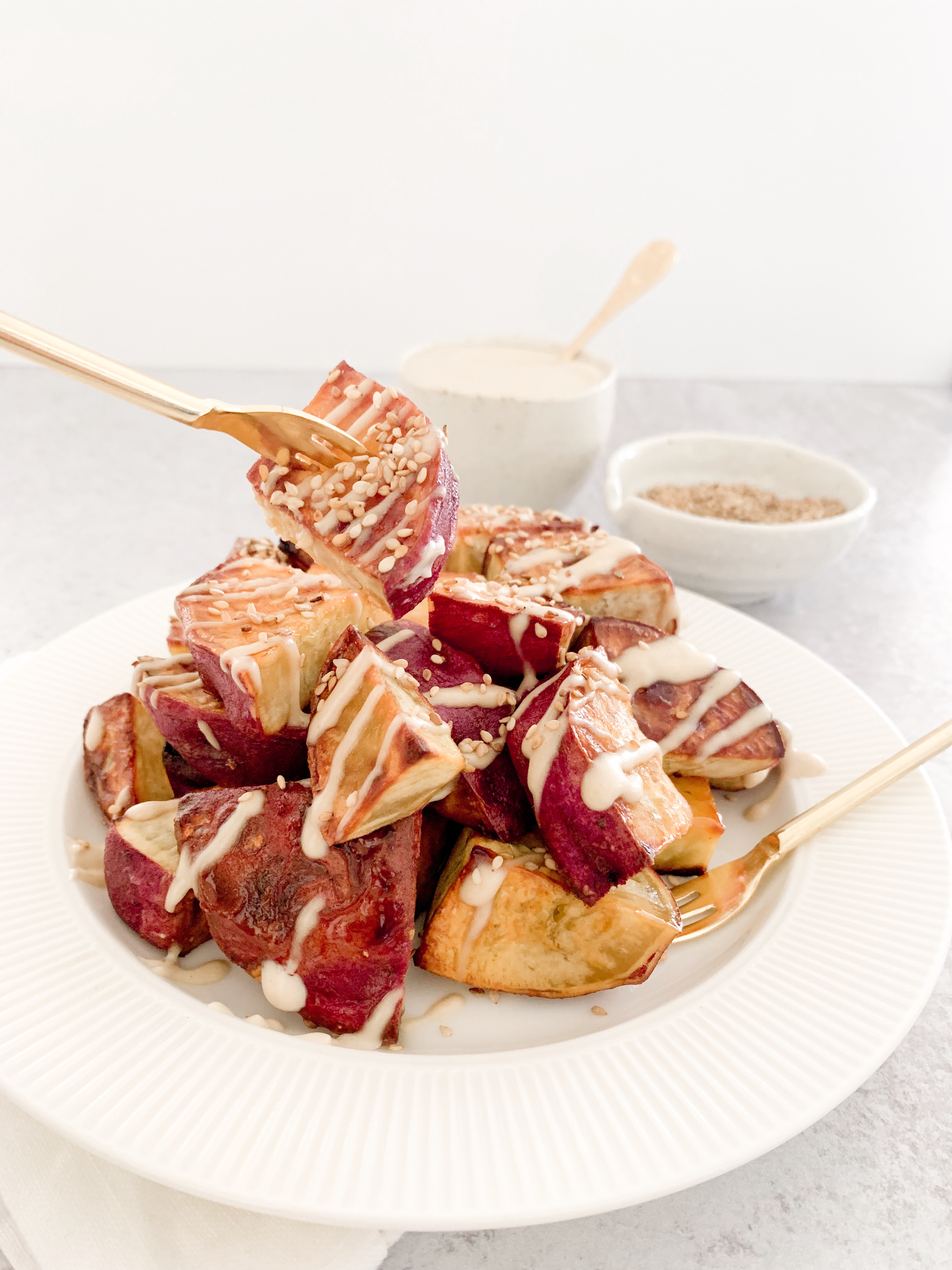 Right now my family and I are traveling in Japan. Autumn is by far my favourite time here – while cherry blossom season is truly something wonderful as well, there's something just as beautiful as the changing colours of the trees, and the crisp but not bitter cold air. Japan also has very seasonal food – and daigaku imo, or 'university sweet potatoes' is one of those food traditions I always look forward to. Supposedly they're named because a university student sold these caramelised sweet potatoes to earn money, but whatever their origin, they are now a popular street food in the autumn here.
Japanese food, like Mediterranean food, uses sesame relatively heavily in many dishes. The sweetness of the Japanese sweet potato, with its vibrant purple skin, pairs wonderfully with the earthiness of tahini. While this dish is far eastern in origin, the addition of tahini sauce and toasted sesame seeds means it actually works well as part of a mezze alongside classics like baba ghanouj, hummus, grilled meats, and salads. It's also a wonderful addition to your Thanksgiving table, or given that it's honey-focused Rosh Hashanah, if you celebrate the holiday.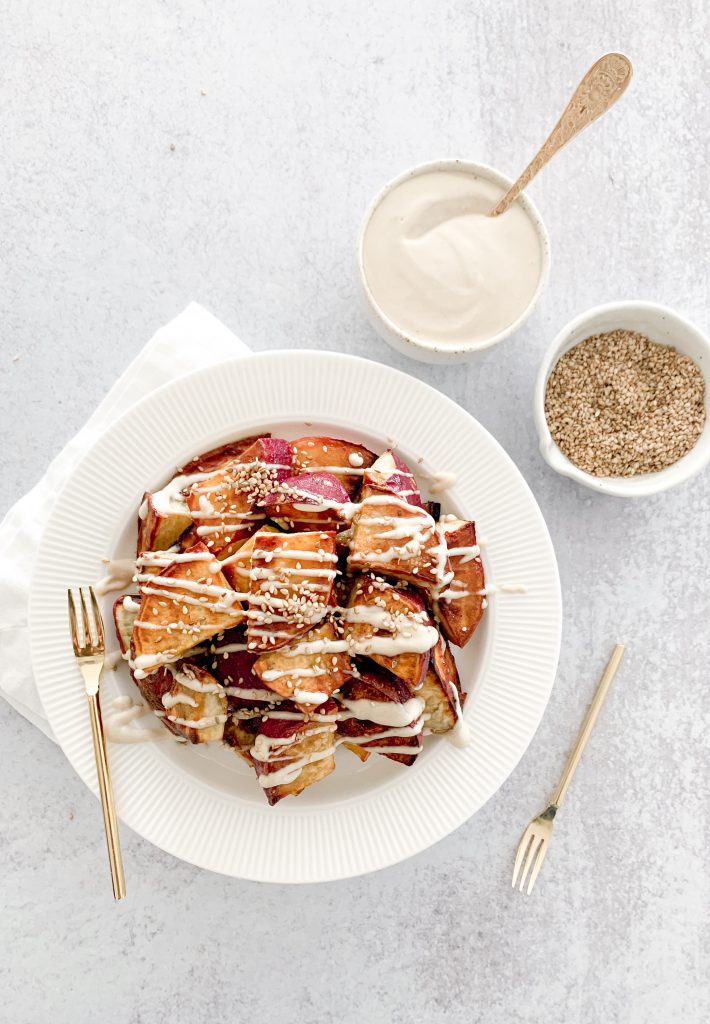 You'll definitely want to use Japanese sweet potato, with the white interior and purple/red exterior, rather than the traditional orange ones, for this recipe. The Japanese ones hold together much better and are far less sweet than the orange ones and have a slightly different, firmer interior texture. The flavour profile is still slightly sweet but more nutty – almost like a chestnut, so the addition of honey does not make them overpoweringly sweet.
Wash your sweet potatoes and remove any blemishes.

Cut your sweet potato into bite-sized pieces and place on a lined baking sheet.
You can, of course, omit the tahini altogether if you just want the traditional Japanese dish – top it with the toasted sesame, or black sesame if you have it on hand. It's still delicious, though I definitely think tahini complements it well. I always include a bowl of tahini on the side for dipping, so you can do that instead of drizzling, if you prefer. Itadakimasu! いただきます!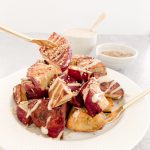 Print Recipe
Daigaku Imo with Tahini and Toasted Sesame
These Japanese sweet potatoes are baked and caramelised with honey, then topped with a drizzle of tahini and toasted sesame seeds.
Ingredients
2¼

pounds

Japanese sweet potato

(1kg)

¼

cup

neutral oil (I used avocado)

(55g)

¼

cup

honey

(85g)

½

tsp

sea salt

¼

tsp

ground white pepper

2

Tbsp

sesame seeds

Tahini sauce to drizzle

(recipe included below)
Instructions
Preheat your oven to 400°F (200°C). Line a baking tray with parchment or foil.

Wash your sweet potatoes and remove any blemishes, but do not peel. Cut into bite-sized pieces. In a large bowl add your honey and oil and mix to combine somewhat. Add the sweet potato pieces, salt, and pepper, and toss to coat.

Pour the sweet potatoes on to a baking sheet and bake for roughly 40-50 minutes, turning the pieces halfway through (you may want to drizzle with a little more honey to make the caramelisation more even). They are done when the outsides are golden and the inside is soft and fluffy, easily pierced with a fork.

While your sweet potatoes are baking, toast your sesame seeds over medium heat in a small pan – until they are just golden and fragrant. Remove from heat and set aside.

Remove the potatoes from the baking sheet and place on a plate or in a bowl. Drizzle with tahini and sprinkle with toasted sesame seeds. Serve with extra tahini for dipping on the side.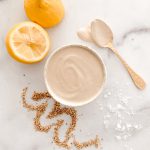 Print Recipe
The Perfect Tahini Sauce
This creamy tahini sauce has the perfect balance of lemon and garlic – with no bite.
Equipment
Food processor or blender
Ingredients
6

whole cloves fresh garlic

juice of two lemons

¼ cup (60ml)

½

cup

good tahina

½

tsp

honey

can be replaced with agave to ensure it is vegan

¼

cup

ice water

(60ml)

¼

tsp

salt

to taste
Instructions
Juice your lemons and peel your garlic cloves. Add to the bowl of your food processor or blender.

Blitz the lemon juice and garlic until it forms a thick liquid. Leave to sit for 15 minutes.

Pour the lemon garlic liquid through a mesh strainer, into a small bowl. (Use this pureed garlic for another recipe!)

Rinse the bowl of your food processor and then return the lemon juice to the bowl. Add tahini, honey, and salt.

Blend until it forms a thick paste, then add water, a tablespoon at a time, until you have a pourable tahini / tahina sauce.
Notes
This makes roughly a cup of tahina, and will keep in the fridge for about a week (if it lasts that long). 
The taste of your tahina sauce will largely depend on the quality of your tahina, use the good stuff.