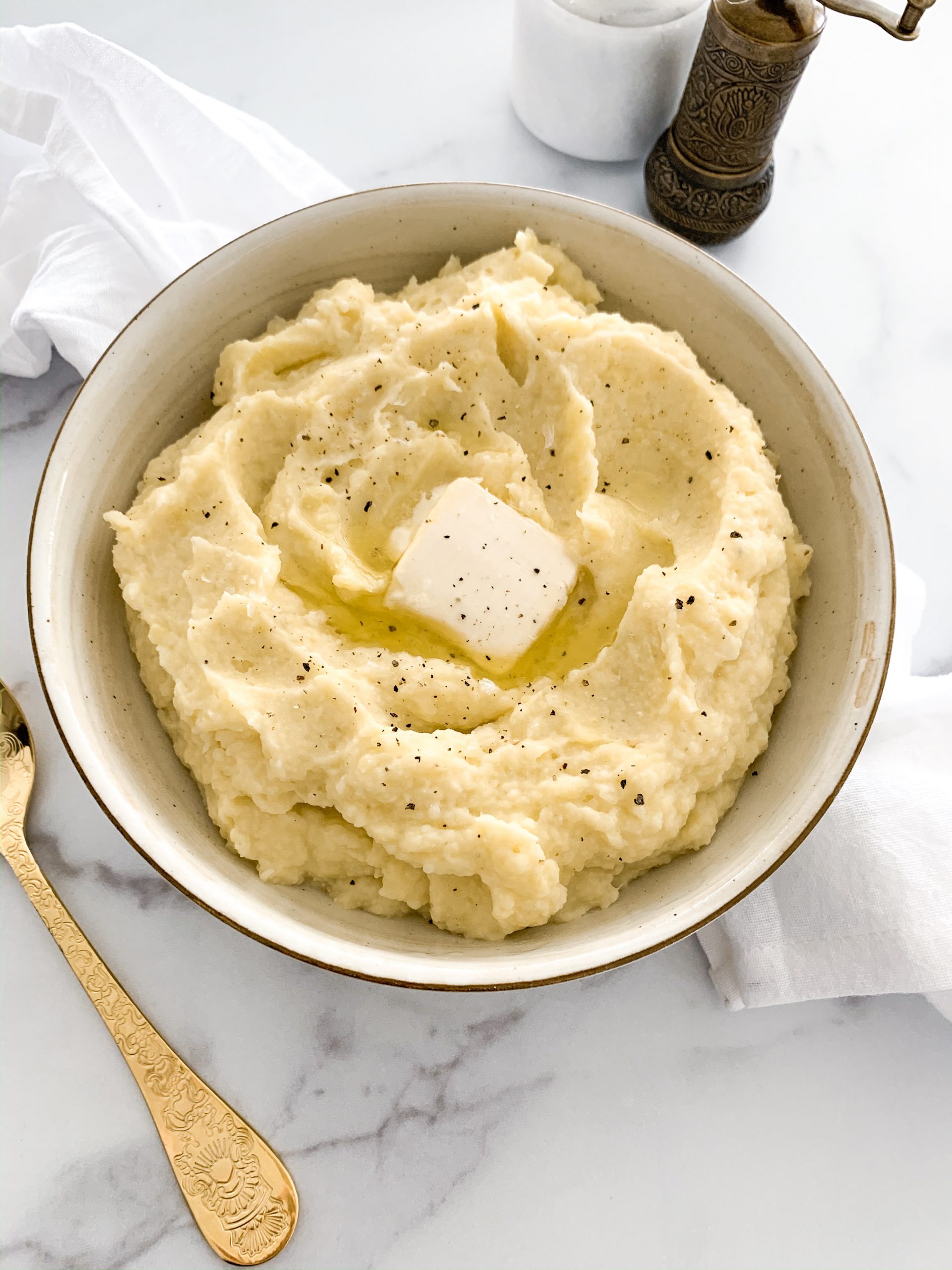 Thanksgiving is about the sides, right? While I fully believe in indulging from time to time, I also try to make sure that there's healthier options on our Thanksgiving table, perhaps so I don't feel so bad about getting seconds (or thirds?). I love cauliflower mashed 'potatoes', but then I love cauliflower in all its incarnations – we eat a whole head roasted with tahina on a pretty regular basis. Some people don't really love mashed cauliflower. Some people just want mashed potato. I am a mashed potato hater, personally (unpopular opinion, I know), but my daughter and husband (and the rest of the family, really) love them. So I compromised and made something healthy-ish, dairy free, and still delicious.
I used non-dairy full fat oat milk in this recipe and vegan butter (I highly, highly recommend Miyoko's if you can get it). You can absolutely use regular dairy in place of these if you and your family can eat dairy. The cauliflower itself contains a fair bit of liquid, so you won't need to add much.
While you can boil your cauliflower, I simply take a medium sized fresh head of cauliflower, douse in olive oil (like I do for a whole roasted one), season with salt and pepper and bake covered in my oven (I use a cast iron Dutch oven style cooking pot, but you can use a baking pan covered in tin foil in a pinch) with a little water at the bottom. After about 40 minutes in the oven at 375°F (190°C) it is fully cooked. While the cauliflower is cooking I boil four medium sized Yukon gold potatoes (skin on, I simply peel them when they're done cooking) until tender and easily pierced with a fork. Blend together, either using a food mill or your stand mixer, and add your non-dairy (plain) milk and vegan butter; add in salt, pepper, maybe a pinch of garlic powder, and you have incredible mashed potatoes that are kid-friendly and healthy-ish.
The cauliflower flavour in these is actually pretty minimal – my vegetable hating daughter had no idea there was cauliflower in them, and even helped herself to a second serving after she found out. This is a good way to compromise if you're trying to cut down on carbs or simply add more vegetables to your (or your family's) diet.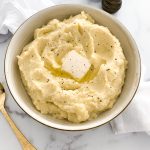 Print Recipe
Cauliflower and Potato Mash
This mashed potato includes a whole head of cauliflower, but it's still rich, creamy, and kid-friendly.
Equipment
Food mill, stand mixer, or potato masher.
Ingredients
1

medium

head cauliflower, leaves removed

1

Tbsp

olive oil

pinch

salt and pepper

(to season the cauliflower while baking)

4

medium

yukon gold potatoes

kosher salt

(for cooking water)

2

Tbsp

vegan butter

(plus more, for serving)

2

Tbsp

non-dairy full fat milk (I used oat)

¼

tsp

roasted garlic powder

salt and freshly ground black pepper, to taste
Instructions
Preheat your oven to 375°F (190°C). Place your cauliflower in a baking pan or a Dutch / French oven with a lid that will close over it. I use a Staub cast iron cooking vessel with a glass lid but you can use a baking pan and cover with foil.

Fill your cooking vessel with a little water (just enough to cover the bottom) and drizzle the cauliflower with a little olive oil and sprinkle with salt and pepper. Cook, covered, for 40 minutes.

While your cauliflower is cooking, fill a cooking pot with water and salt generously. Add your yukon golds whole with skin on, and bring to a boil. Boil until fully cooked and tender inside, about 30 minutes.

When your potatoes are cooked, remove from the water and allow to cool enough to be handled. Remove the skins with your hands, and set aside.

Cut your cauliflower into manageable pieces (it should be very soft now) and place with the peeled potatoes.

Using either a stand mixer (I use the whisk attachment), a food mill, or a potato masher, mash both the potatoes and the cauliflower and mix. Add your vegan butter, non-dairy milk, and garlic powder. Mix well until creamy. Add salt and pepper to taste, and serve immediately.