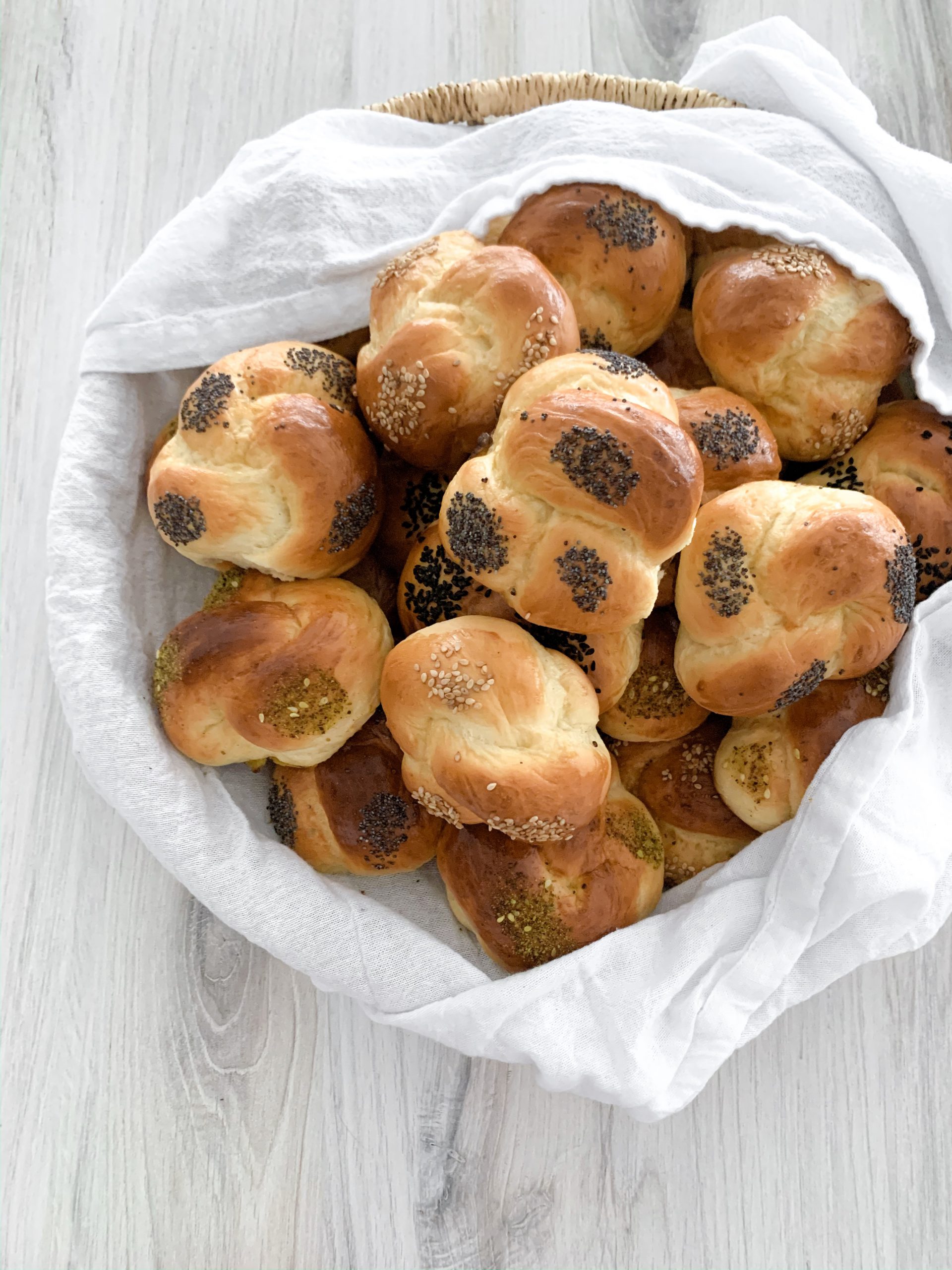 I'm honestly surprised it's taken me this long to put my challah recipe on the blog. The truth is, I am not an expert bread maker but I'm pretty proud of this challah, which was a recipe given to me by a family friend (challah is an Ashkenazi Jewish bread, typically eaten on holidays for those unacquainted with it). My daughter (who is rarely interested in my kitchen adventures) is always keen to help knead the bread and turn it into little ropes for braiding. It is now a family recipe, one I hope my daughter will someday make for holidays herself.
Even if you're not great at braiding, these challah knots are easy to make – you simply form your dough into a little rope and tie a knot in it, tucking the loose ends together or underneath. It's all very simple, but looks really beautiful, and while you can purchase challah at more and more places these days, there is something really special about homemade bread.
For my rolls, and even for my braided loaves, I always use a kitchen scale to weigh each piece of dough to ensure they're relatively even – this ensures that they bake evenly. For dinner-roll sized challah knots you'll want to divide the recipe into 36 pieces of about 50g each. For challah 'burger buns' you'll want to divide into 18-20 pieces of about 100g each. This recipe makes enough for two full braided loaves of challah, as one uses for Shabbat. Our family is small, but somehow the challah gets eaten without a problem, but it also freezes well. Homemade bread requires a degree of effort and so I recommend making the full recipe and freezing (or gifting!) whatever you don't use – you'll be glad you did.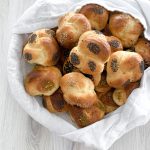 Print Recipe
Challah
This homemade challah is a family favourite, and makes great braided loaves or rolls.
Ingredients
To Activate Yeast:
3

packets

active dry yeast

(3x 0.25 ounce packs) (21g or 2¼ Tbsp)

1

tsp

granulated sugar

½

cup

warm water
For Challah:
1½

cups

unsweetened non-dairy milk

(I used oat, water is also fine) (350ml)

½

cup

vegan butter

(1 stick – 113g)

¼

cup

granulated sugar

(52g)

¼

cup

light brown sugar

(52g) (or honey)

1

Tbsp

kosher salt

4

whole

eggs, beaten

5½

cups

bread flour

(690g – plus more, in case of sticky dough, or for dusting) I like Bob's Red Mill. Depending on the humidity where you live you may find you need significantly more flour. Here in Colorado I can sometimes go to 6½ or 7 cups of flour, depending on the day! The dough should be slightly sticky / tacky but should be able to be handled easily.
For Top of Bread:
1

egg

beaten

sesame, poppy, or nigella seeds; or za'atar, for topping
Instructions
Activate the Yeast:
In a large bowl mix your yeast, teaspoon of sugar, and warm water. Let sit for ten minutes. After the ten minutes your yeast should be fluffy / foamy – if not, discard, and use different yeast.
For the Challah:
In a saucepan add your milk (or water) and vegan butter over medium heat, stirring occasionally until the butter has melted. Set aside.

In your bowl with the yeast add your sugar and brown sugar (or honey) and salt. Ensuring the milk and butter mixture isn't too hot, add to the bowl and stir to combine. Now add your flour, 1 cup at a time, until the dough is still a little sticky but can be handled.

Knead for 8 minutes, and then place the dough in a greased bowl and covered with a clean towel in a warm place to proof for 40 minutes.

After 40 minutes, punch down the dough which should have doubled in size. Divide into pieces using a kitchen scale. For two three-strand loaves, divide into six, for two four-strand loaves into eight, for two six strand loaves into 12. For hamburger sized buns divide into 20 pieces of about 100g each, for dinner rolls, divide into 36 pieces of about 50g each.

Roll each piece into a rope and either braid the loaf or tie a knot. Place onto a lined baking sheet or baking stone, and cover with a clean towel for 60 minutes.

As your second proof is finishing, preheat your oven to 350°F (175°C). Using the last egg, use a pastry brush to glaze the dough with the egg wash. If desired, add sesame, nigella, or poppy seeds, or za'atar to garnish.

Cooking time for loaves is roughly 40-50 minutes, or until a tap on the bottom makes a hollow sound and the tops are golden brown. Rolls take between 15 to 20 minutes depending on size.