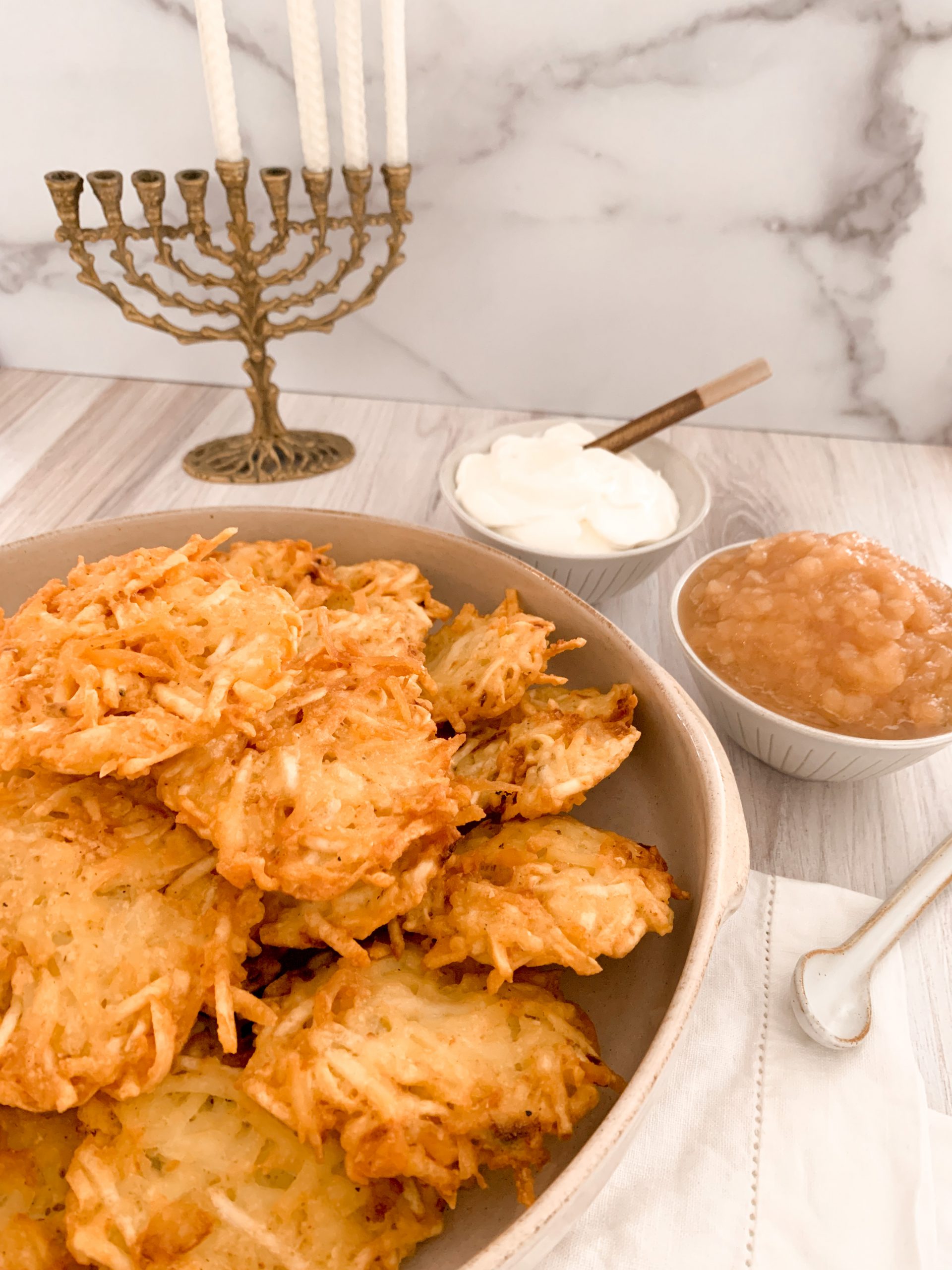 Happy Hanukkah to those who are celebrating! I've been meaning to post more frequently, but the end of the fiscal year at work and the holidays snuck up on me, and here we are – three days into the holiday. I learned how to make latkes from my daughter's great-grandmother Jane, because they were not a staple in my house (Hanukkah for me has always meant fried sweets like sufganiyot or zalabia soaked in orange blossom syrup). American Jewish food tends to center around Ashkenazi recipes that were brought from Germany and Eastern Europe – then adapted to available American produce and goods: most American Jewish holiday meals will center around a beef brisket, and for Hanukkah – fried potato latkes, served with applesauce (if your family is German) or sour cream (if your family is Eastern European), or sometimes both.
My husband, being of both Polish and German extraction (among other things) never met a potato dish he didn't like, and so latkes quickly became a staple Hanukkah dish in our family. As we speak, I am frying about two hundred (not a typo) of them for our annual Hanukkah party, where we put out a latke buffet with both Ashkenazi and Sephardi toppings and let people build whatever combination their heart desires – a latke topped with lox and cream cheese or topped with hummus and tabbouleh? Up to you.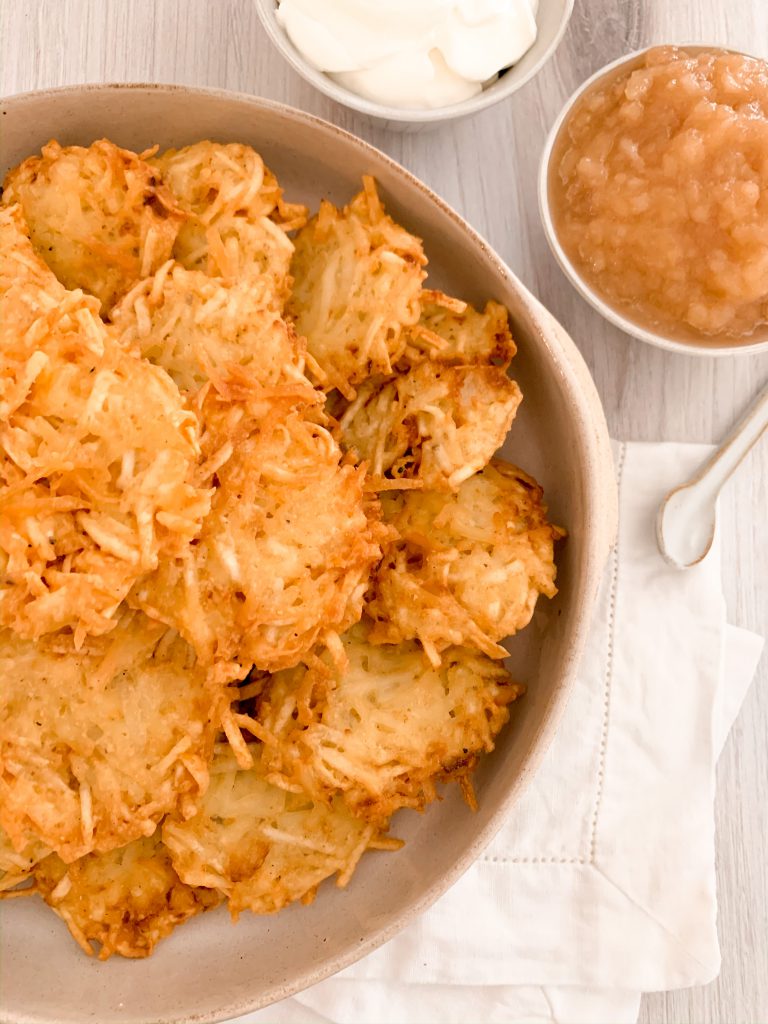 A word on potatoes.
Our Hanukkah parties used to comprise of eight to ten people, mostly close friends and family. Then word got out about the free fried potatoes and quickly ballooned to upwards of 30 people – we once had fifty people at one of our parties, with our tiny apartment spilling out into the garage and street (no joke), and I quickly realised there is no easy way to shred and drain potatoes when you're making 200+ latkes. I have grated by hand, used my food processor (not recommended), and used both fresh and frozen shredded potatoes (bagged hash browns) and honestly? There is no difference in taste and a whole lot of difference in effort.
I realise the choice of using pre-shredded potatoes is considered blasphemy by some, but when you are feeding a massive group of people shredding 20 pounds of potatoes by hand on a box grater is torture and I simply won't do it. If you're just feeding a family then by all means use a box grater and drain the water from them as much as you can: moisture is the enemy of latkes, and will make them fall apart / gummy. I promise you the texture of your latkes will be amazing even if you use the pre-shredded stuff.
Latke Tips
Russet potatoes (floury, rather than waxy potatoes) are best for latkes and impart the perfect balance of fluffy interior and crunchy, lacy exterior. You can peel them (traditional) or wash and leave the skins on for a more rustic latke.
Shredding on a box grater by hand yields a better result than the food processor. Use this method if you're making a smaller number of latkes. Be sure to place your shredded potato into a cheesecloth bag (I use old fabric flour bags) and squeeze out every last bit of moisture from them or your mixture will be too wet.
If using fresh potatoes, you can prevent them from turning grey by adding a quarter teaspoon of ascorbic acid (vitamin c) powder to your mixture. You won't taste it and it'll give you plenty of time to fry them without the mixture oxidizing.
Bubbes may curse me, but you can absolutely use pre-shredded potatoes (like fresh ones in the dairy case: Simply Potatoes, or defrosted shredded hash browns). You won't need to squeeze out your potatoes if you use these, so they yield a very crispy, perfect latke with minimal effort.
Too much flour will make your latkes gummy. I like a mix of half matzo meal and half flour. Matzo meal adds a specific flavour profile that is traditional, but you can also use panko breadcrumbs if you don't have it on hand. I also add 2 teaspoons of potato starch to help the latkes bind properly – if you don't have potato starch you can also use corn.
I fry in safflower oil, but non-GMO canola or vegetable oil work too. Peanut oil is delicious with these if you don't have an allergy, and schmaltz (or chicken fat) is particularly delicious if you have it on hand. I fry in my large cast-iron perfect pan from Staub, which is honestly the best latke frying pan – I can fry four or five at a time without the oil losing temp, and the pan holds the perfect frying temperature easily.
Latkes and potato pancakes are not the same thing. Potato pancakes have a mushy, mashed potato type center. Latkes have a fluffy center (thanks to the eggs and matzo meal) with strings of potato and onion inside, and crispy outer edges.
Need to make these ahead? No problem! Simply allow to cool to room temperature and freeze in a plastic bag. Defrost the night before and reheat in a 425°F (220°C) oven for 5 to 8 minutes or so until crispy.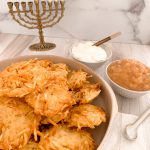 Print Recipe
Traditional Potato Latkes
The only latke recipe you'll ever need. These traditional Ashkenazi potato latkes are fluffy on the inside and crispy and lacy on the outside – serve with applesauce, sour cream, or both!
Equipment
Cloth or cheesecloth bag for draining onions and potatoes

Large deep frying pan or pot, to fry the latkes
Ingredients
30

ounces

peeled and shredded potatoes, squeezed to remove liquid

(just under 2 lbs, 850g)

4

Tbsp

grated onion, squeezed to remove liquid

4

large

eggs, beaten

¼

cup

wheat flour

(30g)

¼

cup

matzo meal

(30g)

2

tsp

potato starch

(or corn starch)

1

tsp

garlic powder

1½

tsp

fine sea salt

½

tsp

ground pepper (white or black)

4

cups

neutral oil for frying

(safflower, sunflower, canola, or peanut oil are great here)
Instructions
Grate both your potatoes and onions and then use a cheesecloth bag to squeeze all the liquid thoroughly from both. Set aside.

Heat a large pot of oil over medium heat (5 or 6/10) until shimmering (test a piece of shredded potato, it should sizzle and rise to the top quickly).

In a large bowl mix your egg, flour, matzo meal, potato starch, garlic powder, salt and pepper. Add your drained potatoes and onions and mix thoroughly.

Use a golf-ball sized scoop of latke mix and press into your palm to flatten. Fry over medium heat (I use a 6/10 heat setting with a large cast iron pot) for about four minutes on each side, until golden around the edges.

Drain on a wire rack over kitchen paper or towel. Serve immediately with applesauce or sour cream (or both!)
Notes
This recipe makes about 20-24 palm-sized latkes. 
You can absolutely use fresh or defrosted pre-shredded potatoes for this. You won't need to squeeze the liquid from them if this is the case.
If using fresh potatoes you can prevent them from oxidizing (turning grey) by adding ¼ tsp of ascorbic acid (vitamin c powder) to the mixture. You won't taste it (I promise) and it'll prevent them from discolouring.
Need to make these ahead? No problem! Simply allow to cool to room temperature and freeze in a plastic bag. Defrost the night before and reheat in a 425°F (220°C) oven for 5 to 8 minutes or so until crispy.