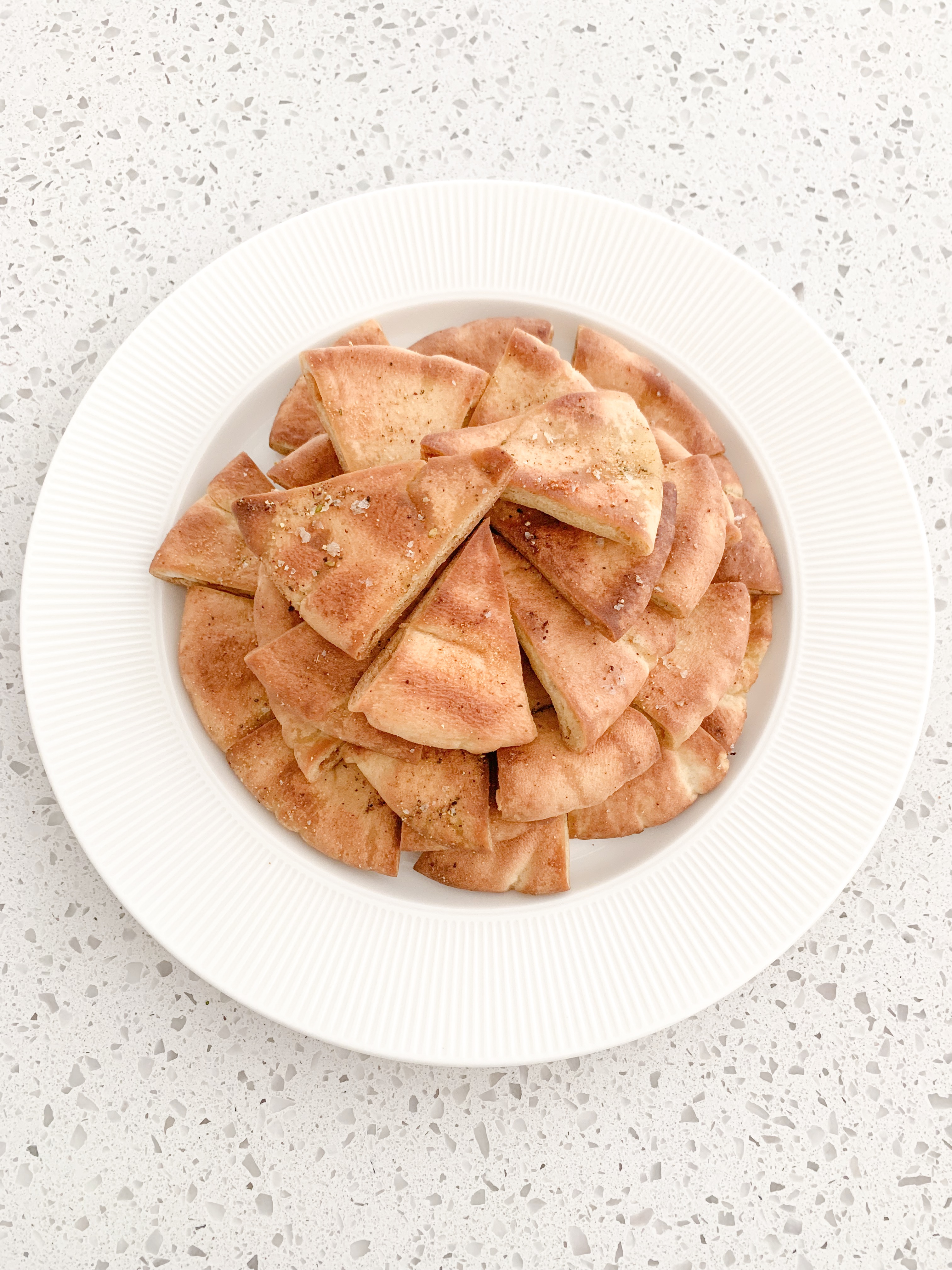 These pita chips are perfect for adding to your fattoush salad, but you may have to hide them from the rest of your family as they'll likely be gone before your salad is made. These are great for dips as well, or just to snack on. You'll probably want to double (or even triple) the recipe for company. You can change up the spices to suit you, but these are our personal favourite.
You'll need four pitas, which can be store bought – or you can use your own fresh khubz / pita if you have it on hand. This recipe makes enough for a fattoush salad with some leftovers, so if you're serving more than four people or are taking these to a potluck, you'll want to double or triple your recipe (trust me). First, cut your pitas into quarters, and then halved again – to make eight triangular slices out of each pita. NB. You can tear the pita apart, so that the halves are separated – if you like yours extra crispy and thin you can do this, but I leave mine together as I like a thicker, more substantial chip for dipping purposes.
You'll then mix your olive oil and spices – I use a quarter of a cup of good olive oil, plus salt, pepper, garlic powder, za'atar, and cumin. Brush each triangle front and back and place on to a baking sheet. You'll bake seven minutes each side (if you didn't separate in the middle) or seven minutes total (if you did separate in the middle) in a 400 degree (F) oven (200 degrees C).
Cut each pita into eight even triangles.

Brush each side with the seasoned oil and bake for 7 minutes on each side.
Once fully cooked, remove from the pan, set on a paper towel to cool for a few minutes, and they're ready to eat or top your salad with. This recipe is simple, but these are better than those bags of crushed up chips you'll find at your local supermarket. They'll keep for 2-3 days sealed in an airtight bag, though I doubt they will last that long.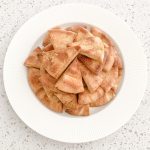 Print Recipe
Easy Baked Pita Chips
These quick and easy pita chips are perfect for fattoush, dipping, or snacking.
Ingredients
4

regular

pita breads (khubz)

¼

cup

good olive oil

(60ml)

½

tsp

salt (I used Maldon here)

½

tsp

ground black pepper

½

tsp

garlic powder

½

tsp

za'atar

¼

tsp

ground cumin
Instructions
Preheat oven to 400°F / 200°C

Cut your pitas into eight triangular slices. Mix olive oil and spices together, and brush each chip (front and back) with the seasoned oil.

Place chips in a single layer on a baking sheet, and bake for 7 minutes – after 7 minutes flip them over and bake an additional 5-7 minutes, or until fully browned but not burned.

Cool for 5 minutes on paper towel to absorb any excess oil, and serve!
Notes
NB. Thinner, Syrian style bread will need less time (6-8 minutes total) rather than thicker bread.