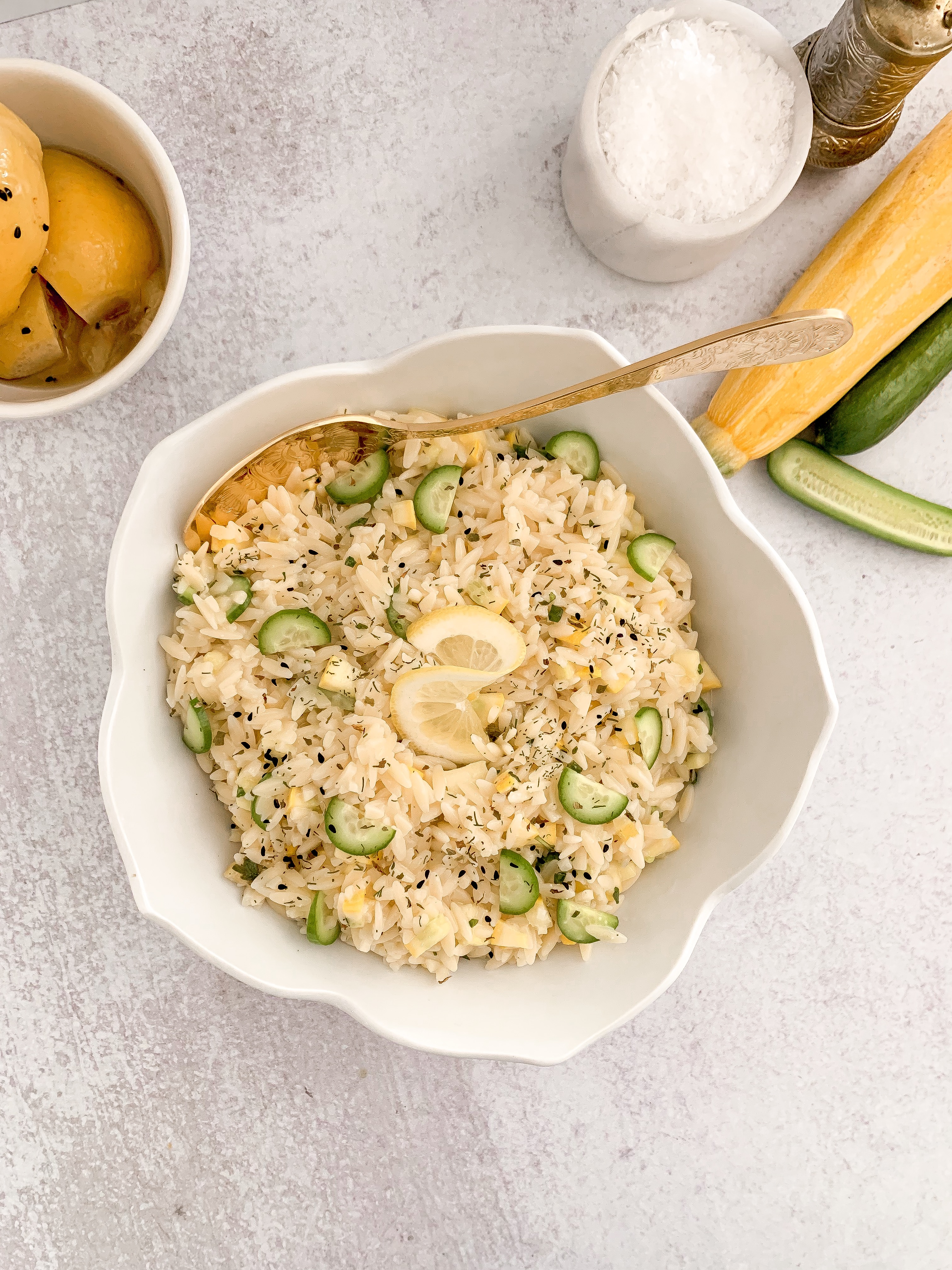 My daughter is vehemently anti-squash in any form. I've roasted it, fried it, stuffed it – and her response every time is still a resounding 'nope'. She'll delicately scoop out the innards of kousa mahshi (stuffed courgette) leaving the sad, hollowed out shell behind. I'm not exactly pro hiding vegetables in food, but I also wondered if the squash was cut up small enough and part of a salad if she'd just eat it without complaint. Combining it with a reliably-eaten carb (in this case pasta), seemed like a good idea.
You could also substitute green zucchini / courgette or kousa (Lebanese squash) for yellow squash in this recipe, it's up to you! I had a couple of gorgeous yellow ones on hand that needed to be used, so that's what I have here. This recipe can also easily be doubled for a party, and while I didn't add it here, it would also be fantastic with a generous sprinkling of feta cheese (without it, this recipe is both parve and vegan).
This recipe makes great use of preserved lemons if you have them in your pantry. Preserved lemons have a more complex flavour than plain lemons, and add a complexity to this salad that makes it stand out. However, if you don't have any on hand (make a batch now!) and substitute with lemon zest. If you don't fancy making them, you can purchase them online. That said, they are insanely easy to make, and well worth it since they are typically somewhat expensive to purchase by comparison to the raw ingredients. Plus they're amazing in tagines, salad dressings, and so many other applications.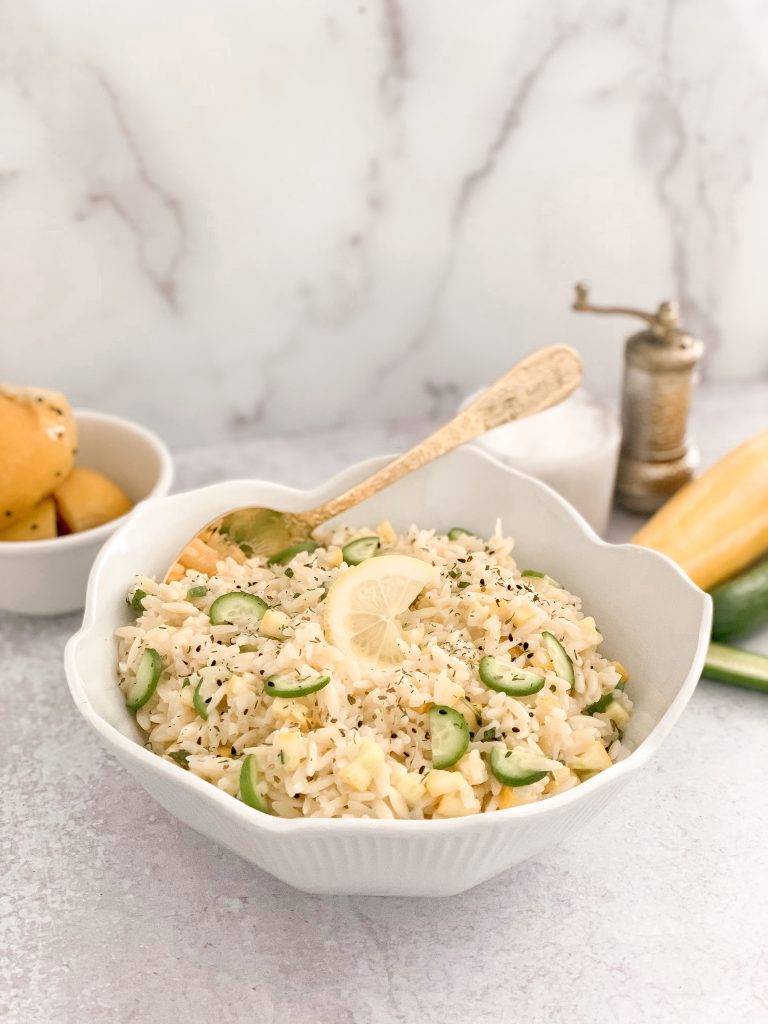 This dish is very fresh and bright in flavour, and while preserved lemon tends to be quite strong, it doesn't overpower the dish. It's great alongside grilled meats or fish. We often serve this on a platter, topped with a filet of wild salmon cooked in butter and za'atar. Oh, and the verdict from my daughter? The salad was too lemony, and she picked around the squash. Maybe next time.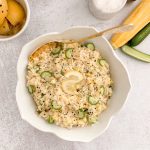 Print Recipe
Orzo Salad with Preserved Lemon, Summer Squash, and Mint
This summery orzo salad is the perfect side for a BBQ; it uses preserved lemon, summer squash, and mint for a bright, fresh tasting vegan side.
Ingredients
8

ounces

orzo

(227g)

generous amount of kosher salt

(for pasta water)

2

lemons, juiced

¼

cup

olive oil

1

Tbsp

honey or agave nectar

¼

preserved lemon, finely chopped

or zest of 1 lemon

2

cloves

garlic, finely chopped

(or 1 Tbsp toum)

¼

cup

fresh mint, finely chopped

½

tsp

dried mint

1

large

summer squash, chopped into small pieces

2

Persian cucumbers, finely chopped

½

tsp

sea salt

½

tsp

white pepper, ground

½

tsp

nigella seeds

for garnish (optional)
Instructions
Cook your orzo in salted water (your water should taste like the ocean) according to the package instructions (roughly 7-9 minutes) until al dente. Drain and rinse in cold water. Set aside.

In a bowl combine lemon juice, olive oil, preserved lemon, honey (or agave), garlic (or toum), chopped squash, cucumber, and mint. Add salt and pepper to taste. Let the vegetables marinate for about ten minutes.

Toss the marinated vegetables with your drained orzo and serve cold or at room temperature. Garnish with nigella seeds or pine nuts if desired.
Notes
Double this recipe to take to a party or barbecue. 
If you're not vegan or in need of a parve side, add a little feta for extra interest and creaminess.