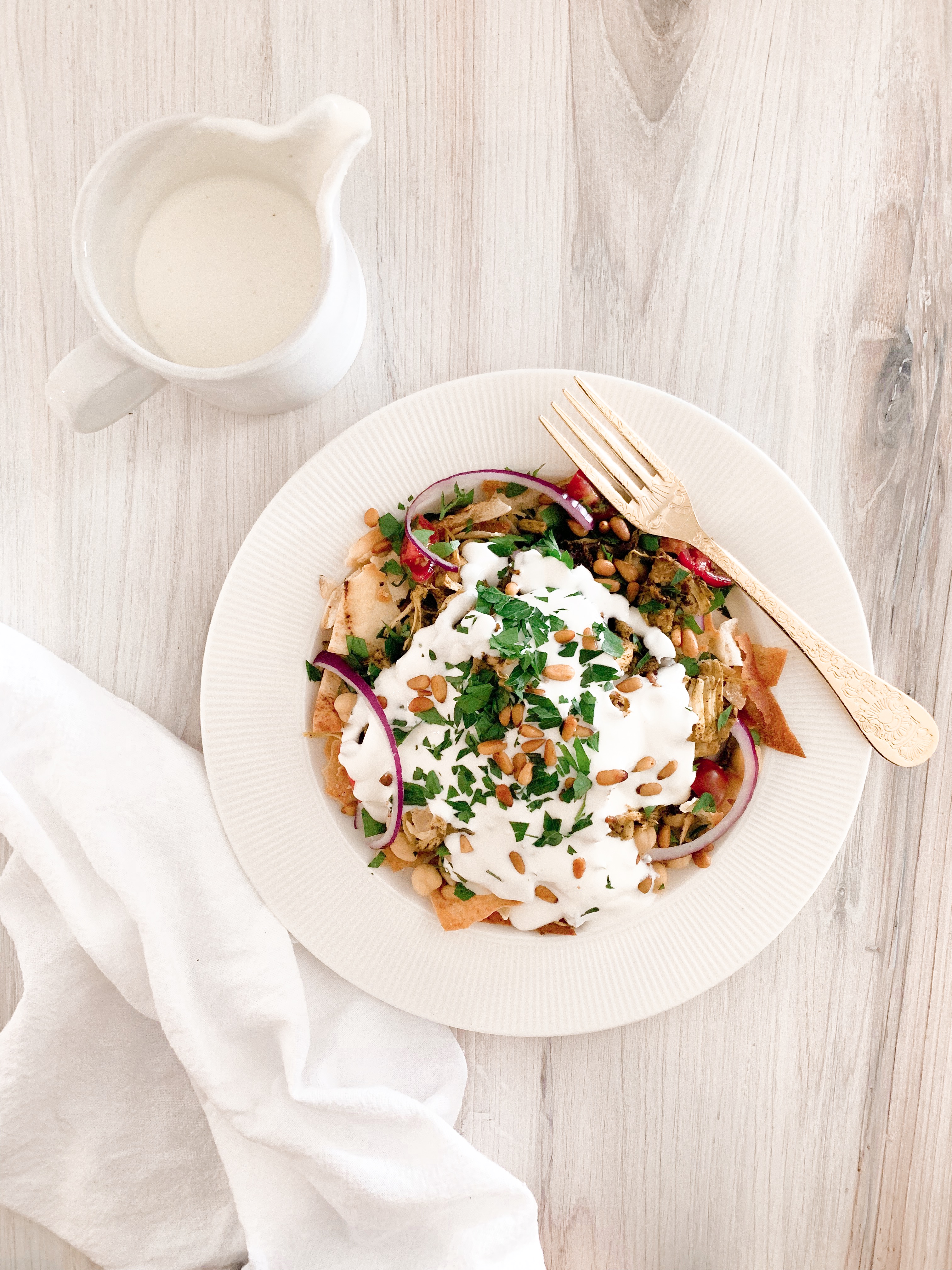 Fatteh, meaning 'crumbs' in Arabic – is a bread salad. Most people are familiar with fattoush, which is ubiquitous in most Middle Eastern restaurants; fewer people are familiar with fatteh – which is more of a home dish, an end of the week meal to use up any leftover bits and pieces and stale bread. It can be made with any number of ingredients, but the staples are fried or baked pieces of khubz / pita bread topped with whatever you have on hand, and traditionally a garlic yogurt or tahini sauce. Some people add rice, others don't – it's up to you, but if you have leftover riz bi sh'arieh (rice with vermicelli) it's a great way to use that up, too. When it comes to fatteh, it's really about using up the last little bits of things in the house and mixing them all together with a rich, creamy dressing; pretty perfect if you ask me.
This recipe is kosher dairy as it's made with jackfruit and not actual chicken, but if you don't follow kosher dietary laws you can use actual chicken (it's a great way to use up leftover shredded rotisserie chicken meat). Also, if you're vegan, the sauce can be replaced with a tahini sauce instead – I'll include recipes for both – so you can choose your own adventure so to speak – dairy and chicken, or chicken and tahini, or jackfruit and dairy, or totally vegan jackfruit and tahini – the choice is yours. You can find my recipe for jackfruit 'chicken' shawarma here (and I'll include the recipe below as well), or if you're using leftover shredded chicken you can season with the shawarma seasoning, crisp up under the broiler, and it's ready to go.
I like to present my fatteh on a large plate, undressed, so that people can assemble theirs themselves. This alleviates the stress of accommodating picky eaters – someone doesn't like onion? Tomato? they can leave it out.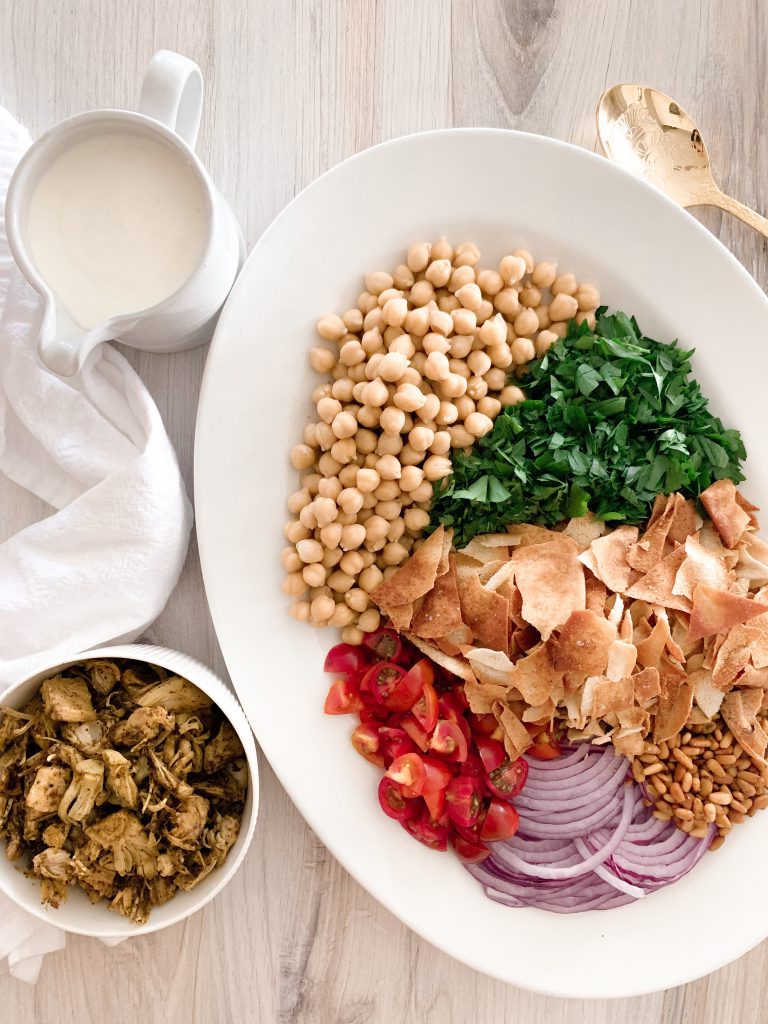 Once your plate has been assembled it's time to add the good stuff: a generous helping of sauce. The sauce will soak into the bread, so it's a good idea to pour the sauce on just before serving it – especially if you're serving the fatteh family style, since you don't want it to become soggy. If you're serving on individual plates, you can set the sauce aside in a vessel so that people can pour their own on, like so: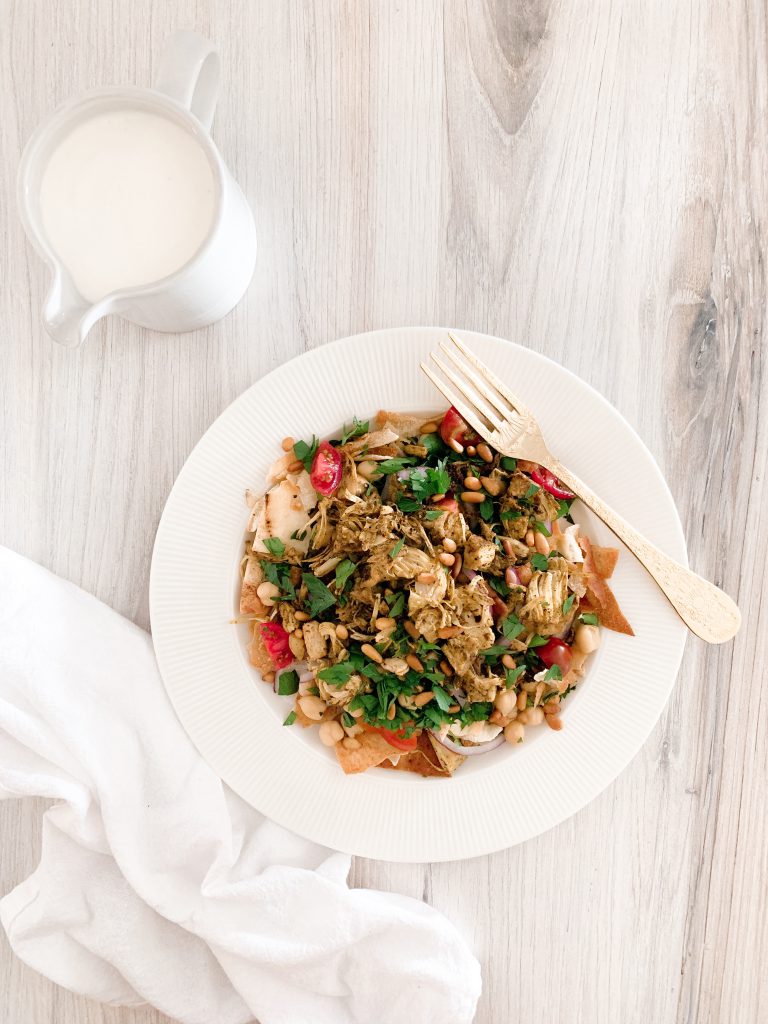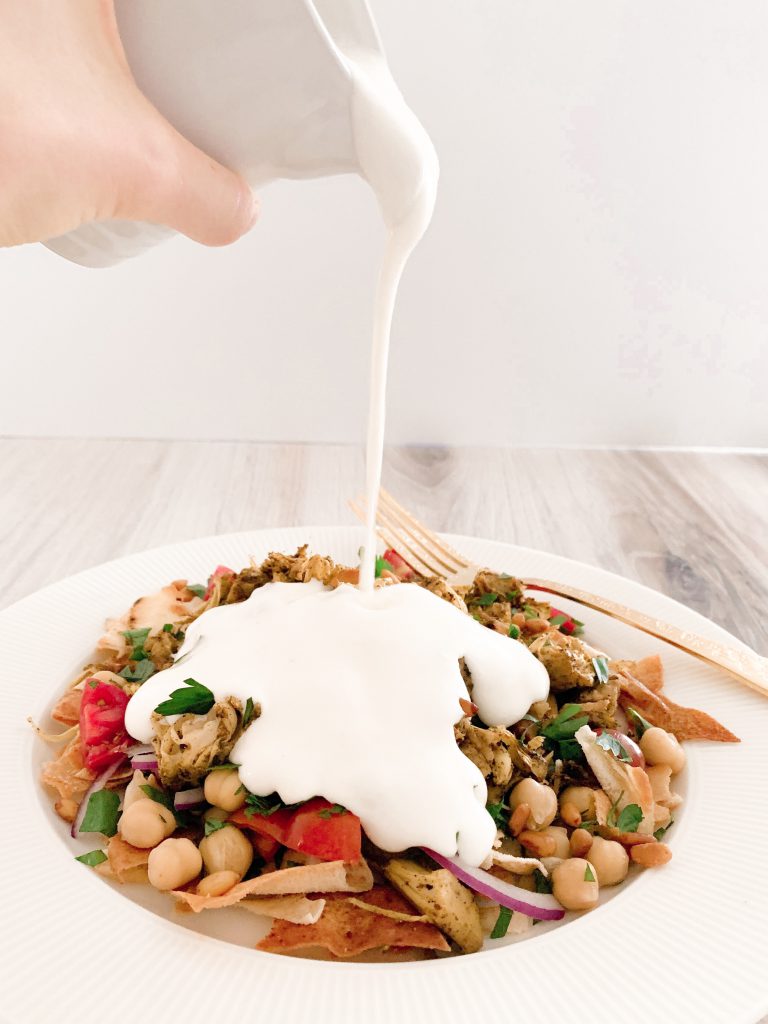 This is one of my favourite meals, and not just because it's a great way to use things up from my fridge – it's a delicious, filling meal that's so simple and customizable to your tastes. Even my super-picky nine-year-old doesn't complain about this meal, which also makes it a winner. Not to mention, in true home economic form – it's inexpensive and still relatively healthy.
Jackfruit 'Chicken' Fatteh
This salad, made with shawarma-spiced jackfruit and chickpeas sits atop a bed of toasted bread and vegetables, and is coated in a yogurt-garlic sauce.
Ingredients
Fatteh:
2

cups

shredded shawarma jackfruit

(or seasoned chicken)

1

15 oz

tin chickpeas, drained

(439g)

1

regular

bunch parsley, washed, dried, and coarsely chopped

¼

cup

pine nuts, toasted

2

large

khubz / pita bread, toasted and broken into pieces

12

regular

cherry tomatoes, quartered

½

small

red onion, thinly sliced
For the Yogurt Garlic Sauce (Dairy):
2

cups

plain, unsweetened yogurt (laban)

4

cloves

garlic, crushed

(or 2 Tbsp toum)

½

tsp

garlic powder

½

tsp

fine sea salt

¼

tsp

ground white pepper
-OR- For the Tahini Sauce (Vegan / Parve):
1

cup

good tahini

2

lemons

juiced

¼

cup

extra virgin olive oil

1

cup

water

4

cloves

garlic, crushed

(or 2 Tbsp toum)

2

tsp

agave nectar, or white sugar

(or honey, if you are not vegan)

salt and pepper to taste
Instructions
For the Salad:
On a large platter place your jackfruit / chicken, chickpeas, parsley, crushed toasted bread, tomatoes, onion, and pine nuts.
For the Garlic Yogurt Sauce:
Over low heat (too high will curdle the yoghurt) combine yogurt, garlic (or toum), garlic powder, salt, and pepper. Heat thoroughly, until warm – the consistency should be pourable, like a thin, creamy soup.
For the Tahini Sauce:
In a food processor, mixer, or blender combine tahini, garlic (or toum), oil, water, lemon juice, agave (or honey), salt, and pepper. Blend until thoroughly combined. It should have a thin, pourable consistency – like a thin, creamy soup.
Assembling the Fatteh:
Place desired items on a plate and pour your sauce over the top generously. Top with more pine nuts and parsley. Mix together and enjoy immediately.
Jackfruit 'Chicken' Shawarma
This plant-based vegan shawarma 'meat' is made from green jackfruit, and is perfect for wraps, bowls, and other dishes.
Ingredients
2

20 oz

tins of young green jackfruit in brine

(2x 560g tins)

2

Tbsp

shawarma spice

(recipe below)

2

Tbsp

olive oil

2

tsp

apple cider vinegar

1

tsp

coarse sea salt
Instructions
Drain your jackfruit and rinse thoroughly. Drain for a few minutes to remove any excess water.

Coat your jackfruit in shawarma spice and add your oil, vinegar, and salt. Marinate for at least an hour, or up to 24 hours.

Preheat your oven to 350°F (175°C). Line a baking sheet with foil.

Place your marinated jackfruit on the sheet and bake for 45 minutes. After 45 minutes use two forks to shred the jackfruit. Return to the oven for an additional 15 minutes, or until the texture of the jackfruit is like dry shredded chicken.

Remove from the oven, cool, and freeze – or for immediate use, place under the broiler for 2-4 minutes until smoky and crispy.
Notes
Can be frozen for up to 3 months. Defrost and place under the broiler for 5 minutes or so until reheated.
Shawarma Spice Blend
Make a kebab-shop worthy shawarma yourself at home with this shawarma spice blend.
Ingredients
2

Tbsp

garlic powder

1

Tbsp

black peppercorns

(or ground)

1

Tbsp

white peppercorns

(or ground)

2

Tbsp

allspice berries

(or ground)

2

medium

cinnamon sticks

(or 1 Tbsp ground)

4-6

blades

of mace

(or nutmeg, or 1 Tbsp ground)

1

Tbsp

cardamom (green), seeds

(or 1 Tbsp ground)

½

Tbsp

chili powder

(or chipotle powder)

½

Tbsp

Aleppo pepper

(optional)

½

Tbsp

dried marjoram

(or oregano)

½

tsp

cloves, whole

(or ½ tsp ground)
Instructions
Grind all spices. Blend thoroughly.
Notes
This will keep in a cool, dark place for up to six months. This will yield approximately 2 ounces (60 grams) of spice.