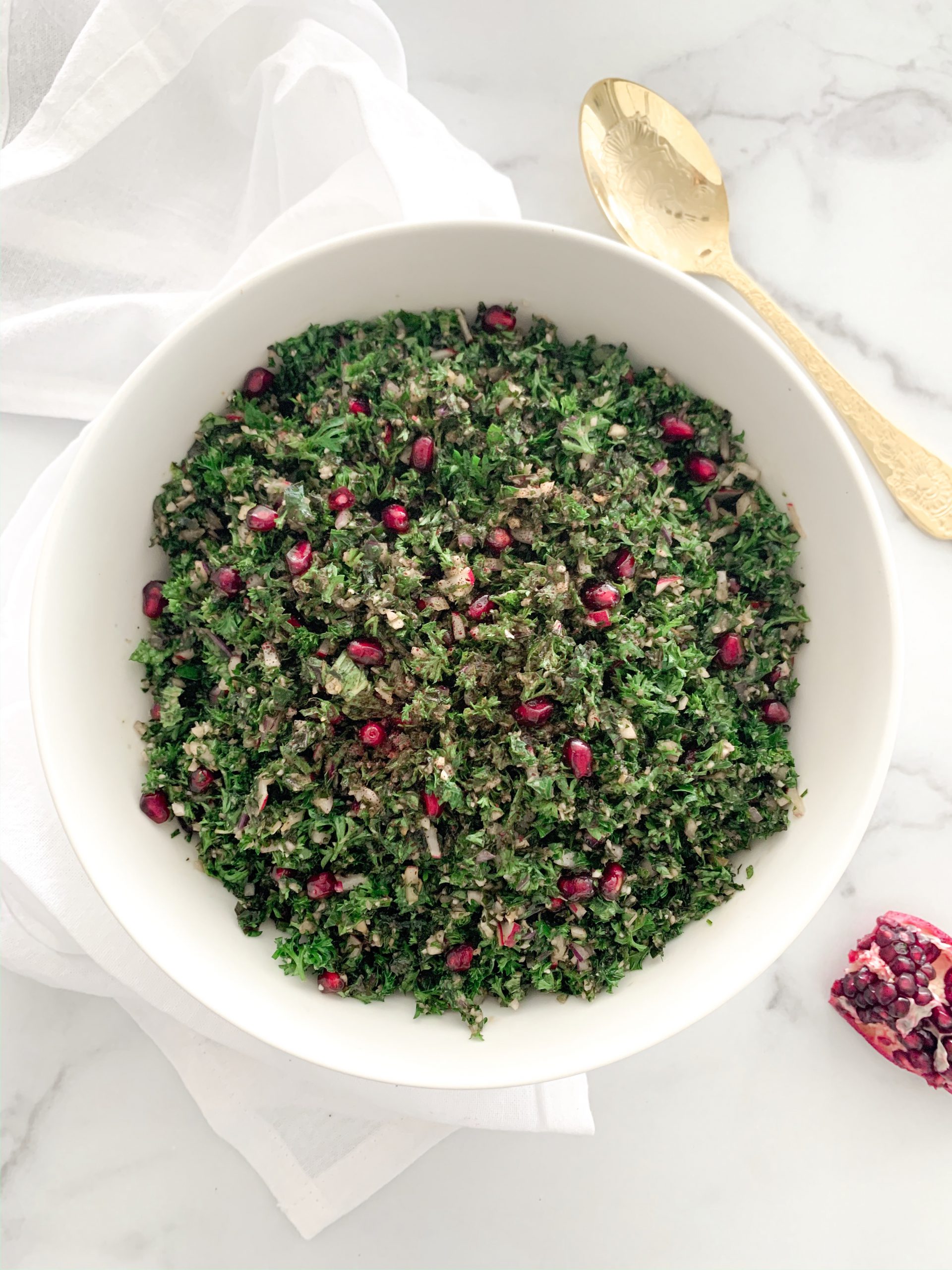 A common refrain my husband hears from me, whatever the season and wherever in the world we are, is: 'I need vegetables.' Growing up, our table was never without at least one salad – and always multiple vegetable dishes. British and American cuisine share the same notion that a vegetable side dish is more of an afterthought, and I often find myself craving something healthy and bright on the side of whatever meal I eat. Thanksgiving, with its carb-heavy side dishes, also seemed like a meal that could use at least one bright, vegetable-focused side dish, and so I looked to my go-to addition, tabbouleh.
The ingredients for tabbouleh are relatively simple, but tomatoes are not in season right now (and so finding ones that taste like well, anything, at my supermarket is not possible), and I wanted the tabbouleh to be a little more winter produce heavy to align with the weather (here in Colorado we're currently in the midst of a heavy snowstorm) and with the traditional Thanksgiving fare. This tabbouleh uses beautiful dark red kale, curly parsley, mint, red onion, radishes, and pomegranate arils – as well as a dressing made of olive oil, fresh lemon juice, pomegranate molasses, and sumac.
Grain Free
While burghul (or bulgur) is the traditional grain choice for tabbouleh here I used cauliflower 'rice' which I blitzed in my food processor to make extra fine – I was taking this salad to a 'Friendsgiving' where several of the attendants were completely gluten and grain-free, but quinoa can also work brilliantly here (just be sure to cook it properly before adding, of course). Every culture and family has a preference in terms of the burghul to parsley ratio – my preference is a parsley-heavy salad, but feel free to adjust to your tastes. I would usually use a half cup of uncooked burghul, but used one and a half cups of cauliflower rice.
This recipe makes a lot of tabbouleh, and will keep for a day or two in the fridge before becoming a bit soggy – it's best made and consumed the day of, but it's still completely edible once the greens have absorbed more moisture. It is also time-consuming to make, on account of all the chopping. Good tabbouleh is chopped by hand, not using a food processor (which tends to shred it too finely), which retains the light and fluffy texture.
Despite the effort involved, this winter salad was a wonderful healthy side to accompany a very carbohydrate-heavy Thanksgiving meal, and does a great job of utilizing more seasonal produce for what is typically a warm weather salad.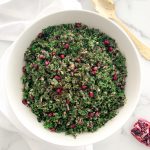 Print Recipe
Winter Tabbouleh with Red Kale and Pomegranate
This tabbouleh features red kale, parsley, mint, radish, and pomegranate and is a fresh side for winter meals.
Equipment
Sharp knife, for chopping.
Ingredients
2

whole

lemons, juiced

½

cup

red onion or shallot, finely diced

½

cup

coarse burgul (bulghur)

(110g) or 1½ cups cauliflower rice, finely chopped

1

bunch

red kale, washed and rinsed thoroughly

2

bunches

parsley, washed and rinsed thoroughly

flat leaf or curly parsley works

1

small

handful fresh mint, stems removed

8

medium

radishes, finely diced

1

whole

pomegranate, arils removed

¼

cup

olive oil

extra virgin

1

Tbsp

pomegranate molasses

1

tsp

ground sumac

plus more, for garnish

salt and white pepper to taste
Instructions
If using burgul (bulgur), soak in the lemon juice while you chop the other ingredients. If using cauliflower, finely chop and set aside (no need to soak). Soak the chopped red onion or shallot and soak in the lemon juice to help remove the 'bite' from the onion.

Thoroughly wash kale and parsley and remove all stems. Finely chop the kale and the parsley and add to a large bowl. Finely chiffonade (or chop) the mint and add to the bowl. Chop your radishes and add both those, the red onion / shallot with lemon juice (and burghul if using), and your pomegranate arils (and cauliflower, if using) to the bowl.

Pour the olive oil, pomegranate molasses, and sumac into the bowl and toss to combine. Salt and pepper to taste. Serve immediately.